IULA
Laan Copes van Cattenburch 60A
2585 GC The Hague
The Netherlands
Tel: +31 70 306 6066
Fax: +31 70 350 0496
Email: iula@iula.org
Internet: www.iula.org



FRONT PAGE
SiteSearch
About us
Directories

Palestine elections
Asian health crisis
Saudi Arabia local elections
South African local government


City Mayors reports news from towns and cities around the world. Worldwide | Elections | North America | Latin America | Europe | Asia | Africa | Events |




Mayors from The Americas, Europe. Asia, Australia and Africa are competing for the annual World Mayor Award. More




City Mayors ranks the world's largest as well as richest cities and urban areas. It also ranks the cities in individual countries, and provides a list of the capital cities of some 200 sovereign countries. More




City Mayors reports political events, analyses the issues and depicts the main players. More




City Mayors describes and explains the structures and workings of local government in Europe, The Americas, Asia, Australia and Africa. More




City Mayors profiles city leaders from around the world and questions them about their achievements, policies and aims. More




City Mayors deals with economic and investment issues affecting towns and cities. More




City Mayors reports on how business developments impact on cities and examines cooperation between cities and the private sector. More




City Mayors describes and explains financial issues affecting local government. More




City Mayors lists and features urban events, conferences and conventions aimed at urban decision makers and those with an interst in cities worldwide. More




City Mayors reports urban environmental developments and examines the challenges faced by cities worldwide. More




City Mayors reports on and discusses urban development issues in developed and developing countries. More



City Mayors reports on developments in urban society and behaviour and reviews relevant research. More




City Mayors deals with urban transport issues in developed and developing countries and features the world's greatest metro systems. More




City Mayors examines education issues and policies affecting children and adults in urban areas. More




City Mayors investigates health issues affecting urban areas with an emphasis on health in cities in developing countries. More




City Mayors examines the importance of urban tourism to city economies. More




City Mayors examines the contributions history and culture make to urban society and environment. More




City Mayors describes the history, architecture and politics of the greatest city halls in the world. More




City Mayors invites readers to write short stories about people in cities around the world. More




City Mayors questions those who govern the world's cities and talks to men and women who contribute to urban society and environment. More




City Mayors profiles national and international organisations representing cities as well as those dealing with urban issues. More




City Mayors reports on major national and international sporting events and their impact on cities. More




City Mayors lists cities and city organisations, profiles individual mayors and provides information on hundreds of urban events. More


This is an archived article published in March 2004
Women vastly underrepresented
in Middle East local government

The International Union of Local Authorities (IULA) reports that the Middle East had the lowest representation of women in local government of all the world regions, with cultural, religious and, in some cases, legal barriers to women's participation in politics. Key priorities for IULA's Global Programme are therefore developing partnerships and alliances in the region, establishing a network of local elected women and an awareness building.

The IULA is the oldest and largest global local government association. Founded in 1913, IULA has local government members in over 100 countries across the globe in all regions of the world.

Local government in the Middle East is generally not organised in national associations, so reaching a significant number of local governments is a challenge for IULA-EMME, the IULA Regional Section coordinating the Global programme in the Middle East. Ferzan Yildirim, Global Programme co-ordinator for IULA-EMME, recently visited Jordan, Syria and Lebanon to develop alliances and gather information on the status of women in the region.

Jordan
In Jordan, efforts to increase women's participation in politics are gradually being made through a quota system, resulting in the election of six women members of parliament out of a total of 105 in 2003, and one woman cabinet minister.

Local elections also took place in 2003, but none of the women candidates was elected mayor and only five women councillors were elected to the 554 municipal council seats. Jordan has a system of both elected and appointed seats however, with each municipality appointing one woman member, resulting in 99 additional women councillors, and one woman mayor.

Syria
Syria has a National Women's Strategy, which aims to increase women's participation in national legislative, executive and judicial positions to 30 per cent by 2005. In the parliament, 30 of the 250 members are women, and 2 of the 33 ministers.

At local level, the percentage of women elected to councils, compared with those nominated, is quite high. In 1999, 879 women were elected out of 2000 female candidates. However, the overall proportion of women councillors of the total remains low at 6.6 per cent. This indicates that the low involvement of women may be due not to the electoral process itself, but to the willingness of women to participate in politics.

Lebanon
Although there are no legal constraints to women's participation in politics in Lebanon, the level of involvement remains limited and low, and the absence of effective political parties and election laws are obstacles to women's participation in political life. At the last general election only three of the 11 women candidates were elected as members of parliament and there are no female ministers or high-ranking judges.

In the 1998 local council elections, of the 353 women candidates who stood for election, 139 were elected, two of them as heads of the municipality. Of 708 mayors in Lebanon, three are women.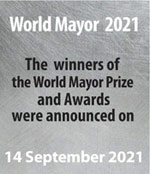 The best Mayors for Stronger | Fairer | Greener cities. Elect your candidate for the 20/21 World Mayor Prize and Honours. The Prize has been awarded since 2004