The Riyadh Development Authority is the entity responsible for the planning and development of Ar-Riyadh city from the economic, social, cultural, constructional and environmental aspects. It draws up plans and procedures aimed at improving the standards of services and facilities provided for the city residents.

Riyadh Development Authority
PO Box 94501
Riyadh 11614
Saudi Arabia
Tel: +966-1-4883331
Fax: +966-1-4829331
Internet:
www.arriyadh.com



FRONT PAGE
SiteSearch
About us
Directories

Palestine elections
Asian health crisis
Middle East women


City Mayors reports news from towns and cities around the world. Worldwide | Elections | North America | Latin America | Europe | Asia | Africa | Events |




Mayors from The Americas, Europe. Asia, Australia and Africa are competing for the annual World Mayor Award. More




City Mayors ranks the world's largest as well as richest cities and urban areas. It also ranks the cities in individual countries, and provides a list of the capital cities of some 200 sovereign countries. More




City Mayors reports political events, analyses the issues and depicts the main players. More




City Mayors describes and explains the structures and workings of local government in Europe, The Americas, Asia, Australia and Africa. More




City Mayors profiles city leaders from around the world and questions them about their achievements, policies and aims. More




City Mayors deals with economic and investment issues affecting towns and cities. More




City Mayors reports on how business developments impact on cities and examines cooperation between cities and the private sector. More




City Mayors describes and explains financial issues affecting local government. More




City Mayors lists and features urban events, conferences and conventions aimed at urban decision makers and those with an interst in cities worldwide. More




City Mayors reports urban environmental developments and examines the challenges faced by cities worldwide. More




City Mayors reports on and discusses urban development issues in developed and developing countries. More



City Mayors reports on developments in urban society and behaviour and reviews relevant research. More




City Mayors deals with urban transport issues in developed and developing countries and features the world's greatest metro systems. More




City Mayors examines education issues and policies affecting children and adults in urban areas. More




City Mayors investigates health issues affecting urban areas with an emphasis on health in cities in developing countries. More




City Mayors examines the importance of urban tourism to city economies. More




City Mayors examines the contributions history and culture make to urban society and environment. More




City Mayors describes the history, architecture and politics of the greatest city halls in the world. More




City Mayors invites readers to write short stories about people in cities around the world. More




City Mayors questions those who govern the world's cities and talks to men and women who contribute to urban society and environment. More




City Mayors profiles national and international organisations representing cities as well as those dealing with urban issues. More




City Mayors reports on major national and international sporting events and their impact on cities. More




City Mayors lists cities and city organisations, profiles individual mayors and provides information on hundreds of urban events. More


This archived article was published in February 2005
First local election underway in Saudi Arabia
but women voters will have to wait until 2009

After several postponements, Saudi Arabia's first local elections began on 10 February 2005. However, the elections are modest in scope and, when constituted, the local councils will only have limited powers. Women are excluded from the vote and half of the 1,184 council seats will be occupied by appointees. Saudi authorities claim that women were excluded for 'technical reasons'. "Too few women have the necessary ID cards and there are not enough female elections officials to register women voters." One Saudi minister said that women would definitely be allowed to vote in 2009.

Voting is taking place in three stages, beginning on 10 February 2005 in the Saudi capital Riyadh. Voting in the rest of the country will be on 3 March and 21 April. Half the members of the to be formed 178 municipal councils will be government appointees. With no political parties permitted, all candidates must stand as independents and use their own money for campaigning. Despite these restrictions there is no shortage of candidates, some of whom have been spending vast amounts of money to attract the attention of voters.

In Riyadh itself some 700 candidates compete for just seven council seats, while in Greater Riyadh more than 1,800 hopefuls contest 127 seats. However, while there is no shortage of contenders, interest among voters has been lukewarm at best. In the Saudi capital only 25 per cent of eligible men have registered to vote. Voter registration in other parts of the Kingdom is reported to run between 40 and 50 per cent.

Once elected, councillors will be able to discuss bread and butter issues such as garbage collection, street lighting and sewage disposal but any political debates will definitely not be on the agenda.


Saudi Arabia postpones first
local elections to spring 2005
Saudi Arabia has announced it has postponed municipal elections, originally scheduled for the autumn of 2004, to February 2005. The Saudi government's decision to hold municipal elections was described by observers as the first tangible political reform act in the Kingdom.

Although only half the country's 14 councils' members will be elected, the statement by the Saudi cabinet represents a major step for Saudi Arabia, an absolute monarchy that has an unelected national advisory body, but no parliament. Saudi Arabia's de facto ruler, Crown Prince Abdullah, ordered government bodies to complete, within one year, all necessary procedures for the elections.

Saudi Arabia's foreign minister Prince Saud al-Faisal told the press that the Saudi leaders were not experimenters. ?They are only seeking to do what is the wish of the Saudi citizen and we definitely have reached the stage of development where the participation of the citizens of Saudi Arabia is a requirement," the minister said.

In a statement the Saudi cabinet added that in May 2003 King Fahd had already stressed his desire for the expansion of political participation of the country's citizens.

In his speech, made following the Riyadh explosions on 12 May 2003, the King vowed to expand the base of people's participation and to open up new prospects to recruit women in Saudi Arabia. The King also vowed to continue political and social reforms in his country and fighting terrorism. He explained that this operation was not a result of foreign pressure.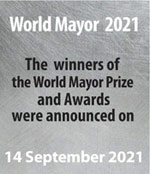 The best Mayors for Stronger | Fairer | Greener cities. Elect your candidate for the 20/21 World Mayor Prize and Honours. The Prize has been awarded since 2004