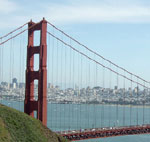 In San Francisco no winner emerged in the mayoral election of 4 November 2003. Democrat Gavin Newsom and Matt Gonzalez, the first member of the Green Party to attain elected office in that city fought the run-off on 9 December 2004. Gavin Newsom won the final race by some six per cent or 11,000 votes.



FRONT PAGE
SiteSearch
About us
Directories

US metro agenda
San Francisco election
Urban poverty in the US
US cities in fiscal crisis
US mayoral elections
US Conference of Mayors
Mayors' Institute on City Design
National League of Cities


City Mayors reports news from towns and cities around the world. Worldwide | Elections | North America | Latin America | Europe | Asia | Africa | Events |




Mayors from The Americas, Europe. Asia, Australia and Africa are competing for the annual World Mayor Award. More




City Mayors ranks the world's largest as well as richest cities and urban areas. It also ranks the cities in individual countries, and provides a list of the capital cities of some 200 sovereign countries. More




City Mayors reports political events, analyses the issues and depicts the main players. More




City Mayors describes and explains the structures and workings of local government in Europe, The Americas, Asia, Australia and Africa. More




City Mayors profiles city leaders from around the world and questions them about their achievements, policies and aims. More




City Mayors deals with economic and investment issues affecting towns and cities. More




City Mayors reports on how business developments impact on cities and examines cooperation between cities and the private sector. More




City Mayors describes and explains financial issues affecting local government. More




City Mayors lists and features urban events, conferences and conventions aimed at urban decision makers and those with an interst in cities worldwide. More




City Mayors reports urban environmental developments and examines the challenges faced by cities worldwide. More




City Mayors reports on and discusses urban development issues in developed and developing countries. More



City Mayors reports on developments in urban society and behaviour and reviews relevant research. More




City Mayors deals with urban transport issues in developed and developing countries and features the world's greatest metro systems. More




City Mayors examines education issues and policies affecting children and adults in urban areas. More




City Mayors investigates health issues affecting urban areas with an emphasis on health in cities in developing countries. More




City Mayors examines the importance of urban tourism to city economies. More




City Mayors examines the contributions history and culture make to urban society and environment. More




City Mayors describes the history, architecture and politics of the greatest city halls in the world. More




City Mayors invites readers to write short stories about people in cities around the world. More




City Mayors questions those who govern the world's cities and talks to men and women who contribute to urban society and environment. More




City Mayors profiles national and international organisations representing cities as well as those dealing with urban issues. More




City Mayors reports on major national and international sporting events and their impact on cities. More




City Mayors lists cities and city organisations, profiles individual mayors and provides information on hundreds of urban events. More


This is an archived article published in November 2003
Democrat candidates win in
San Francisco and Houston
Agency report

In the second round of mayoral elections in Houston (Texas) and San Francisco (California) two Democrats were elected mayor. In Houston, Bill White won a decisive victory over his Republican Opponent Orlando Sanchez by receiving 63 per cent of the vote.

The race in San Francisco was much closer. There, Gavin Newsom won almost 53 per cent of the vote to Matt Gonzales' 47 per cent. Read Nick Swift's comment on the election results

The San Francisco Chronicle said in a post election report that Gavin Newsom, riding voter frustration with homelessness and fuelled by nearly $4 million in campaign contributions, won the election as San Francisco's 42nd mayor in a campaign viewed as a test of strength for the city's dominant Democratic Party organization.

"Newsom, a moderate member of the San Francisco Board of Supervisors was promoted as the new face of the Democratic establishment and backed by endorsements from Democrats at all levels of government."

Matt Gonzalez, who would have become the first Green Party candidate to win the non-partisan mayor's office, ran a stronger campaign than anyone anticipated, an effort the new Mayor termed 'extraordinary'."

The 36-year old Gary Newsom was sworn in on 8 January 2004 to succeed Mayor Willie Brown, the long-time powerful force of California's Democratic Party who gave Newsom his political start at City Hall when he appointed him to the Parking and Traffic Commission, then to the Board of Supervisors. Willie Brown, who endorsed Mr Newsom, was prevented by term limits from running for re-election as he wraps up eight years in office.

Meanwhile Bill White, the newly elected Mayor of Houston, America's fourth-largest city, promised to use his management experience as head of an engineering and real estate conglomerate to get control of taxes and spending and make government more efficient for the city's two million residents.

Mr White told the press that he would be consulting 'with some of the mayors who are considered to be some of the best mayors in American history' for guidance in the coming weeks.

"We need to bring more jobs to the city. Then we need people from all backgrounds and different parts and groups to get together to solve problems rather than talk at each other," the new Mayor added.


Philadelphia mayor wins
re-election after bug scandal
Three major mayoral contests were among those waged in the United States on 4 November, 2003. They were in Houston, Texas, Philadelphia, Pennsylvania, and San Francisco, California. Only in the Philadelphia event did a victor emerge; in the other two cities, according to their electoral practices, no candidate received more than half the votes cast, necessitating a 'run-off' at a future date between the two with the most votes.

In the most expensive mayoral race in Houston's history, businessman and Democrat Bill White's campaign that concentrated on ameliorating the city's daunting transportation challenges, implementing improvements outlined by the Quality of Life coalition he jointly chaired with a Republican business figure, and enhancing effectiveness and responsiveness at City Hall, carried him to first place with what some perceived as a true ethnic coalition. A former chairman of the Democratic Party, and CEO of the Wedge investments group, White had more than 50 per cent of whites, liberals and 'moderates', but also 70 per cent of Asian Americans and 35 per cent of Hispanics, behind him.

Orlando Sanchez, a Cuban-American city councilman for six years and a near-winner in the 2001 mayoral election, also addressed the (hardly avoidable) transportation problem, and showed himself an ally of taxpayers in his approach to economic and efficiency issues, and came second, with 55 per cent of the Hispanic vote, a drop of 15 per cent from his performance two years previously. His Republicanism is thought to have proved at odds with the sympathies of Americans of Mexican extraction, yet failed to win him as much support from the Republican camp as he had hoped for. Sanchez is an executive with an asset management and banking company.

The majority (75 per cent) of the black vote went to Sylvester Turner, who, however, was considered so little of a threat by White as to receive praise from him for his role in promoting out-of-school youth programs, perhaps in anticipation of needing Turner people's support at the run-off (which will be in December).

At one point it appeared that the momentum of negativity, with White and Sanchez attacking each other with increasing energy, might have been sufficient to work in Turner's favour.

The expense of the election did not preclude a scenario in which dysfunctional voting machines led to voters being instructed to produce homemade ballots, which they did.

John F. Street became the ninety-seventh mayor of Philadelphia in January 2000, and its ninety-eighth on 4 November, 2003, with 59 per cent of the votes, over the 41 per cent that went to Sam Katz, a businessman whose business background was, as is so often the case, seen as a strength by some and as a limitation by others.

Street, an African American of impoverished origins, continued the efforts he made on behalf of the poor, of students and for improved relations between police and the community before he came to the mayor's office throughout his first term. While he was City Council President, his achievements included turning a $250 million deficit into the largest surplus in Philadelphia's history and reversing the disappearance of jobs. As mayor, he instituted programs under the names Neighbourhood Transportation Initiative and Operation Safe Streets.

Allegations of corruption and the fact that the economy is once again in decline may have been more than compensated for by the 'spin' value of the revelation that the FBI had planted listening devices in his office, which invited interpretation as persecution by the Republican federal administration.

Sam Katz presented clearly formulated plans to stabilize the economy, but his business background allegedly also appeared to touch on areas questionable enough ethically in a business context, and even more so in a public service one.

In San Francisco, the two candidates who will be running off in December are Democrat Gavin Newsom, picked by outgoing Mayor Willie Brown, and Matt Gonzalez, the first member of the Green Party to attain elected office in that city. Gonzalez won 20 per cent of the votes, and Newsom a little over twice that.

Newsom (like Gonzalez) is a city supervisor, and is closely connected to the wealthy Getty family, while insisting that his successes in business (the PlumpJack wine store and its offshoots) are his own work. Probably the most controversial thing he has done, and the stance that 'progressives' find most provocative, is his approach to the problem of homelessness in San Francisco, which is a program called 'Care Not Cash'. He favours redirecting money that would be paid to the homeless into financing city services. He also views dealing with the rising crime rate as a priority.

Gonzalez entered the race only 13 weeks before the election. In 2000, on a Green Party platform, he was elected to the Board of Supervisors. He has strongly supported the trends loosely referred to as 'progressive', including (not surprisingly) the environment, transgender health benefits and expanded whistleblower protection for city employees, and strengthening the office that investigates citizens' complaints against the police.

Elected by his colleagues to be President of the Board of Supervisors in January 2003, Gonzalez is a committed supporter of the arts, and has himself published in a variety of forums.

---
Related feature: US local government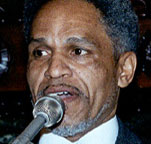 John F Street, Mayor of Philadelphia

Introducing John F Street, Mayor of Philadelphia
Newly re-elected Philadelphia Mayor John Street, 58, was born into rural poverty in Norristown, Pennsylvania, and came up the 'hard way', growing up without electricity or indoor plumbing as a child. Understanding that education was the key to his future, Mayor Street graduated from Conshohocken High School and worked his way through Oakwood College in Huntsville, Alabama, where he studied English. In 1975, Street earned his Juris Doctorate from Temple University Law School, paying his tuition by moonlighting as a sidewalk vendor on the university's campus.

Following his graduation, John Street served clerkships with Common Pleas Court Judge Mathew W. Bullock, Jr. and with the United States Department of Justice. In his first professional job, Mayor Street taught English at an elementary school and, later, at the Philadelphia Opportunities Industrialization Center. He also practised law privately prior to entering into public service.

Mayor Street began his public career as a community activist. A fiery leader, he led efforts for fair housing opportunities for the poor, and challenged the Philadelphia School Board to spend more on students and less on administration. Mayor Street has also been a leader in forging closer cooperation between police and the community in the fight against crime and drugs in Philadelphia's neighborhoods.

Elected to Philadelphia City Council in 1979, Mayor Street assumed office in 1980. For nearly 20 years, Mayor Street represented the city's Fifth Councilmanic District. The Fifth District comprises 11 wards in North Central Philadelphia and Center City and encompasses some of the city's most affluent addresses, such as Rittenhouse Square, and some of the city's most depressed areas.

Mayor Street retired from Philadelphia City Council on 17 December 1998, to run for mayor of Philadelphia. On 2 November 1999 he was elected to serve as the city's first mayor of the new millennium. Four years later he was re-elected to serve a second term as mayor of Philadelphia.