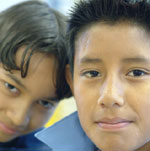 There are some six million Hispanic students enrolled in elementary schools across the US. (Photo by Lloyd Wolf for the US Census Bureau)




FRONT PAGE
SiteSearch
About us
Directories

2020 US Census - Counting Americans
Police killings of Black Americans
COVID-19 hits African Americans hardest
Minorities in the US
American policing
America's undocumented immigrants pay billions in taxes
USA racial profiling
Voting rights in the USA
Vision for metro America
Integration of immigrants
American domestic migration
Poverty in US cities
Black barbershops
US debates use of marijuana
Non-profits vital to urban USA
US poverty 2011
US urban inequality
US prison closures - Cities
US clergy and local politics
Arizona's controversial immigration law
Tea Party Patriots
US metro 2010
US socio-economic trends
US mayors silent on racial profiling
Gay rights in US cities
2009 homelessnees in US cities
Youth curfews in US cities
English-only US cities
Failed US immigration reform
US cities and illegal immigrants
US migration
US school reforms


City Mayors reports news from towns and cities around the world. Worldwide | Elections | North America | Latin America | Europe | Asia | Africa | Events |




Mayors from The Americas, Europe. Asia, Australia and Africa are competing for the annual World Mayor Award. More




City Mayors ranks the world's largest as well as richest cities and urban areas. It also ranks the cities in individual countries, and provides a list of the capital cities of some 200 sovereign countries. More




City Mayors reports political events, analyses the issues and depicts the main players. More




City Mayors describes and explains the structures and workings of local government in Europe, The Americas, Asia, Australia and Africa. More




City Mayors profiles city leaders from around the world and questions them about their achievements, policies and aims. More




City Mayors deals with economic and investment issues affecting towns and cities. More




City Mayors reports on how business developments impact on cities and examines cooperation between cities and the private sector. More




City Mayors describes and explains financial issues affecting local government. More




City Mayors lists and features urban events, conferences and conventions aimed at urban decision makers and those with an interst in cities worldwide. More




City Mayors reports urban environmental developments and examines the challenges faced by cities worldwide. More




City Mayors reports on and discusses urban development issues in developed and developing countries. More



City Mayors reports on developments in urban society and behaviour and reviews relevant research. More




City Mayors deals with urban transport issues in developed and developing countries and features the world's greatest metro systems. More




City Mayors examines education issues and policies affecting children and adults in urban areas. More




City Mayors investigates health issues affecting urban areas with an emphasis on health in cities in developing countries. More




City Mayors examines the importance of urban tourism to city economies. More




City Mayors examines the contributions history and culture make to urban society and environment. More




City Mayors describes the history, architecture and politics of the greatest city halls in the world. More




City Mayors invites readers to write short stories about people in cities around the world. More




City Mayors questions those who govern the world's cities and talks to men and women who contribute to urban society and environment. More




City Mayors profiles national and international organisations representing cities as well as those dealing with urban issues. More




City Mayors reports on major national and international sporting events and their impact on cities. More




City Mayors lists cities and city organisations, profiles individual mayors and provides information on hundreds of urban events. More


Blacks increasingly wary as Latinos
become fastest-growing US minority
By Tony Favro, USA Editor
28 November 2007: Traditional minorities – Blacks, Latinos, Asians -- are expected to become the majority in the US by 2050. This is the consensus of most American demographers. According to data released in 2007 by the US Census Bureau, Latinos continue to be the largest minority group in the US at 42.7 million. They are also the fastest growing minority group, increasing 3.3 per cent over the past year, and 19.7 per cent in the past five years. Most of the growth is due to immigration from Mexico.

The second largest minority group, when people were identified by one race, was Blacks at 37.9 million, followed by Asians at 12.7 million. The Asian population grew at a rate of 18.7 per cent over the past five years.

In total, over 98 million US residents are Latino, Black, Asian, or members of another minority group, representing nearly 34 per cent of the total population. Non-Latino whites account for 198 million residents, or about 66 per cent of the current US population. The white population is growing at less than one-fifth the rate of the minority population.

Cities and suburbs
Traditional minorities have been the majority for years in American cities such as Atlanta, Dallas, Detroit, Houston, Los Angeles, Miami, New York City, and Washington, DC. Even is smaller cities like Springfield (Massachusetts) and Buffalo (New York), whites have been the minority since the 1980s.

While American central cities have always been a melting pot of different races and ethnicities, recent reports by the Brookings Institution show that suburbs are also attracting large numbers of immigrants. Most of the population growth in many metropolitan regions, particularly those in the southwestern US, is occurring in the suburbs, and most of that growth is due to an influx of immigrants.

The history of the American suburb is largely a lesson in segregation. Suburbs grew as white American sought to distance themselves from Blacks and dark-skinned immigrants who settled in the cities. Now, however, immigrants are bypassing the cities and moving directly to the suburbs.

Moreover, the Black population of many cities, including San Francisco, Los Angeles, San Diego, and New York City, is declining. Blacks are moving to the suburbs, often for better schools, increased public safety, and improved housing – but also in reaction to immigration.

Black reactions to immigration
At the turn of the twentieth century, American President Teddy Roosevelt warned Congress that its open immigration policies would lead to "race suicide" as the strange traditions of newly-arriving southern and eastern European immigrants would destroy American (i.e., white, Anglo-Saxon) culture.

Prominent Black leaders of the time also protested against federal policies that allowed large numbers of immigrants to enter the US – but for a different reason. Marcus Garvey, Booker T. Washington, W.E.B. Dubois, and other founders of the civil rights movement in the US argued that eastern European immigrants were taking jobs from Blacks.

The wariness of immigration by some Blacks continues. A 2006 poll by the Pew Center, a nonpartisan research organization, found a higher percentage of Blacks than whites say they or a family member lost a job or didn't get one because of an immigrant, and that Blacks more often feel immigrants take jobs from US citizens.

In recent years, Blacks have joined the Minuteman Project, a border-watch group that reports illegal crossings from Mexico into the southwestern United States, and whose members are often considered vigilantes and racists.

In 2006, a coalition of economists, educators, and community leaders called Choose Black America successfully lobbied President Bush and Congress to reject immigration-reform legislation. They believed the proposed law would allow low-wage immigrant workers to flood the US labor market.

The impact of immigration on the wages and employment of Black workers is difficult to quantify. A 2004 study by Harvard University professor George Borjas found that the influx of all immigrants between 1980 and 2000 drove down wages 4.5 per cent for Blacks and 5 per cent for Latinos.

And US Labor Department statistics show that in 2006, for the first time, unemployment for American-born workers, at 5.2 per cent, was higher than that of those born elsewhere, 4.6 per cent.

Perhaps Black anxiety over possible job loss resulting from immigration can best be understood by looking at the dismal unemployment rate for Blacks ages 18 to 29. The US Bureau of Labor Statistics reports that joblessness among Blacks without a high-school diploma was nearly 30 per cent in 2006, and around 19 per cent for those with a diploma.

There is little evidence, however, that either Black or white American workers in large numbers would take jobs as dishwashers, housekeepers, gardeners, agricultural harvesters, and other low-paying positions typically filled by immigrants.

Toward a melting pot?
Both black and white Americans have a long history in the US, and both react to the arrival of immigrants.

White Americans historically reacted to the growing diversity of the nation's population by fleeing to the all-white suburbs. Now, however, the diversity is following them. Suburbs are becoming ethnically and racially mixed.

It's clear that immigration is rearranging the way Americans live. What is less clear is how the social implications of increasing diversity will sort themselves out. If history is any guide, Americans will eventually adjust to the growing diversity of the population, just as they accepted – after many turbulent years – European immigrants a century ago. If this happens, the idea of a majority population of any one race or ethnicity may become a fanciful, out-of-date notion, and the US might truly become the world's melting pot.