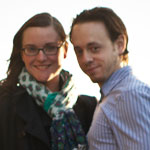 Jen and Seth Soloway turned Newburgh's derelict railroad station into a flourishing theatre




FRONT PAGE
Site Search
About us





From railroad station to theatre
Songs for American cities
American museums
City Brand Chicago
Historic cities: North America

City Halls: USA
| Boston | Chicago | Houston | New York | Pittsburgh | Philadelphia | San Francisco | Seattle |




Worldwide | Elections | North America | Latin America | Europe | Asia | Africa |





























Railroad station turned theatre plays
important part in Newburgh's revival
By Alexander Moore
16 May 2012: The old West Shore Railroad Station stands alone on what used to be the main north-south route through the city of Newburgh, New York State. Until recently the building was in a state of near collapse – an apt reflection of the city, whose long history is one of boom and bust. Now though, the building has been revitalised, turned into a theatre and given a purpose once more; to provide a home for playwrights to workshop and showcase new plays, to present local, national, and international artists of all genres – this is The Railroad Playhouse.

For almost fifty years the West Shore Railroad Station was left empty and abandoned, having served its last passengers in 1958. Then in 2001 it was bought by developers with the idea of turning it into a restaurant, debris was cleared and a new roof installed, but in 2002 progress ground to halt and again, the station was left empty. Almost a decade later, in 2009 it was bought by a local real estate investor and the process of renovating it began once more.

It was not until early 2010 that Seth and Jen Soloway walked through the doors and saw the potential of the station. They had an idea, a business plan, and were looking for a place to make them work.

Mr. Soloway explains: "The idea was always about creating a theatre for playwright development, the train station was just a lucky stroke," he said. "When we were shopping around for a space we looked at an old abandoned theatre that was all wrong. The landlord asked what we wanted to do and we showed him our business plan, a few days later he called us to have a look at the train station and the moment I walked in I knew it was a theatre."

The station may have been 'a lucky stroke' but it has had resonances beyond that of simply a theatre and community space. Many rail enthusiasts took to the internet and their blogs, posting pictures and comments, when they heard that the station was to be rescued and put to use once more. For many of them the building is iconic, designed and built as it was, by the same firm (Warren and Wetmore) who built the Grand Stations in Detroit and Manhattan.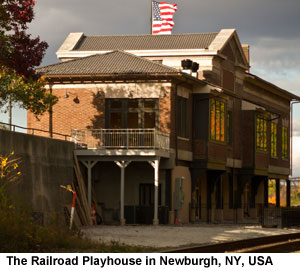 The Railroad Playhouse is located at 27 South Water Street in Newburgh, NY, and was opened to the public late 2010. It is 'a flexible black-box theatre space' seating 99 people. Mr Soloway is the artistic director and his wife is its executive director. It is a non-profit arts organisation and has its sights set high. Not content with the challenge of running a successful small-scale theatre, the Soloways want to affect change in Newburgh, where the typical problems of drugs and gang violence in deprived areas of town are prevalent. To this end the theatre's ongoing aims are, "[to] create partnerships with local businesses and organisations to continue revitalising the area; implement a summer arts camp for local children; and create teaching-artist residencies and after-school programs."

These are bold ambitions indeed, and still, the not inconsiderable challenges of running a successful business in these tough economic times remain. And it has been tough, Mr Soloway admits, with a lack of resources and limited funds to market the theatre's productions, "drawing audiences was at first difficult." Theatre like any art form is made to be seen, and without an audience, without funding, many theatres and theatre companies simply vanish, like dreams upon awakening, leaving a vague sense of loss.

Luckily, The Railroad Playhouse does have support, from local councils – Orange County Arts Council, Orange County Tourism and arts organisation, Arts Westchester. It is now well into its second year, and in February their 1st year anniversary campaign to raise $250,000 by 30th June 2012, has passed its first goal by turning $20,000 into $40,000. Things are looking hopeful for the Railroad.

Indeed, Newburgh is experiencing – despite the global economic crisis – something of a rebirth. A spate of new businesses opened in the last few years along its historic Liberty Street; among them an art supply store, a gourmet food shop, antique stores, cafes and restaurants. Although the Playhouse is not located on Liberty Street it is in an area that Mr. Soloway believes the city desperately needs to connect to, "so far the theatre being there has helped."

Mr Soloway is adamant that the theatre is important to Newburgh, "We've found it to be critical," he says, "there was already a wealth of artists here and though Newburgh has had its tough times we thought it was brimming with potential and that a theatre could be a key part of the revitalization." To this end, the Railroad Playhouse has developed educational programs working with local high schools and elementary schools. And this summer they will again run acting courses for young people that culminate in performances.

It is quite remarkable that this old station house, empty and crumbling for half a century, has in such a short time seen the most extraordinary activity. In only the first year of opening, six plays have premiered, with a special production of unFRAMED by Tony award winning producer Jane Dubin. There have been over 40 productions, classes, workshops, and special events that together have reached over 3000 audience members of all ages. It is also home to three NYC playwrights who will develop plays over the next two years, giving the Railroad Playhouse residual rights to any future incarnations. It has remained true to its aims to revitalize Newburgh, having spent over $25,000 in the local area and generated over $90,000 for local businesses.

However despite all these achievements, what is it that Mr. Soloway is most proud of? "The work we've done with the community's youth, no question." He says, "There is something amazing about seeing the effects that learning to participate in theatre has on children who live in a community like this one that has had its hard times."

The future of the Railroad Playhouse seems bright; they have just obtained tax exemption status and will shortly be able to apply for state and federal funding. This will mean more contact with New York City, and Broadway producers like Ms. Dubin who said of the Soloways, "They are two visionary professionals who demonstrated their commitment to Newburgh through outreach efforts, to community organisations and educational workshops tied to our production. I look forward to a long partnership with the Railroad Playhouse, and I encourage you to make a contribution to keep this vital institution thriving."

And it is important to keep theatres like the Railroad Playhouse open and thriving in places like Newburgh all over the world. Theatres are real places of community; where we can learn and grow, laugh and cry, share time and stories or simply connect with people. They are places of heritage and new beginnings and in some cases – like this little theatre down by the railroad – they are both.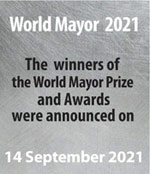 The best Mayors for Stronger | Fairer | Greener cities. Elect your candidate for the 20/21 World Mayor Prize and Honours