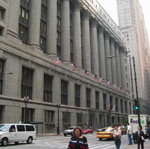 Frontage of Chicago's City Hall





FRONT PAGE
Site Search
About us | Quiénes somos |
A propos de nous | Über uns |
Mayor Monitor
Directories
Events
Debate




City brand Chicago

City Halls: Europe
| Aachen | Antwerp | Athens | Berlin | Birmingham | Bolton | Bradford | Bremen | Brighton | Cardiff | Cologne | Cork | Dresden | Florence | Glasgow | Hanover | Innsbruck | Jena | Leeds | Liverpool | London | Manchester | Moscow | Munich | Neuss | Paris | Sheffield | Southampton | Stockholm | Stuttgart | The Hague | Vienna |

City Halls: The Americas
| Bogota | Boston | Buenos Aires | Chicago | Houston | New York | Philadelphia | Pittsburgh | San Francisco | Seattle | Toronto | Vancouver |

Songs for American cities

City Halls: Asia + Australasia
| Ekaterinburg | Sydney | Tokyo | Wellington |




City Mayors reports news from towns and cities around the world. Worldwide | Elections | North America | Latin America | Europe | Asia | Africa |




City Mayors ranks the world's largest, best as well as richest cities and urban areas. It also ranks the cities in individual countries, and provides a list of the capital cities of some 200 sovereign countries. More




City Mayors profiles city leaders from around the world. More




City Mayors describes the history, architecture and politics of the greatest city halls in the world. More




Mayors from The Americas, Europe. Asia, Australia and Africa compete for the World Mayor Award. More




Use Mayor Monitor to rate the performance of mayors from across the world More




In your opinion: Praise Criticise. Write




City Mayors reports political events, analyses the issues and depicts the main players. More




City Mayors describes and explains the structures and workings of local government in Europe, The Americas, Asia, Australia and Africa. More




City Mayors deals with economic and investment issues affecting towns and cities. More




City Mayors describes and explains financial issues affecting local government. More




City Mayors reports urban environmental developments and examines the challenges faced by cities worldwide. More




City Mayors reports on and discusses urban development issues in developed and developing countries. More



City Mayors reports on developments in urban society and behaviour and reviews relevant research. More




City Mayors invites readers to write about the people in their cities. More




City Mayors examines city brands and marketing. More




City Mayors lists and features urban events, conferences and conventions aimed at urban decision makers and those with an interst in cities worldwide. More




City Mayors deals with urban transport issues in developed and developing countries and features the world's greatest metro systems. More




City Mayors examines education issues and policies affecting children and adults in urban areas. More




City Mayors investigates health issues affecting urban areas with an emphasis on health in cities in developing countries. More




City Mayors reports on how business developments impact on cities and examines cooperation between cities and the private sector. More




City Mayors examines the contributions history and culture make to urban society and environment. More




City Mayors examines the importance of urban tourism to city economies. More




City Mayors questions those who govern the world's cities and talks to men and women who contribute to urban society and environment. More




City Mayors profiles national and international organisations representing cities as well as those dealing with urban issues. More




City Mayors reports on major national and international sporting events and their impact on cities. More




City Mayors lists cities and city organisations, profiles individual mayors and provides information on hundreds of urban events. More




City Mayors reports news from towns and cities around the world. Worldwide | Elections | North America | Latin America | Europe | Asia | Africa |




City Mayors ranks the world's largest, best as well as richest cities and urban areas. It also ranks the cities in individual countries, and provides a list of the capital cities of some 200 sovereign countries. More




City Mayors profiles city leaders from around the world. More




City Mayors describes the history, architecture and politics of the greatest city halls in the world. More




Mayors from The Americas, Europe. Asia, Australia and Africa compete for the World Mayor Award. More




Use Mayor Monitor to rate the performance of mayors from across the world More




In your opinion: Praise Criticise. Write




City Mayors reports political events, analyses the issues and depicts the main players. More




City Mayors describes and explains the structures and workings of local government in Europe, The Americas, Asia, Australia and Africa. More




City Mayors deals with economic and investment issues affecting towns and cities. More




City Mayors describes and explains financial issues affecting local government. More




City Mayors reports urban environmental developments and examines the challenges faced by cities worldwide. More




City Mayors reports on and discusses urban development issues in developed and developing countries. More



City Mayors reports on developments in urban society and behaviour and reviews relevant research. More




City Mayors invites readers to write about the people in their cities. More




City Mayors examines city brands and marketing. More




City Mayors lists and features urban events, conferences and conventions aimed at urban decision makers and those with an interst in cities worldwide. More




City Mayors deals with urban transport issues in developed and developing countries and features the world's greatest metro systems. More




City Mayors examines education issues and policies affecting children and adults in urban areas. More




City Mayors investigates health issues affecting urban areas with an emphasis on health in cities in developing countries. More




City Mayors reports on how business developments impact on cities and examines cooperation between cities and the private sector. More




City Mayors examines the contributions history and culture make to urban society and environment. More




City Mayors examines the importance of urban tourism to city economies. More




City Mayors questions those who govern the world's cities and talks to men and women who contribute to urban society and environment. More




City Mayors profiles national and international organisations representing cities as well as those dealing with urban issues. More




City Mayors reports on major national and international sporting events and their impact on cities. More




City Mayors lists cities and city organisations, profiles individual mayors and provides information on hundreds of urban events. More



Chicago City Hall
By Gregor Gosciniak
12 February 2007: Chicago City Hall, located between the famous James R. Thompson Centre and the Richard J. Daley Centre, is the City of Chicago's official seat of government. The eleven-storey building, nearly a century old, is situated on a block surrounded by La Salle Street, Washington Street, Clark Street and Randolph Street. It was designed by the well-known architectural firm of Holabird & Roche, which was founded in the city in 1880 and responsible for building major Chicago landmarks such as Soldier Field and the Palmer House - which is now the Palmer House Hilton Hotel.

City Hall was built in the classical revival style common to those days. On 27 February 1911 the Town Hall was officially dedicated. The entrance hall features four granite panels, each representing an area of public works of particular interest to those times – and which still are today: water supply, schools, parks and playgrounds.

Visitors and staff entering the building are greeted with huge marble stairways and bronze tablets depicting the city halls of Chicago's, past from 1837 onwards. The first major renovation was in 1967 when a number of city departments, originally located outside Chicago City Hall, were moved into the building - which was always considered to be more representative then other city buildings.

Today Chicago City Hall houses the offices of the well known Mayor Richard M. Daley who has earned a national reputation for his innovative, community-based programs to address education, public safety, neighbourhood development and other challenges facing American cities.

Chicago City Council holds it meetings in the west side of the building. The east side of the building is dedicated to a number of offices of Cook County, and is nicknamed "County Building".

An unusual feature of City Hall is its rooftop garden, opened in 2001, and designed to discover more about how green roofs influence the heat effect of urban areas. Other topics for study are rainwater runoff and the effectiveness of differing types of green roof projects and plant species for Chicago's climate.

Incidentally, Chicago's nickname "the windy City" relates not so much to its climate but more accurately to the old days when city politicians had a reputation for being "windy"!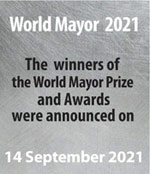 The best Mayors for Stronger | Fairer | Greener cities. Elect your candidate for the 20/21 World Mayor Prize and Honours