Leeds Town Hall, opened in 1858 by Queen Victoria

More information on Leeds:
www.leeds.gov.uk





FRONT PAGE
Site Search
About us | Quiénes somos |
A propos de nous | Über uns |
Mayor Monitor
Directories
Events
Debate





City Halls: Europe
| Aachen | Antwerp | Athens | Berlin | Birmingham | Bolton | Bradford | Bremen | Brighton | Cardiff | Cologne | Cork | Dresden | Florence | Glasgow | Hanover | Innsbruck | Jena | Leeds | Liverpool | London | Manchester | Moscow | Munich | Neuss | Paris | Sheffield | Southampton | Stockholm | Stuttgart | The Hague | Vienna |

City Halls: The Americas
| Bogota | Boston | Buenos Aires | Chicago | Houston | New York | Philadelphia | Pittsburgh | San Francisco | Seattle | Toronto | Vancouver |

City Halls: Asia + Australasia
| Ekaterinburg | Sydney | Tokyo | Wellington |




City Mayors reports news from towns and cities around the world. Worldwide | Elections | North America | Latin America | Europe | Asia | Africa |




City Mayors ranks the world's largest, best as well as richest cities and urban areas. It also ranks the cities in individual countries, and provides a list of the capital cities of some 200 sovereign countries. More




City Mayors profiles city leaders from around the world. More




City Mayors describes the history, architecture and politics of the greatest city halls in the world. More




Mayors from The Americas, Europe. Asia, Australia and Africa compete for the World Mayor Award. More




Use Mayor Monitor to rate the performance of mayors from across the world More




In your opinion: Praise Criticise. Write




City Mayors reports political events, analyses the issues and depicts the main players. More




City Mayors describes and explains the structures and workings of local government in Europe, The Americas, Asia, Australia and Africa. More




City Mayors deals with economic and investment issues affecting towns and cities. More




City Mayors describes and explains financial issues affecting local government. More




City Mayors reports urban environmental developments and examines the challenges faced by cities worldwide. More




City Mayors reports on and discusses urban development issues in developed and developing countries. More



City Mayors reports on developments in urban society and behaviour and reviews relevant research. More




City Mayors invites readers to write about the people in their cities. More




City Mayors examines city brands and marketing. More




City Mayors lists and features urban events, conferences and conventions aimed at urban decision makers and those with an interst in cities worldwide. More




City Mayors deals with urban transport issues in developed and developing countries and features the world's greatest metro systems. More




City Mayors examines education issues and policies affecting children and adults in urban areas. More




City Mayors investigates health issues affecting urban areas with an emphasis on health in cities in developing countries. More




City Mayors reports on how business developments impact on cities and examines cooperation between cities and the private sector. More




City Mayors examines the contributions history and culture make to urban society and environment. More




City Mayors examines the importance of urban tourism to city economies. More




City Mayors questions those who govern the world's cities and talks to men and women who contribute to urban society and environment. More




City Mayors profiles national and international organisations representing cities as well as those dealing with urban issues. More




City Mayors reports on major national and international sporting events and their impact on cities. More




City Mayors lists cities and city organisations, profiles individual mayors and provides information on hundreds of urban events. More




City Mayors reports news from towns and cities around the world. Worldwide | Elections | North America | Latin America | Europe | Asia | Africa |




City Mayors ranks the world's largest, best as well as richest cities and urban areas. It also ranks the cities in individual countries, and provides a list of the capital cities of some 200 sovereign countries. More




City Mayors profiles city leaders from around the world. More




City Mayors describes the history, architecture and politics of the greatest city halls in the world. More




Mayors from The Americas, Europe. Asia, Australia and Africa compete for the World Mayor Award. More




Use Mayor Monitor to rate the performance of mayors from across the world More




In your opinion: Praise Criticise. Write




City Mayors reports political events, analyses the issues and depicts the main players. More




City Mayors describes and explains the structures and workings of local government in Europe, The Americas, Asia, Australia and Africa. More




City Mayors deals with economic and investment issues affecting towns and cities. More




City Mayors describes and explains financial issues affecting local government. More




City Mayors reports urban environmental developments and examines the challenges faced by cities worldwide. More




City Mayors reports on and discusses urban development issues in developed and developing countries. More



City Mayors reports on developments in urban society and behaviour and reviews relevant research. More




City Mayors invites readers to write about the people in their cities. More




City Mayors examines city brands and marketing. More




City Mayors lists and features urban events, conferences and conventions aimed at urban decision makers and those with an interst in cities worldwide. More




City Mayors deals with urban transport issues in developed and developing countries and features the world's greatest metro systems. More




City Mayors examines education issues and policies affecting children and adults in urban areas. More




City Mayors investigates health issues affecting urban areas with an emphasis on health in cities in developing countries. More




City Mayors reports on how business developments impact on cities and examines cooperation between cities and the private sector. More




City Mayors examines the contributions history and culture make to urban society and environment. More




City Mayors examines the importance of urban tourism to city economies. More




City Mayors questions those who govern the world's cities and talks to men and women who contribute to urban society and environment. More




City Mayors profiles national and international organisations representing cities as well as those dealing with urban issues. More




City Mayors reports on major national and international sporting events and their impact on cities. More




City Mayors lists cities and city organisations, profiles individual mayors and provides information on hundreds of urban events. More



Leeds Town Hall
By Gregor Gosciniak
18 September 2005: Leeds Town Hall was opened in 1858 after the city experienced a period of rapid expansion, which led to a growth in civic pride. A group of wealthy local people organised and announced a competition for the design of a new Town Hall, which, in 1852, was won by Cuthbert Brodrick, a young architect from Hull. Today, the building is a famous example of Victorian architecture reflecting the power and wealth of the era.

On 7 September 1858 Queen Victoria opened Leeds Town Hall and the Great Hall, which was dedicated to her. Ever since the Great Hall has been known as the Victoria Hall. Victoria Hall houses a magnificent organ, which has an estimated value of £1.3 million.

The Town Hall was built from millstone grit taken from various quarries, while Darley Dale stone was used for many of its columns. Due to excessive pollution caused by heavy industry in Leeds, the stone became covered in a black coating. Some believe that Brodrick especially chose that particular kind of stone to achieve precisely this effect. In 1867 four stone lions made of Portland stone were added to the four plinths beside the main entrance. The sculptor was William Day Keyworth.

In 1890 the balcony In the Victoria Hall was replaced by a larger structure, and in 1895 Victoria Hall was redecorated by John Dibble Crace, the son of the original decorator.

Leeds Civic Hall was opened in 1933 housing a new council chamber and taking over many of the functions of the Town Hall. The mayor's office was moved there and so were the offices of council officials.

At the Town Hall, the former council chamber functioned as a Crown court until a new combined Court House was opened.

In September 1978 the ornate plaster decorations in the Victoria Hall began to crumble dangerously with fragments dropping from the ceiling. After an inspection the ceiling was found to be in a precarious condition.

Victoria Hall had to be closed and it was decided to restore the damaged plaster, and to completely redecorate the hall and the vestibule. This was done making sure that the original designs were exactly reproduced. After completion of the renovation in 1979, Victoria Hall could be reopened.

The Town Hall has always been a public building used for many purposes such as banquets, balls and concerts, but it was also used for council business. Today's Town Hall is still used for a variety of purposes. Leeds City Leisure Service is based there and numerous events are still held in Victoria Hall. Albert Room as well as a number of smaller rooms are popular places for venues of all kinds. Extensive restoration and refurbishment of the building was carried out to improve standards of comfort and provide new facilities.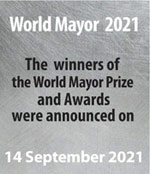 The best Mayors for Stronger | Fairer | Greener cities. Elect your candidate for the 20/21 World Mayor Prize and Honours