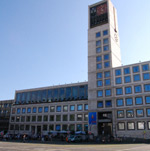 Stuttgart City Hall is one of a few post-war city halls that still incorporates a tower (Photos: Kevin Visdeloup)





FRONT PAGE
Site Search
About us | Quiénes somos |
A propos de nous | Über uns |
Mayor Monitor
Directories
Events
Debate




Mayor of Stuttgart

City Halls: Europe
| Aachen | Antwerp | Athens | Berlin | Birmingham | Bolton | Bradford | Bremen | Brighton | Cardiff | Cologne | Cork | Dresden | Florence | Glasgow | Hanover | Innsbruck | Jena | Leeds | Liverpool | London | Manchester | Moscow | Munich | Neuss | Paris | Sheffield | Southampton | Stockholm | Stuttgart | The Hague | Vienna |

City Halls: The Americas
| Bogota | Boston | Buenos Aires | Chicago | Houston | New York | Philadelphia | Pittsburgh | San Francisco | Seattle | Toronto | Vancouver |

City Halls: Asia + Australasia
| Ekaterinburg | Sydney | Tokyo | Wellington |




City Mayors reports news from towns and cities around the world. Worldwide | Elections | North America | Latin America | Europe | Asia | Africa |




City Mayors ranks the world's largest, best as well as richest cities and urban areas. It also ranks the cities in individual countries, and provides a list of the capital cities of some 200 sovereign countries. More




City Mayors profiles city leaders from around the world. More




City Mayors describes the history, architecture and politics of the greatest city halls in the world. More




Mayors from The Americas, Europe. Asia, Australia and Africa compete for the World Mayor Award. More




Use Mayor Monitor to rate the performance of mayors from across the world More




In your opinion: Praise Criticise. Write




City Mayors reports political events, analyses the issues and depicts the main players. More




City Mayors describes and explains the structures and workings of local government in Europe, The Americas, Asia, Australia and Africa. More




City Mayors deals with economic and investment issues affecting towns and cities. More




City Mayors describes and explains financial issues affecting local government. More




City Mayors reports urban environmental developments and examines the challenges faced by cities worldwide. More




City Mayors reports on and discusses urban development issues in developed and developing countries. More



City Mayors reports on developments in urban society and behaviour and reviews relevant research. More




City Mayors invites readers to write about the people in their cities. More




City Mayors examines city brands and marketing. More




City Mayors lists and features urban events, conferences and conventions aimed at urban decision makers and those with an interst in cities worldwide. More




City Mayors deals with urban transport issues in developed and developing countries and features the world's greatest metro systems. More




City Mayors examines education issues and policies affecting children and adults in urban areas. More




City Mayors investigates health issues affecting urban areas with an emphasis on health in cities in developing countries. More




City Mayors reports on how business developments impact on cities and examines cooperation between cities and the private sector. More




City Mayors examines the contributions history and culture make to urban society and environment. More




City Mayors examines the importance of urban tourism to city economies. More




City Mayors questions those who govern the world's cities and talks to men and women who contribute to urban society and environment. More




City Mayors profiles national and international organisations representing cities as well as those dealing with urban issues. More




City Mayors reports on major national and international sporting events and their impact on cities. More




City Mayors lists cities and city organisations, profiles individual mayors and provides information on hundreds of urban events. More




City Mayors reports news from towns and cities around the world. Worldwide | Elections | North America | Latin America | Europe | Asia | Africa |




City Mayors ranks the world's largest, best as well as richest cities and urban areas. It also ranks the cities in individual countries, and provides a list of the capital cities of some 200 sovereign countries. More




City Mayors profiles city leaders from around the world. More




City Mayors describes the history, architecture and politics of the greatest city halls in the world. More




Mayors from The Americas, Europe. Asia, Australia and Africa compete for the World Mayor Award. More




Use Mayor Monitor to rate the performance of mayors from across the world More




In your opinion: Praise Criticise. Write




City Mayors reports political events, analyses the issues and depicts the main players. More




City Mayors describes and explains the structures and workings of local government in Europe, The Americas, Asia, Australia and Africa. More




City Mayors deals with economic and investment issues affecting towns and cities. More




City Mayors describes and explains financial issues affecting local government. More




City Mayors reports urban environmental developments and examines the challenges faced by cities worldwide. More




City Mayors reports on and discusses urban development issues in developed and developing countries. More



City Mayors reports on developments in urban society and behaviour and reviews relevant research. More




City Mayors invites readers to write about the people in their cities. More




City Mayors examines city brands and marketing. More




City Mayors lists and features urban events, conferences and conventions aimed at urban decision makers and those with an interst in cities worldwide. More




City Mayors deals with urban transport issues in developed and developing countries and features the world's greatest metro systems. More




City Mayors examines education issues and policies affecting children and adults in urban areas. More




City Mayors investigates health issues affecting urban areas with an emphasis on health in cities in developing countries. More




City Mayors reports on how business developments impact on cities and examines cooperation between cities and the private sector. More




City Mayors examines the contributions history and culture make to urban society and environment. More




City Mayors examines the importance of urban tourism to city economies. More




City Mayors questions those who govern the world's cities and talks to men and women who contribute to urban society and environment. More




City Mayors profiles national and international organisations representing cities as well as those dealing with urban issues. More




City Mayors reports on major national and international sporting events and their impact on cities. More




City Mayors lists cities and city organisations, profiles individual mayors and provides information on hundreds of urban events. More



Stuttgart's new City Hall
A symbol of civic pride
By Kevin Visdeloup
20 August 2009: Stuttgart's first City Hall was built in 1456. Situated on the market place (Marktplatz) in the middle of the city, the building served as Stuttgart's administrative centre and accommodated a trading exchange on its ground floor. During the following centuries, Stuttgart City Hall underwent several structural changes, such as in 1582-83, when the timber-framed building received a new façade in the then popular Renaissance style, adding pictures and emblems.

With the rapid increase in population in the middle of the 19tht century came an urgent need for more space for Stuttgart's expanding administration. In 1899 the Berlin-based architects Heinrich Jassoy and Johannes Vollmer were commissioned to design a new building in the late Gothic style, which had been widely used for city halls in Flanders and the Netherlands. The size of the building made it necessary to demolish more than 20 houses, some dating back to the Middle Ages. In 1905 Stuttgart's new City Hall was inaugurated in the presence of the King of Württemberg.

Nearly 40 years later, in 1944, the City Hall with its 68m high tower was hit in an airstrike by the Allies. While the tower remained almost untouched, the rear wings of the building were partially gutted by fire and rebuilding was therefore required.

Stuttgart City Hall, as it is today, was inaugurated in May 1955. West Germany's first President, Theodor Heuss, gave a short speech, which was followed by a lengthy discourse by Mayor Arnulf Klett. The mayor tried to answer the many critics, who disliked the City Hall's modern design, by saying that it took time to appreciate a new architectural style. By recreating the wing on the front of the City Hall, giving the tower a modern façade as well as restoring and extending the rear wings, architects Paul Schmohl and Paul Stohrer rebuilt a municipal edifice that, at that time, was considered one of the most modern of its kind in Europe.

The annex buildings along Rathauspassage and Eberhardstraße were added in 1958 and 1962. A complete restauration and modernisation of the City Hall, costing some 26 million euros, was accomplished in 2004,.

Stuttgart City Hall with its façade made of coral rock and limestone is one of a few post-war city halls still incorporating a tower. Stuttgart's city hall tower is meant to embody civic self-confidence and municipal power. This self-confidence is also acoustically expressed by 30 different bells, measuring up to 115cm and weighing up to 950kg. Five times a day they mostly delight but sometimes irritate by playing Swabian folksongs.

The architectural appearance of Stuttgart's city hall throughout the centuries has always reflected the social and economic set-up as well as the political power relations between city and state. Indeed, until the 19th century all of Stuttgart's city halls bore witness to confident bourgeoisie.

Compared to its ancestors, today's City Hall at Marktplatz 1 appears considerably plainer and more unobtrusive in its architectural style. But it still impresses due to its prominent position. "The building might not be particularly aesthetic, but still it is imposing," said an architectural student sketching in front of it.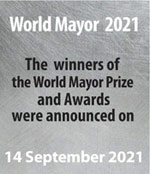 The best Mayors for Stronger | Fairer | Greener cities. Elect your candidate for the 20/21 World Mayor Prize and Honours