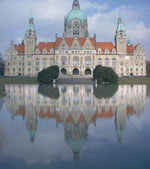 Hanover's New City Hall seen from across the Masch Lake

More information on Hanover:
www.hannover.de





FRONT PAGE
Site Search
About us | Quiénes somos |
A propos de nous | Über uns |
Mayor Monitor
Directories
Events
Debate





City Halls: Europe
| Aachen | Antwerp | Athens | Berlin | Birmingham | Bolton | Bradford | Bremen | Brighton | Cardiff | Cologne | Cork | Dresden | Florence | Glasgow | Hanover | Innsbruck | Jena | Leeds | Liverpool | London | Manchester | Moscow | Munich | Neuss | Paris | Sheffield | Southampton | Stockholm | Stuttgart | The Hague | Vienna |

City Halls: The Americas
| Bogota | Boston | Buenos Aires | Chicago | Houston | New York | Philadelphia | Pittsburgh | San Francisco | Seattle | Toronto | Vancouver |

City Halls: Asia + Australasia
| Ekaterinburg | Sydney | Tokyo | Wellington |




City Mayors reports news from towns and cities around the world. Worldwide | Elections | North America | Latin America | Europe | Asia | Africa |




City Mayors ranks the world's largest, best as well as richest cities and urban areas. It also ranks the cities in individual countries, and provides a list of the capital cities of some 200 sovereign countries. More




City Mayors profiles city leaders from around the world. More




City Mayors describes the history, architecture and politics of the greatest city halls in the world. More




Mayors from The Americas, Europe. Asia, Australia and Africa compete for the World Mayor Award. More




Use Mayor Monitor to rate the performance of mayors from across the world More




In your opinion: Praise Criticise. Write




City Mayors reports political events, analyses the issues and depicts the main players. More




City Mayors describes and explains the structures and workings of local government in Europe, The Americas, Asia, Australia and Africa. More




City Mayors deals with economic and investment issues affecting towns and cities. More




City Mayors describes and explains financial issues affecting local government. More




City Mayors reports urban environmental developments and examines the challenges faced by cities worldwide. More




City Mayors reports on and discusses urban development issues in developed and developing countries. More



City Mayors reports on developments in urban society and behaviour and reviews relevant research. More




City Mayors invites readers to write about the people in their cities. More




City Mayors examines city brands and marketing. More




City Mayors lists and features urban events, conferences and conventions aimed at urban decision makers and those with an interst in cities worldwide. More




City Mayors deals with urban transport issues in developed and developing countries and features the world's greatest metro systems. More




City Mayors examines education issues and policies affecting children and adults in urban areas. More




City Mayors investigates health issues affecting urban areas with an emphasis on health in cities in developing countries. More




City Mayors reports on how business developments impact on cities and examines cooperation between cities and the private sector. More




City Mayors examines the contributions history and culture make to urban society and environment. More




City Mayors examines the importance of urban tourism to city economies. More




City Mayors questions those who govern the world's cities and talks to men and women who contribute to urban society and environment. More




City Mayors profiles national and international organisations representing cities as well as those dealing with urban issues. More




City Mayors reports on major national and international sporting events and their impact on cities. More




City Mayors lists cities and city organisations, profiles individual mayors and provides information on hundreds of urban events. More




City Mayors reports news from towns and cities around the world. Worldwide | Elections | North America | Latin America | Europe | Asia | Africa |




City Mayors ranks the world's largest, best as well as richest cities and urban areas. It also ranks the cities in individual countries, and provides a list of the capital cities of some 200 sovereign countries. More




City Mayors profiles city leaders from around the world. More




City Mayors describes the history, architecture and politics of the greatest city halls in the world. More




Mayors from The Americas, Europe. Asia, Australia and Africa compete for the World Mayor Award. More




Use Mayor Monitor to rate the performance of mayors from across the world More




In your opinion: Praise Criticise. Write




City Mayors reports political events, analyses the issues and depicts the main players. More




City Mayors describes and explains the structures and workings of local government in Europe, The Americas, Asia, Australia and Africa. More




City Mayors deals with economic and investment issues affecting towns and cities. More




City Mayors describes and explains financial issues affecting local government. More




City Mayors reports urban environmental developments and examines the challenges faced by cities worldwide. More




City Mayors reports on and discusses urban development issues in developed and developing countries. More



City Mayors reports on developments in urban society and behaviour and reviews relevant research. More




City Mayors invites readers to write about the people in their cities. More




City Mayors examines city brands and marketing. More




City Mayors lists and features urban events, conferences and conventions aimed at urban decision makers and those with an interst in cities worldwide. More




City Mayors deals with urban transport issues in developed and developing countries and features the world's greatest metro systems. More




City Mayors examines education issues and policies affecting children and adults in urban areas. More




City Mayors investigates health issues affecting urban areas with an emphasis on health in cities in developing countries. More




City Mayors reports on how business developments impact on cities and examines cooperation between cities and the private sector. More




City Mayors examines the contributions history and culture make to urban society and environment. More




City Mayors examines the importance of urban tourism to city economies. More




City Mayors questions those who govern the world's cities and talks to men and women who contribute to urban society and environment. More




City Mayors profiles national and international organisations representing cities as well as those dealing with urban issues. More




City Mayors reports on major national and international sporting events and their impact on cities. More




City Mayors lists cities and city organisations, profiles individual mayors and provides information on hundreds of urban events. More



Hanover City Hall
By Gregor Gosciniak, Germany Editor
6 April 2005: One of the most remarkable buildings in Hanover (Hannover), the capital of the German state of Lower Saxony (Niedersachsen), is the city's 'New City Hall'. The thousands of tourists who visit Hanover City Hall every year are often astonished when they hear that the building 'only' dates back to 1913, when it was officially opened after 12 years of building. It's size and architectural style make it more akin to a royal palace built when Hanover was the capital of an independent kingdom.

On 20 June 1913, after twelve years of construction, Hanover City Hall was opened. The municipality of Hanover spent ten million marks to build City Hall, which was a huge sum of money for a city to spend in the early years of the 20th century. The City Hall, designed by the architects Eggert and Halmhuber, was erected on 6,026 beech-tree piles and replaced the 'old' City Hall, whose oldest part dates back to 1410.

At the grand official opening of the New City Hall, the then Lord Mayor Heinrich Tamm reported to the German Emperor, Kaiser Wilhelm II, that the City Hall was completed and and all paid for in cash.

Today, the New City Hall is the residence of the City´s Mayor Dr Herbert Schmalstieg who was first elected in 1972. As Mayor he also heads the city administration. The building is also used by the political bodies for their sessions and receptions. Official guests of the city are welcomed here, art exhibitions are held and a service counter for residents, the so called "Citizen's Office" is also located within City Hall. City Hall, as a public building, is open to vistors. Some of the most popular attractions are four scale models of Hannover, which are on permanent display under the nearly four hundred metre high dome of the City Hall lobby. The models depict the city in the Middle Ages, before World War II , shortly after 1945 and as it is today.

A rare piece of technical history, and unique in Europe, is the diagonal lift in the City Hall. At a 15-degree angle, the lift climbs 43 metres to the gallery at the top of the dome. From there visitors can enjoy a marvellous view across Hanover and, when visibility is good, to the Harz Mountains in the far distance.

Another of the City Hall's many attractions is the 'Hodler Hall', which houses the vast mural painting 'Unanimity' by Ferdinand Hodler. The mural depicts Hanover's conversion during the Reformation. Must-sees for visitors are also the 'Ladies Hall' with its elaborate décor and the 'Mosaic Hall', where they can admire a procession of craftsmen, displayed on three mosaics.

Hanover City Hall was entirely renovated for EXPO 2000, when also a Café was added in the south wing of the building.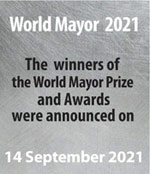 The best Mayors for Stronger | Fairer | Greener cities. Elect your candidate for the 20/21 World Mayor Prize and Honours