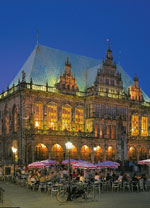 Bremen's Market Square with the City Hall is popular with diners at summer nights

More information on Bremen:
www.bremen-tourismus.de/
english/bremen.cfm





FRONT PAGE
Site Search
About us | Quiénes somos |
A propos de nous | Über uns |
Mayor Monitor
Directories
Events
Debate





City Halls: Europe
| Aachen | Antwerp | Athens | Berlin | Birmingham | Bolton | Bradford | Bremen | Brighton | Cardiff | Cologne | Cork | Dresden | Florence | Glasgow | Hanover | Innsbruck | Jena | Leeds | Liverpool | London | Manchester | Moscow | Munich | Neuss | Paris | Sheffield | Southampton | Stockholm | Stuttgart | The Hague | Vienna |

City Halls: The Americas
| Bogota | Boston | Buenos Aires | Chicago | Houston | New York | Philadelphia | Pittsburgh | San Francisco | Seattle | Toronto | Vancouver |

City Halls: Asia + Australasia
| Ekaterinburg | Sydney | Tokyo | Wellington |




City Mayors reports news from towns and cities around the world. Worldwide | Elections | North America | Latin America | Europe | Asia | Africa |




City Mayors ranks the world's largest, best as well as richest cities and urban areas. It also ranks the cities in individual countries, and provides a list of the capital cities of some 200 sovereign countries. More




City Mayors profiles city leaders from around the world. More




City Mayors describes the history, architecture and politics of the greatest city halls in the world. More




Mayors from The Americas, Europe. Asia, Australia and Africa compete for the World Mayor Award. More




Use Mayor Monitor to rate the performance of mayors from across the world More




In your opinion: Praise Criticise. Write




City Mayors reports political events, analyses the issues and depicts the main players. More




City Mayors describes and explains the structures and workings of local government in Europe, The Americas, Asia, Australia and Africa. More




City Mayors deals with economic and investment issues affecting towns and cities. More




City Mayors describes and explains financial issues affecting local government. More




City Mayors reports urban environmental developments and examines the challenges faced by cities worldwide. More




City Mayors reports on and discusses urban development issues in developed and developing countries. More



City Mayors reports on developments in urban society and behaviour and reviews relevant research. More




City Mayors invites readers to write about the people in their cities. More




City Mayors examines city brands and marketing. More




City Mayors lists and features urban events, conferences and conventions aimed at urban decision makers and those with an interst in cities worldwide. More




City Mayors deals with urban transport issues in developed and developing countries and features the world's greatest metro systems. More




City Mayors examines education issues and policies affecting children and adults in urban areas. More




City Mayors investigates health issues affecting urban areas with an emphasis on health in cities in developing countries. More




City Mayors reports on how business developments impact on cities and examines cooperation between cities and the private sector. More




City Mayors examines the contributions history and culture make to urban society and environment. More




City Mayors examines the importance of urban tourism to city economies. More




City Mayors questions those who govern the world's cities and talks to men and women who contribute to urban society and environment. More




City Mayors profiles national and international organisations representing cities as well as those dealing with urban issues. More




City Mayors reports on major national and international sporting events and their impact on cities. More




City Mayors lists cities and city organisations, profiles individual mayors and provides information on hundreds of urban events. More




City Mayors reports news from towns and cities around the world. Worldwide | Elections | North America | Latin America | Europe | Asia | Africa |




City Mayors ranks the world's largest, best as well as richest cities and urban areas. It also ranks the cities in individual countries, and provides a list of the capital cities of some 200 sovereign countries. More




City Mayors profiles city leaders from around the world. More




City Mayors describes the history, architecture and politics of the greatest city halls in the world. More




Mayors from The Americas, Europe. Asia, Australia and Africa compete for the World Mayor Award. More




Use Mayor Monitor to rate the performance of mayors from across the world More




In your opinion: Praise Criticise. Write




City Mayors reports political events, analyses the issues and depicts the main players. More




City Mayors describes and explains the structures and workings of local government in Europe, The Americas, Asia, Australia and Africa. More




City Mayors deals with economic and investment issues affecting towns and cities. More




City Mayors describes and explains financial issues affecting local government. More




City Mayors reports urban environmental developments and examines the challenges faced by cities worldwide. More




City Mayors reports on and discusses urban development issues in developed and developing countries. More



City Mayors reports on developments in urban society and behaviour and reviews relevant research. More




City Mayors invites readers to write about the people in their cities. More




City Mayors examines city brands and marketing. More




City Mayors lists and features urban events, conferences and conventions aimed at urban decision makers and those with an interst in cities worldwide. More




City Mayors deals with urban transport issues in developed and developing countries and features the world's greatest metro systems. More




City Mayors examines education issues and policies affecting children and adults in urban areas. More




City Mayors investigates health issues affecting urban areas with an emphasis on health in cities in developing countries. More




City Mayors reports on how business developments impact on cities and examines cooperation between cities and the private sector. More




City Mayors examines the contributions history and culture make to urban society and environment. More




City Mayors examines the importance of urban tourism to city economies. More




City Mayors questions those who govern the world's cities and talks to men and women who contribute to urban society and environment. More




City Mayors profiles national and international organisations representing cities as well as those dealing with urban issues. More




City Mayors reports on major national and international sporting events and their impact on cities. More




City Mayors lists cities and city organisations, profiles individual mayors and provides information on hundreds of urban events. More




Bremen City Hall
By Gregor Gosciniak, German Editor
9 April 2005: Bremen City Hall, built between 1405 and 1408 after the northern German city had joined the Hanseatic League, is today considered the only German, and indeed European, city hall from the Middle Ages, which survived intact despite centuries of political and religious conflict and warfare. Thoughtful repair and maintenance have ensured that Bremen City Hall is today a unique example of authentic Gothic construction.

Most German city halls were heavily damaged or even destroyed during World War II. Fortunately, Bremen City Hall survived the war and has been fully preserved in its medieval state. The original functions of the building's two floors have also been retained. The upper floor of the City Hall was reserved for events such as receptions and official functions, while the ground floor was used by the market traders, which made up a large part of Bremen's population in the Middle Ages and during the Renaissance. This mix of use ensured that average citizens and those who governed Bremen kept in contact with each other.

The architecture and the sculptures of Bremen City Hall incorporate strong references to the origin and character of the city but they also depict the city council's policies of self-government. Like many other German municipal centres built around the same time, Bremen City Hall was a manifestation of the growing self-confidence of the city council and its claim to civic powers. All over Germany, new city halls were build, or existing ones enlarged, to show the growing influence of civic authority at a time when royal rulers and the churches were the dominant institutions.

In front of Bremen's City Hall stands the 5.5-metres high statue of 'Roland'. Placed there in 1404, it is one of the tallest Roland statues, which were erected in market places all over central Europe as symbols of freedom and market rights. Roland, a historical figure, is thought to have been the paladin of European Emperor Charlemagne. He is credited as being the originator of the French 'chanson de geste' and other medieval and Renaissance epic poetry.

Bremen is one of Germany's three city states, the other two being Hamburg and Berlin. Today, the City Hall and the Roland are proud symbols of Bremen's autonomous status. The people of city refer to Roland as their Statue of Liberty.

In 2004, Bremen City Hall and the Roland were awarded World Heritage status, after a UNESCO report highlighted their "exceptional testimony to the civic autonomy and sovereignty, developed in the Holy Roman Empire".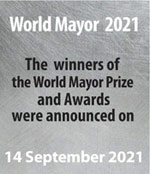 The best Mayors for Stronger | Fairer | Greener cities. Elect your candidate for the 20/21 World Mayor Prize and Honours