Wellington Town Hall before its clock tower was removed

Internet:
wellington.govt.nz/
portals/visit.html





FRONT PAGE
Site Search
About us | Quiénes somos |
A propos de nous | Über uns |
Mayor Monitor
Directories
Events
Debate





City Halls: Europe
| Aachen | Antwerp | Athens | Berlin | Birmingham | Bolton | Bradford | Bremen | Brighton | Cardiff | Cologne | Cork | Dresden | Florence | Glasgow | Hanover | Innsbruck | Jena | Leeds | Liverpool | London | Manchester | Moscow | Munich | Neuss | Paris | Sheffield | Southampton | Stockholm | Stuttgart | The Hague | Vienna |

City Halls: The Americas
| Bogota | Boston | Buenos Aires | Chicago | Houston | New York | Philadelphia | Pittsburgh | San Francisco | Seattle | Toronto | Vancouver |

City Halls: Asia + Australasia
| Ekaterinburg | Sydney | Tokyo | Wellington |




City Mayors reports news from towns and cities around the world. Worldwide | Elections | North America | Latin America | Europe | Asia | Africa |




City Mayors ranks the world's largest, best as well as richest cities and urban areas. It also ranks the cities in individual countries, and provides a list of the capital cities of some 200 sovereign countries. More




City Mayors profiles city leaders from around the world. More




City Mayors describes the history, architecture and politics of the greatest city halls in the world. More




Mayors from The Americas, Europe. Asia, Australia and Africa compete for the World Mayor Award. More




Use Mayor Monitor to rate the performance of mayors from across the world More




In your opinion: Praise Criticise. Write




City Mayors reports political events, analyses the issues and depicts the main players. More




City Mayors describes and explains the structures and workings of local government in Europe, The Americas, Asia, Australia and Africa. More




City Mayors deals with economic and investment issues affecting towns and cities. More




City Mayors describes and explains financial issues affecting local government. More




City Mayors reports urban environmental developments and examines the challenges faced by cities worldwide. More




City Mayors reports on and discusses urban development issues in developed and developing countries. More



City Mayors reports on developments in urban society and behaviour and reviews relevant research. More




City Mayors invites readers to write about the people in their cities. More




City Mayors examines city brands and marketing. More




City Mayors lists and features urban events, conferences and conventions aimed at urban decision makers and those with an interst in cities worldwide. More




City Mayors deals with urban transport issues in developed and developing countries and features the world's greatest metro systems. More




City Mayors examines education issues and policies affecting children and adults in urban areas. More




City Mayors investigates health issues affecting urban areas with an emphasis on health in cities in developing countries. More




City Mayors reports on how business developments impact on cities and examines cooperation between cities and the private sector. More




City Mayors examines the contributions history and culture make to urban society and environment. More




City Mayors examines the importance of urban tourism to city economies. More




City Mayors questions those who govern the world's cities and talks to men and women who contribute to urban society and environment. More




City Mayors profiles national and international organisations representing cities as well as those dealing with urban issues. More




City Mayors reports on major national and international sporting events and their impact on cities. More




City Mayors lists cities and city organisations, profiles individual mayors and provides information on hundreds of urban events. More




City Mayors reports news from towns and cities around the world. Worldwide | Elections | North America | Latin America | Europe | Asia | Africa |




City Mayors ranks the world's largest, best as well as richest cities and urban areas. It also ranks the cities in individual countries, and provides a list of the capital cities of some 200 sovereign countries. More




City Mayors profiles city leaders from around the world. More




City Mayors describes the history, architecture and politics of the greatest city halls in the world. More




Mayors from The Americas, Europe. Asia, Australia and Africa compete for the World Mayor Award. More




Use Mayor Monitor to rate the performance of mayors from across the world More




In your opinion: Praise Criticise. Write




City Mayors reports political events, analyses the issues and depicts the main players. More




City Mayors describes and explains the structures and workings of local government in Europe, The Americas, Asia, Australia and Africa. More




City Mayors deals with economic and investment issues affecting towns and cities. More




City Mayors describes and explains financial issues affecting local government. More




City Mayors reports urban environmental developments and examines the challenges faced by cities worldwide. More




City Mayors reports on and discusses urban development issues in developed and developing countries. More



City Mayors reports on developments in urban society and behaviour and reviews relevant research. More




City Mayors invites readers to write about the people in their cities. More




City Mayors examines city brands and marketing. More




City Mayors lists and features urban events, conferences and conventions aimed at urban decision makers and those with an interst in cities worldwide. More




City Mayors deals with urban transport issues in developed and developing countries and features the world's greatest metro systems. More




City Mayors examines education issues and policies affecting children and adults in urban areas. More




City Mayors investigates health issues affecting urban areas with an emphasis on health in cities in developing countries. More




City Mayors reports on how business developments impact on cities and examines cooperation between cities and the private sector. More




City Mayors examines the contributions history and culture make to urban society and environment. More




City Mayors examines the importance of urban tourism to city economies. More




City Mayors questions those who govern the world's cities and talks to men and women who contribute to urban society and environment. More




City Mayors profiles national and international organisations representing cities as well as those dealing with urban issues. More




City Mayors reports on major national and international sporting events and their impact on cities. More




City Mayors lists cities and city organisations, profiles individual mayors and provides information on hundreds of urban events. More



Wellington Town Hall
By Gregor Gosciniak
21 June 2006: Wellington is not only the capital but also the most important centre of government and culture in New Zealand. In 1900 the City of Wellington held a competition for the design of the new Town Hall that was to be built on Cuba Street. The design by Joshua Charlesworth was selected as the winning entry for its strongly drawn and well-organised design in the classical Renaissance manner.

In June 1901, the Duke of Cornwall and York, the later King George V, laid the foundation stone. Construction began in May 1902. Architect Charlesworth, who was born in Yorkshire, set up his practice in Wellington in his early twenties, designing many important institutional buildings including the New Zealand Post Office Directory between 1885 and 1897. In 1887 he won two competitions, one for the design of the Nelson Town Hall as well as one for building the home for the "Aged and Needy" people of Wellington.

On 7 December 1904 the new Town Hall was officially opened by Wellington's Mayor Aitken who used a gold and greenstone key for the opening. A programme of events to celebrate the occasion was held. The ceremonies included a choir of seven hundred children and a youth orchestra of 30 players. Wellington residents were very proud of their new Town Hall and felt it would make their city and their local government stronger.

Wellington Town Hall is a fine example of late Victorian municipal architecture, and is both currently and historically an important building for the city of Wellington. It is one of the few landmark civic buildings in New Zealand. The Town Hall was originally fronted by a Roman styled portico topped by a huge clock tower which was a donation to the city and the citizens by John Blundell in 1922, but the clock and its tower were removed in 1934 as a precaution after the 1931 heavy earthquake.

After another bad earthquake in 1942 the building was strengthened in 1943. The Town Hall was totally renovated and refurbished between 1991 and 1992 and was officially reopened in early 1992. Today, the Wellington Convention Centre uses Wellington Town Hall for a variety of events and receptions. The Town Hall's main auditorium is well known for its outstanding acoustic qualities. Over the years it has housed thousands of concerts and events and is today among the top ten acoustics auditoriums in the world, ranking with the Carnegie Hall in New York City, the legendary Musikvereinssaal in Vienna and the Concertegebouw in Amsterdam.

The Town Hall is home to Mayor Kerry Prendergast and her office and staff as well as Wellington's 14 city councillors. Mayor Prendergast is one of 50 candidates for the 2006 World Mayor Award.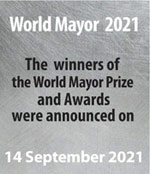 The best Mayors for Stronger | Fairer | Greener cities. Elect your candidate for the 20/21 World Mayor Prize and Honours