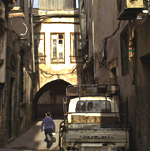 Narrow streets dominate in the old city of Damascus (Photos by Markus Schütz





FRONT PAGE
Site Search
About us | Quiénes somos |
A propos de nous | Über uns |
Mayor Monitor
Directories
Events
Debate




Damascus development
Historic Cities - Living Cities
Development threatensToledo
Europe's cities and suburbs
Lessons for urban Britain
Moscow's old city
Madurai (India)
Vishnupur (India)
Nanjing (China)
Fukuoka (Japan)
Ouro Preto (Brazil)
Dresden (Germany)




City Mayors reports news from towns and cities around the world. Worldwide | Elections | North America | Latin America | Europe | Asia | Africa | Events |




Mayors from The Americas, Europe. Asia, Australia and Africa are competing for the annual World Mayor Award. More




City Mayors ranks the world's largest as well as richest cities and urban areas. It also ranks the cities in individual countries, and provides a list of the capital cities of some 200 sovereign countries. More




City Mayors reports political events, analyses the issues and depicts the main players. More




City Mayors describes and explains the structures and workings of local government in Europe, The Americas, Asia, Australia and Africa. More




City Mayors profiles city leaders from around the world and questions them about their achievements, policies and aims. More




City Mayors deals with economic and investment issues affecting towns and cities. More




City Mayors reports on how business developments impact on cities and examines cooperation between cities and the private sector. More




City Mayors describes and explains financial issues affecting local government. More




City Mayors lists and features urban events, conferences and conventions aimed at urban decision makers and those with an interst in cities worldwide. More




City Mayors reports urban environmental developments and examines the challenges faced by cities worldwide. More




City Mayors reports on and discusses urban development issues in developed and developing countries. More



City Mayors reports on developments in urban society and behaviour and reviews relevant research. More




City Mayors deals with urban transport issues in developed and developing countries and features the world's greatest metro systems. More




City Mayors examines education issues and policies affecting children and adults in urban areas. More




City Mayors investigates health issues affecting urban areas with an emphasis on health in cities in developing countries. More




City Mayors examines the importance of urban tourism to city economies. More




City Mayors examines the contributions history and culture make to urban society and environment. More




City Mayors describes the history, architecture and politics of the greatest city halls in the world. More




City Mayors invites readers to write short stories about people in cities around the world. More




City Mayors questions those who govern the world's cities and talks to men and women who contribute to urban society and environment. More




City Mayors profiles national and international organisations representing cities as well as those dealing with urban issues. More




City Mayors reports on major national and international sporting events and their impact on cities. More




City Mayors lists cities and city organisations, profiles individual mayors and provides information on hundreds of urban events. More


Damascus: A historic living city
must not become a theme park
By Jula-Kim Sieber*
16 October 2009: How can ancient cities benefit from the UNESCO world heritage badge and simultaneously avoid becoming a 'Walt Disney' for tourists? Syria's capital, Damascus, is the oldest continuously lived in city in the world and is in danger of this phenomenon. With its five-star hotels and so-called 'VIP pockets', the locals are being driven out in droves.

These new life styles are being established in the old parts of the city without regard to the capacity of basic services such as sewerage, waste collection, water supply and traffic management.

There are fears that the UNESCO world heritage badge is somehow being used to start a marketing campaign, often based on capitalistic standards. The return of investment (RoI), however, leads to rapid development and rules out slow-growing and steady sustainability - and deprives local people of having a say during the city's 'rehabilitation'.

In fact, here we don't deal with rehabilitation but with reconstruction similar to a long-term film coulisse: concrete with a curtain-type historicizing facade. The influx of new and wealthy people has had a staggering impact on the grown environment and everyday lives of local people.

As to the Walt Disney reference, this was the general task set for the design studio during the winter term 2008/2009 at PAR, the institute for planning and building in outer-European regions at the architecture faculty of TU Darmstadt. To simplify the theoretical task we chose a UNESCO site: the old city of Damascus, a world heritage location since 1979.

To regard the old city as a theme park renders it increasingly superficial and 'temporary' and not at all in keeping with its true character of venerability befitting its 5,000 years of existence.

So what would be an appropriate design for building an environment able to safeguard the soul and atmosphere of the old city instead of creating a perfect reconstruction of the former outer skin, which then turns out to become a too-tight corset unable to adapt to modern life? What does modern life look like in the Middle East and Damascus?

Modern art movements are growing in the cities of the Orient that are now influencing even the Occident - for example, as seen in the revival of the ornament. "The 'Go West' as a point of reference to contemporary art has become outdated", asserts Michael M. Thoss in 'Auf der Suche nach dem Orient' (Das Kulturmagazin – Du 793 – February 2009).

In Damascus, too, modern art is gaining in importance, but additionally to the usual ways of applying art as a new branch of investment. Here there is a vivid, creative community of artists, architects, urban designers, and journalists that I find stimulating because it creates an atmosphere that recalls impressions of Damascus I had while reading "The Thousand and One Nights".

Seventeen galleries, mainly in the Jewish quarter, staged an event in 2008 supported by the Ministry of Culture to open up the old city to the average inhabitant of Damascus. The area around Bab Touma has become the place for night life while retaining the former shopping activities of the day.

A new brand for the old town? (See)
Confronted with this, the 23 students involved were asked to brand mark the old city by developing an urban design. The course's philosophy was to propose urban design solutions by means of abstraction of the cultural and local situation.

Communication with local people was maintained throughout the entire design process, aided by blogs, social media, and emails. Key words and phrases such as 'local culture',' Arab design and urbanism', 'urban acupuncture', 'communicative' and 'slow urbanism' were discussed and analysed during the course. Finally, the urban design proposals were presented via video performances in the Kozah Art Gallery in the old city together with Amjad Alrez, the old city mayor, various other professionals, the University and local inhabitants. The discussion continues via social media. Our blog is still online and well worth a visit!

For instance, you will see, among others, two student projects: "Old City in New Bloom" by Betote Sarabia, Julia Wiengarten, Leonie Plänkers and Catherina Schuster, and "Heart of Damascus" by Bettina Dobschal, Isabell Schreiter, Nelly Castillo and Hannah Winkelmann.

"Old City in New Bloom" adopted the theme 'do the art man – dot heart man' in the Jewish quarter where most of the empty houses and galleries are to be found. In their project the students revitalized the existing structure by way of urban acupuncture. In addition a wasteland formerly used for agriculture was transformed into a blooming park with a cultural centre. Their videos "Old City in New Bloom" using communicative urbanism, and "New Life in Old Walls", designed on the urban acupuncture philosophy, explain step by step how to establish a vivid, modern district in old structures.

With "Heart of Damascus" the second group dealt with the area of 'money works', a car-parking area in downtown Damascus just west of the old city intra-muros and north of the other old city parts: an area between old and new.

Their idea of slow urbanism by furnishing the district with a flexible infrastructure, leaves all options open to future inhabitants on what they decide to do with their environment. Some key areas such as pocket parks and cultural institutions help keep a natural movement within the district. A building catalogue of established rules will oblige owners to abide by a homogeneous environment.

*Jula-Kim Sieber has been assistant professor at PAR, TU Darmstadt since October 2008. In 2007 she founded the brand ar2com which stands for ARchitecture (+urbansim) to COMmunications (=film, music, dance, art, community spirit, etc.). Her research and virtual spaces are presented at the blog www.blog.ar2com.de ; the architecture and the real spaces can be seen at www.architektur.ar2com.de.

She has been working for architecture firms in Rio de Janeiro, Madrid, and Germany. Currently she is working for ar2com with projects in Mali and Germany. Communication is always a basis for the collaborations, projects, and resulting objects in urban design as well as architecture. She says: "During our (international) work I have learnt that we were making a lot of mistakes due to poor communication. I am trying to better that. Architects and urban designers are always building for others."