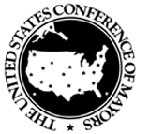 The United States Conference of Mayors
J. Thomas Cochran
Executive Director
1620 Eye Street, NW, Washington
DC 20006
USA
Tel: +1 202 293-7330
Fax: +1 202 293-2352
Internet: www.usmayors.org



FRONT PAGE
SiteSearch
About us
Directories

US metro economies 2006
2004/05 job prospects in US cities
Safest US cities
NYC fights noise pollution
US metro agenda
Urban poverty in the US
Sex in the City of Chicago
US cities in fiscal crisis
US mayoral elections 2005
US Conference of Mayors
Mayors' Institute on City Design
National League of Cities


City Mayors reports news from towns and cities around the world. Worldwide | Elections | North America | Latin America | Europe | Asia | Africa | Events |




Mayors from The Americas, Europe. Asia, Australia and Africa are competing for the annual World Mayor Award. More




City Mayors ranks the world's largest as well as richest cities and urban areas. It also ranks the cities in individual countries, and provides a list of the capital cities of some 200 sovereign countries. More




City Mayors lists and features urban events, conferences and conventions aimed at urban decision makers and those with an interst in cities worldwide. More




City Mayors reports political events, analyses the issues and depicts the main players. More




City Mayors describes and explains the structures and workings of local government in Europe, The Americas, Asia, Australia and Africa. More




City Mayors profiles city leaders from around the world and questions them about their achievements, policies and aims. More




City Mayors deals with economic and investment issues affecting towns and cities. More




City Mayors reports on how business developments impact on cities and examines cooperation between cities and the private sector. More




City Mayors describes and explains financial issues affecting local government. More




City Mayors reports urban environmental developments and examines the challenges faced by cities worldwide. More




City Mayors reports on and discusses urban development issues in developed and developing countries. More



City Mayors reports on developments in urban society and behaviour and reviews relevant research. More




City Mayors deals with urban transport issues in developed and developing countries and features the world's greatest metro systems. More




City Mayors examines education issues and policies affecting children and adults in urban areas. More




City Mayors investigates health issues affecting urban areas with an emphasis on health in cities in developing countries. More




City Mayors examines the contributions history and culture make to urban society and environment. More




City Mayors describes the history, architecture and politics of the greatest city halls in the world. More




City Mayors invites readers to write short stories about people in cities around the world. More




City Mayors questions those who govern the world's cities and talks to men and women who contribute to urban society and environment. More




City Mayors profiles national and international organisations representing cities as well as those dealing with urban issues. More




City Mayors reports on major national and international sporting events and their impact on cities. More




City Mayors lists cities and city organisations, profiles individual mayors and provides information on hundreds of urban events. More


This is an archived article published in July 2003
Cities, the engines of the US
economy, record low growth
By Josh Fecht

During a meeting of US mayors in New York to map out a policy strategy for the 2004 Presidential campaign, The US Conference of Mayors issued the second annual metro economies report demonstrating that the engines of the US economy, its metro areas, are showing early signs of recovery.

However, Mayors voiced concern that the economy is still not generating jobs at a sufficient level for US workers. The report contains data on each of the nation's 319 metro areas, including 2002 and 2003 employment growth figures. According to the report, compiled by Global Insights Inc, US metros in 2002 accounted for 85.6 per cent of the nation's gross domestic product (GDP) the same as 2001 thus proving that metro areas are still the engines driving the nation's economy. In 2002, US metro jobs shrank by 1.0 per cent, documenting the failure of the economy last year to create jobs even when it was recovering.

However, the report forecasts that US metros will grow by 2.1 per cent in 2003, and projects a 3.4 per cent growth in 2004. The report's long-term forecast calls on metros to continue to increase their share of the national economy, growing to 87.3 per cent over the coming 25 years.

Between 1992 and 2002, metro economies grew from 84.5 per cent to 85.6 per cent of GDP. At a meeting convened by the Conference's former President, Mayor James Garner of Hempstead, New York, the Mayors documented that in order for the national economy to experience robust growth, its US metro areas must return to their economic health that fuelled the economy during the past decade. "We are hopeful that the early signs of economic recovery in our metro areas will gain momentum into next year, and our report gives us reason for optimism," Mayor Garner said. "But jobs are still a concern for us, we still have anaemic job growth that we are watching very closely," he added.

Of the nation's 319 metro areas, 294 grew in inflation-adjusted dollars in 2002 but only 43 per cent grew faster than the national average. In total, US metros only grew by 1.8 per cent after inflation in 2002, while the national economy grew at a 2.4 per cent rate.

The report highlights how US metro areas compete internationally in the global market place with nations. Of the world's largest economies 48 are US metro areas. Because of the sluggishness of the economy, several metros slipped in their international ranking. New York fell one spot, becoming the 14th largest world economy, (surpassed by Brazil), Los Angeles-Long Beach moved from 15th to 16th; and Washington DC slipped one spot as Argentina fell below it and both Belgium and Sweden climbed several steps.

"This is a stubborn economy and we've been fooled by it before, but we know that as the engines of the economy, our metro areas are going to have to lead us into long-term growth," said Detroit Mayor Kwame Kilpatrick, Chair of the Council for Investment in the New American City, who released the report. "Contrary to popular belief, it's not the economy of the 50 states that drives this nation. It's the 319 metro economies - made up of cities - that are the strength of this nation," added Tom Cochran, Executive Director of the US Conference of Mayors.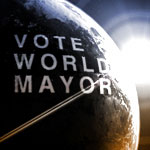 Who are the world's most outstanding mayors? If you know of mayors who have the vision, passion and skills to make their cities amazing places to live in, work in and visit nominate him or her now for World Mayor 2007.


Introducing
World Mayor 2007
The World Mayor project, organised by City Mayors, is now in its fourth year. As in 2004, 2005 and 2006 this year's World Mayor will again be seeking out mayors who have the vision, passion and skills to make their cities amazing places to live in, work in and visit.





The World Mayor Project aims to show what outstanding mayors can achieve as well as raise their profiles nationally and internationally. It honours those who have served their communities selflessly and courageously and who have made significant contributions to the well-being of cities. The most outstanding mayor of 2007 will be presented with the World Mayor Award.





You are now invited to nominate mayors who you think should be among the 50 finalists of the 2007 contest. The list of finalists will be published in June 2007. The winner of World Mayor 2007 will announced in early December 2007.





Previous winners
and runner-ups
In 2006
Winner: John So, Lord Mayor of Melbourne (Australia)
Runner-up: Job Cohen, Mayor of Amsterdam (Netherlands)
In 2005:
Winner: Dora Bakoyannis, Mayor of Athens (Greece)
Runner-up: Hazel McCallion, Mayor of Mississauga (Canada)
In 2004:
Winner: Edi Rama, Mayor of Tirana (Albania)
Runner-up: Andres Manuel Lopez Obrador, Mayor of Mexico City (Mexico)

Previous winners are not eligible in 2007.