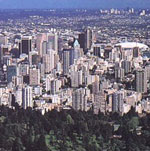 Vancouver, one of Canada's three biggest cities where the Conservatives failed to gain any seats




FRONT PAGE
SiteSearch
About us

Directories

Canadian Mayors
Canada's new government must connect with cities
Canada election 2011
Calgary and Toronto mayors
British Columbia's local & regional government
Canadian local government
Canada: Cities and provinces
Canada's big cities need more power
Canada high-speed rail
Montréal bikes go global
Canadians and their cities
Directory of Canadian cities


City Mayors reports news from towns and cities around the world. Worldwide | Elections | North America | Latin America | Europe | Asia | Africa | Events |




Mayors from The Americas, Europe. Asia, Australia and Africa are competing for the annual World Mayor Award. More




City Mayors ranks the world's largest as well as richest cities and urban areas. It also ranks the cities in individual countries, and provides a list of the capital cities of some 200 sovereign countries. More




City Mayors reports political events, analyses the issues and depicts the main players. More




City Mayors describes and explains the structures and workings of local government in Europe, The Americas, Asia, Australia and Africa. More




City Mayors profiles city leaders from around the world and questions them about their achievements, policies and aims. More




City Mayors deals with economic and investment issues affecting towns and cities. More




City Mayors reports on how business developments impact on cities and examines cooperation between cities and the private sector. More




City Mayors describes and explains financial issues affecting local government. More




City Mayors lists and features urban events, conferences and conventions aimed at urban decision makers and those with an interst in cities worldwide. More




City Mayors reports urban environmental developments and examines the challenges faced by cities worldwide. More




City Mayors reports on and discusses urban development issues in developed and developing countries. More



City Mayors reports on developments in urban society and behaviour and reviews relevant research. More




City Mayors deals with urban transport issues in developed and developing countries and features the world's greatest metro systems. More




City Mayors examines education issues and policies affecting children and adults in urban areas. More




City Mayors investigates health issues affecting urban areas with an emphasis on health in cities in developing countries. More




City Mayors examines the importance of urban tourism to city economies. More




City Mayors examines the contributions history and culture make to urban society and environment. More




City Mayors describes the history, architecture and politics of the greatest city halls in the world. More




City Mayors invites readers to write short stories about people in cities around the world. More




City Mayors questions those who govern the world's cities and talks to men and women who contribute to urban society and environment. More




City Mayors profiles national and international organisations representing cities as well as those dealing with urban issues. More




City Mayors reports on major national and international sporting events and their impact on cities. More




City Mayors lists cities and city organisations, profiles individual mayors and provides information on hundreds of urban events. More



Canada's new government must
show it cares about urban issues
Originally published by The Toronto Star
2 February 2006: For most advocates for Canada's big cities, the 2006 general election failed to turn out as they had hoped. That is because the victorious Conservatives under leader Stephen Harper are rightly regarded as being the least sympathetic of the three national parties to the needs of large urban areas. And for Harper and the Conservatives, the fact that voters in Canada's three biggest cities - Toronto, Montreal and Vancouver - rejected every Tory candidate who dared to run within their boundaries, is a clear sign that the incoming government has much work to do in order to convince urban dwellers that it truly does care about their unique issues.

The electoral outcome, which produced a stark rural-urban split for the Conservatives, leaves in doubt the hopes for a "new deal for cities" that was championed by big-city mayors, the Liberals and the New Democratic Party. That is why mayors from Halifax to Victoria are already urging Harper not to ignore the demands from big municipalities - the same ones that failed to deliver any support on election day.

Such neglect would be profoundly counterproductive. It is in no one's interest to turn big cities into yet another Canadian "solitude."

Toronto, Montreal and Vancouver are engines of economic growth. They shelter most of this country's immigrants, are centres of research and innovation and serve as key gateways to Canada. They also face stiff challenges, including having to deal with massive public transit systems, high levels of homelessness and severe demands on their infrastructure.

But if Canada's big cities are to thrive, they need understanding and support from Harper. Conversely, if Harper entertains serious hope of ever forming a majority government, he needs the support of big-city voters.

That mutual dependence opens a route to real progress on a "new deal."

Although Toronto, Vancouver and Montreal have distinctive needs, their mayors are united in seeking a share of income tax or sales-related taxes. Such revenue sources have the advantage of growing in step with the economy. Toronto, in particular, faces a CAN$532 million shortfall this year. Harper has already committed to dropping the goods and services tax to 5 per cent from 7 per cent. Possibly one of those two percentage points could be designated specifically for cities.

Harper also promised during the campaign to abide by the Liberal government's agreement to share gasoline taxes with municipalities. But he has not followed through with commitments to fund public transit systems. Instead, Harper's priority appears to be highway and road construction. While building and maintaining roads is obviously a good idea, money is also desperately needed to maintain and extend transit systems that are fundamental to the efficient running of big cities.

In addition, a Conservative government would do well to approve more funding for affordable housing, especially a planned new community at Regent Park in downtown Toronto, which needs federal money for the next stage of a massive redevelopment. And Harper could earn the gratitude of Canada's largest city by eliminating the controversy-plagued Toronto Port Authority and turning its functions over to the municipality.

Because there will be no cabinet minister from Canada's three largest cities, as well as other large urban centres such as Halifax, Hamilton and Victoria, more indirect routes must be sought to influence Tory policy.

To that end, big-city mayors are wisely working together in a common front. They will need help. For instance, Toronto is well-served by a business class, led by the Toronto Board of Trade, that fully appreciates the importance of a new deal for big cities. And former city councillor Jack Layton, now head of the New Democratic Party, with 29 federal seats, could prove a useful ally. So too could John Tory, leader of the Conservatives at Queen's Park and a former candidate for Toronto mayor.

There is much to gain — for Harper and cities — through a progressive urban agenda. Canada's new government would be wise to heed that fact.