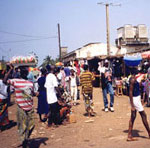 Street market in Guinea's capital Conakry




FRONT PAGE
SiteSearch
About us
Directories

Local elections in Guinea
Forced evictions in Africa
Zimbabwe forced evictions
Migration in Mauritania
Africa MDP
Urban Africa
South Africa
City of Durban


City Mayors reports news from towns and cities around the world. Worldwide | Elections | North America | Latin America | Europe | Asia | Africa | Events |




Mayors from The Americas, Europe. Asia, Australia and Africa are competing for the annual World Mayor Award. More




City Mayors ranks the world's largest as well as richest cities and urban areas. It also ranks the cities in individual countries, and provides a list of the capital cities of some 200 sovereign countries. More




City Mayors lists and features urban events, conferences and conventions aimed at urban decision makers and those with an interst in cities worldwide. More




City Mayors reports political events, analyses the issues and depicts the main players. More




City Mayors describes and explains the structures and workings of local government in Europe, The Americas, Asia, Australia and Africa. More




City Mayors profiles city leaders from around the world and questions them about their achievements, policies and aims. More




City Mayors deals with economic and investment issues affecting towns and cities. More




City Mayors reports on how business developments impact on cities and examines cooperation between cities and the private sector. More




City Mayors describes and explains financial issues affecting local government. More




City Mayors reports urban environmental developments and examines the challenges faced by cities worldwide. More




City Mayors reports on and discusses urban development issues in developed and developing countries. More



City Mayors reports on developments in urban society and behaviour and reviews relevant research. More




City Mayors deals with urban transport issues in developed and developing countries and features the world's greatest metro systems. More




City Mayors examines education issues and policies affecting children and adults in urban areas. More




City Mayors investigates health issues affecting urban areas with an emphasis on health in cities in developing countries. More




City Mayors examines the importance of urban tourism to city economies. More




City Mayors examines the contributions history and culture make to urban society and environment. More




City Mayors describes the history, architecture and politics of the greatest city halls in the world. More




City Mayors invites readers to write short stories about people in cities around the world. More




City Mayors questions those who govern the world's cities and talks to men and women who contribute to urban society and environment. More




City Mayors profiles national and international organisations representing cities as well as those dealing with urban issues. More




City Mayors reports on major national and international sporting events and their impact on cities. More




City Mayors lists cities and city organisations, profiles individual mayors and provides information on hundreds of urban events. More



International observers give Guinea's
local elections cautious endorsement
Report by IRIN
5 January 2006: The ruling party of the West African state of Guinea emerged strengthened from local elections held in December 2005. According to final results the Party of Unity and Progress (PUP) retained the vast majority of the more than 300 communities. The poll was closely watched by the international community, which has been highly critical of Guinea in the past over a perception of corruption and lack of democracy.

The West African nation – one of the world's poorest despite its wealth of water and mineral resources – has a history of polls marred by violence and boycotted by the opposition. But this time, international donors backed the poll and the opposition participated in an electoral process billed as a trial run for the prime minister's ongoing reform programme.

The announcement that the PUP had won 31 out of 38 urban seats and 241 out of 303 rural posts came as little surprise in a country where President Lansana Conte and his party have won every election since he came to power in a 1984 coup. If the general population appeared relatively unfazed by the news, opposition politicians were quick to denounce the official results of the vote.

"I cannot imagine how in 2005 a party could score 100 per cent in any election whatsoever," former prime minister and current opposition leader, Sidya Toure, said, referring to a pair of rural communities where the PUP was attributed 98 and 99 per cent of the vote. "The results, as far as these elections are concerned, are farcical and totally unacceptable."

Toure's complaints mirrored those of other opposition leaders who held a joint press conference last week to denounce what they perceived as massive fraud. But the PUP responded with a charge of sour grapes, pointing to the presence of 400 neutral observers on the ground to bolster its claims of a free and transparent vote. "That's the way with African politics. When we lose, we cry foul," the PUP's secretary general Sekou Konate replied to critism.

In a preliminary report, the observers from 26 civil society NGOs described the conduct of the polls as essentially peaceful and orderly despite isolated incidents. But observers did list a string of procedural problems, including supplies shortages, the use of false identification papers and the improper supervision of voting by election officials.

According to the opposition, large-scale street protests took place in the country's interior after which some of their supporters remain imprisoned without charge.

For Mike McGovern, West Africa project director at think-tank International Crisis Group, the real picture probably lies somewhere between the government and opposition versions. "It seems pretty clear to me that technically there were problems," he said in the Senegalese capital, Dakar. "That doesn't mean fraud. Certainly, it leaves the door open for that, but even in the absence of fraud, opposition candidates may not have seen the results they wanted."

He said that the ruling party has developed a powerful political machine over its two decades in power, allowing it to raise more money, mobilise more supporters and field more candidates than its opponents. At the same time, the opposition needs to focus less on criticising the current regime and more on providing its own partisans with election know-how and actually getting them out to vote, said McGovern.

One of the frequent themes of campaign coverage was voter apathy and anecdotal reports suggested many voters stayed at home on polling day. The official turnout given on Tuesday was 58 per cent, though it was a mere 37 in urban communities.

Nevertheless, McGovern was "provisionally just a little bit optimistic" about the prospects of Guinea's evolution from a country that holds show elections just to appease donors into a state with entrenched democratic institutions. "One has to be very honest and say this is a long-term process," he cautioned. "It's not going to take weeks or months," he said.

As for the question of foreign aid and investment, a western diplomat in Conakry was equally guarded about drawing conclusions this early in the game. He said the international community would adopt a common position after meeting with the observers. "Fraud is committed during most elections all over the world. We still have to see on what scale and in what manner it happened here."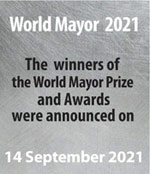 • Poverty is a crime against humanity
• Support mayors who fight poverty
• Nominate the best for the 2020 World Mayor Prize