Darren Johnson will contest the 2004 London mayoral election for the Green Party
www.johnsonformayor.org.uk

Introducing
Darren Johnson
Darren Johnson is Leader of the Green Party Group in the London Assembly, and has again been selected to run as the Green Party's Candidate for Mayor in the 2004 elections.

Joining the Green Party in 1987 at the age of 20, Darren has played a very active role in Green politics over the past 16 years, and is now one of the party's best-known figures.

One of his key areas of policy interest is planning, where he has been involved in a number of high-profile campaigns to save threatened open spaces. He also has a major interest in transport, and has given strong support to the introduction of congestion charging.

Having chaired a major inquiry on nuclear waste trains for the London Assembly, Darren Johnson is an outspoken critic of the nuclear industry.



FRONT PAGE
SiteSearch
About us
Directories

English local elections 2014
London elections 2012
London elections 2008
UK elections 2009
British Mayors
Parish councils England
British local elections 2007
English local elections 2006
UK 2005 election - results
London government
City of London Corporation
Mayor of London
London Mayor could be disciplined
London congestion charge
UK local government


City Mayors reports news from towns and cities around the world. Worldwide | Elections | North America | Latin America | Europe | Asia | Africa | Events |




Mayors from The Americas, Europe. Asia, Australia and Africa are competing for the annual World Mayor Award. More




City Mayors ranks the world's largest as well as richest cities and urban areas. It also ranks the cities in individual countries, and provides a list of the capital cities of some 200 sovereign countries. More




City Mayors lists and features urban events, conferences and conventions aimed at urban decision makers and those with an interst in cities worldwide. More




City Mayors reports political events, analyses the issues and depicts the main players. More




City Mayors describes and explains the structures and workings of local government in Europe, The Americas, Asia, Australia and Africa. More




City Mayors profiles city leaders from around the world and questions them about their achievements, policies and aims. More




City Mayors deals with economic and investment issues affecting towns and cities. More




City Mayors reports on how business developments impact on cities and examines cooperation between cities and the private sector. More




City Mayors describes and explains financial issues affecting local government. More




City Mayors reports urban environmental developments and examines the challenges faced by cities worldwide. More




City Mayors reports on and discusses urban development issues in developed and developing countries. More



City Mayors reports on developments in urban society and behaviour and reviews relevant research. More




City Mayors deals with urban transport issues in developed and developing countries and features the world's greatest metro systems. More




City Mayors examines education issues and policies affecting children and adults in urban areas. More




City Mayors investigates health issues affecting urban areas with an emphasis on health in cities in developing countries. More




City Mayors examines the contributions history and culture make to urban society and environment. More




City Mayors describes the history, architecture and politics of the greatest city halls in the world. More




City Mayors examines the importance of urban tourism to city economies. More




City Mayors invites readers to write short stories about people in cities around the world. More




City Mayors questions those who govern the world's cities and talks to men and women who contribute to urban society and environment. More




City Mayors profiles national and international organisations representing cities as well as those dealing with urban issues. More




City Mayors reports on major national and international sporting events and their impact on cities. More




City Mayors lists cities and city organisations, profiles individual mayors and provides information on hundreds of urban events. More



This is an archived article published in June 2004
Small relief for Labour as
Livingstone wins in London

After a humiliating day in the local elections in England and Wales, where they became the first party in government nationally to come third in the number of votes cast, Ken Livingstone provided some relief for the Labour Party as he retained his London mayoral seat.

His overall percentage of the vote after first and second preferences were counted was 35.7 per cent, while his Conservative rival Steve Norris got 28.2 per cent, with Liberal Simon Hughes third on 16.8 per cent

The nature of the elections on 10 June 2004 was underlined by the success of single issue protest parties. The anti-Iraq-War coalition, Respect, polled 6.2 per cent and the United Kingdom Independence Party, opposed to the UK's membership of the European Community, got six per cent. The far right British National Party edged the Greens by three per cent to 2.9.

Of some significance is the outcome of the London Assembly elections which took place in parallel to the mayoral election. The Conservatives are now the largest party, having held on to their total of nine seats, including taking the seat of Lord Toby Harris, the outgoing Leader of the Labour Group on the Assembly and the Chairman of the Metropolitan Police Authority. Labour lost a total of two seats, down to seven. The Liberal Democrats have five and the Greens and the UK Independence Party have two each.

In spite of Mr Livingstone polling 11 per cent more in the mayoral race than his party did in the Assembly, this will restrict his freedom of movement. The Assembly's role is to monitor the mayor's proposals and the new make-up may cause the mayor difficulties. Full results


Liberal Democrats and Greens explain
their alternative visions for London
Early press coverage of the 10 June 2004 London mayoral election focused on Mayor Ken Livingstone's decision to rejoin the Labour Party and Conservative Steve Norris' links to big business. Meanwhilem however, Simon Hughes and Darren Johnson, for the Liberal Democrats and Greens respectively, have spelled out their alternative visions for London.

While Labour and the Conservatives, representing as they do the two major parties nation-wide, also had the largest number of seats in the Greater London Assembly (nine each), the Liberal Democrats and Greens, with seven seats between them, are in a strong position to hold the balance of power. Also, in view of the transferable vote system, where second choice votes can favour smaller parties, the policies of the two less fashionable mayoral candidates will affect the overall results, even if they don't win themselves.

Liberal Democrat mayoral candidate Simon Hughes, a Member of Parliament for a south-London constituency, has been announcing policy initiatives in areas such as local tax, crime prevention, policing and transport.

He told City Mayors that Londoners' Council Tax (local tax) had doubled in the past four years with Mayor Livingstone's 'I spend now, you pay later' policies. He accuses Ken Livingstone of spending £20 million of taxpayers' money on self-publicity, including 16 press officers solely for the Mayor's office, and £18 million spent on advertising the Mayor. Mr Hughes says he would spend this money on front-line police officers to increase Londoners' sense of security. He also points out that 16 of the UK's worst 20 black spots for abandoned cars are found in the capital - a sign, he claims, of the Mayor's lack of interest in people's surroundings.

The Liberal Democrats are also calling the Electoral Commission to investigate the Mayor's declaration of donations to his Electoral Campaign. Their spokesperson told City Mayors that Mr Livingstone had so far failed to publicly declare donations to his mayoral campaign.

Mr Hughes believes it highly likely that the Mayor's re-election campaign was being funded by trade unions who have a direct interest in his functions as Mayor: for example, the RMT (railway union), which negotiates salary and terms with the Mayor in his capacity at Transport for London. Paralleling that scenario is the difficulty of the Conservative candidate, Steve Norris, who holds a senior position on the board of Jarvis, the company entrusted with railway track maintenance.

On the congestion charge, Mr Hughes announced his proposed changes. While agreeing in principle, he wants to encourage shoppers back to London and to make any extensions more accountable to local people. He also wants to introduce block purchasing and pre-pay tickets. He specifically opposes the proposed expansion into Kensington and Chelsea, a wealthy London borough to the west of the West End, the city's principal shopping, theatre and restaurant area.

Darren Johnson's Green Party sees itself as further left than the Labour Party, although it regularly uses its three seats with Labour against the nine Conservatives, leaving the four Liberal Democrats with the balance of power. Mr Johnson alone of the four main mayoral candidates is also standing as an assembly member, and the Greens hope to win the balance of power. With some voters unwilling to back Ken Livingstone now that he has rejoined the Labour Party, the Greens could benefit.

Mr Johnson's policies consist of cutting expenditure so as to be able to reduce Council Tax. He told City Mayors that by slashing spending on road building, propaganda, and waste and increasing congestion charging revenue, a Green Mayor could double spending on pedestrian and cycling schemes, double spending on the bus improvement programme and double the environment budget. "The Green budget would actually result in a rebate of 3p per week rather than the increase of 33p proposed by the incumbent Mayor," Mr Johnson claimed.

Mr Johnson contrasts the current spending of £2.8 million per year on the Londoner newspaper, which is sent to every household, with the spending only £1.3 million on protecting London's environment, in spite of the Mayor's legal responsibilities to implement strategies on air quality, waste, biodiversity and noise and to reduce London's greenhouse gas emissions.

While the Tories are against the congestion charge in principle, and the Liberal Democrats oppose any expansion until the teething problems have been ironed out, the Greens' Darren Johnson has announced his plans to extend the scheme to cover the whole of London.

He told City Mayors that as Mayor he would want to introduce three separate zones for, respectively, central London, inner London and outer London, so that the benefits of congestion charging are spread to every community.

Mr Johnson also attacks the Mayor's expansion plans. He claims the new plans for road building, substantial airport expansion and new office accommodation and reliance on growth in the financial sector are not the way to help ordinary Londoners.

"There is no point in extolling the virtues of affordable housing if it is not matched with affordable jobs. Of the 636,000 new jobs the Mayor is projecting in his London Plan, 454,000 are earmarked for the business and financial sector," Mr Johnson said.

"Who seriously believes that the promised new jobs in financial services are really going to help the poor and unemployed of East London? More likely, they will attract even more wealthy commuters into London from the South East and beyond," the Green candidate added.

Darren Johnson's London plan would include:

· Economic development that values economic diversity and protects local economies and small businesses, as well as ensuring that all vital public services are within walking distance for everyone

· Improvements to public transport - no more road building

· Protecting London's natural environment, and not building on sites of nature conservation value

· Policy objectives that reduce the need to travel, reduce traffic and improve local accessibility

"London needs a more imaginative approach that values economic diversity and local economies, rather than being almost wholly dependent on the financial services sector, whose performance over the last twenty years has been based on a boom then bust scenario. We need economic sustainability that helps improve the quality of life for all." More on the London election 2004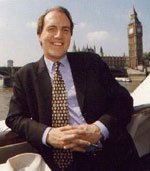 Simon Hughes will contest the 2004 London mayoral election for the Liberal Democrats
www.simon4mayor.org.uk

Introducing
Simon Hughes
Simon Hughes has been one of the highest profile and most widely respected Liberal Democrat MPs since the party was formed.

Born in Cheshire in May 1951, his family moved to Wales when Simon was eight and, later, relocated to Herefordshire when he was 18. Simon read law at Selwyn College, Cambridge (1970-73), where he joined the Union of Liberal Students and became President of his College Student Union. After moving to London and being called to the bar by the Inner Temple in 1974, he received a postgraduate Certificate in European Studies from the College of Europe in Bruges in 1975, where he again became President of the Student Union.

Simon joined the Liberal Party in 1971, inspired by campaigns on international justice in places such as South Africa and Palestine. Simon was a founding member of the Liberal Democrats in 1988, and was runner up to Charles Kennedy (with 43 per cent of the vote) in the party's most recent leadership election in the summer of 1999.

Southwark (south London) has been Simon's home for over 25 years, and he has taken a leading role in transforming the politics of the borough by taking and winning one of Labour's previously safest seats. Simon set a still unbeaten record for the highest swing between two parties in any British parliamentary election – 50.9 per cent from Labour to Liberal. The North Southwark & Bermondsey seat is widely regarded as the strongest Liberal Democrat bastion in London, having been won by Simon six times in a row.

In October 2003 Simon Hughes handed over his home affairs brief to Mark Oaten to enable him to focus on winning the London Mayoral election in June 2004.