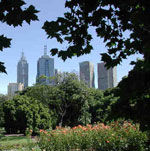 For the fourth year running, the Economist Intelligence Unit named Melbourne the 'best' city in the world




FRONT PAGE
Site Search
About us




EIU: Best cities in the world
Mercer: Best cities in the world
Richest cities in the world
Secure cities
Urban population growth from now to 2030
World's largest cities
and their mayors 2010
Most expensive world cities


Worldwide | Elections | North America | Latin America | Europe | Asia | Africa |





























Best cities in the world: Melbourne is still on top
while war-torn Damascus dropped to the bottom
A report by the Economist Intelligence Unit
29 August 2013: The London-based Economic Intelligence Unit (EIU) has again named Melbourne as the 'best' city in the world, whereas the US consultancy Mercer is less impressed by Australia's second city, ranking it only 17th in its league table of the most liveable cities. Both organisations agree, however, that for people who can choose where to live Vienna deserves serious consideration. Mercer ranks the Austrian capital top in the world, while the EIU puts it in second place. Other German-speaking cities, such as Zürich, München, Düsseldorf and Frankfurt, which are much favoured by Mercer don't feature in the EIU's top ten at all. Not surprisingly, war-torn Damascus was named as worst city to live in.

EIU's ten 'best' cities in the world
2013 Rank
(2012)


City

Country

1 (1)

Melbourne
Australia

2 (2)

Vienna
Austria

3 (3)

Vancouver
Canada

4 (4)

Toronto
Canada

=5 (5)

Calgary
Canada

=5 (5)

Adelaide
Australia

7 (7)

Sydney
Australia

8 (8)

Helsinki
Finland

9 (9)

Perth
Australia

10 (10)

Auckland
New Zealand
Mercer Consulting's 50 best cities in the world

The 2013 EIU report, which describes the concept of livability as simple, is compiled for business people from western countries and used to work out hardship allowances as part of an expatriate's relocation package. The report's authors say that the survey quantifies the challenges that might be presented to an individual's lifestyle in 140 cities worldwide. Seen from such a western perspective, it is therefore not surprising that the survey's top cities are all located in wealthy western countries.

While this year's EIU top ten is identical to last year's ranking, this apparent stability hides longer-term trends that become apparent when taking a five-year view. Only 28 cities of the 140 surveyed have registered changes in the last 12 months, but 86 cities have experienced a change in liveability over the past five years. Of these, just 30 have seen an improvement in scores, while 56 have seen liveability levels declining.

The past five years have seen civil unrest becoming a globally destabilising factor, with a number of different reasons for discontent. The most significant of these has been the Arab Spring, which has affected a number of countries in the Middle East and North Africa, notably the ongoing protests in Egypt and the civil wars in Syria and Libya. This means that Damascus, Tripoli and Cairo have seen the sharpest declines over the past five years, with the Syrian capital in particular seeing a 20 per cent decline in liveability and moving to the very bottom of the ranking.

But austerity and feelings of disenfranchisement have led to rioting and protests in western Europe as well, notably in Greece, but also in the UK and most recently in Spain. In China, which has seen improving liveability levels over the past five years due to investment in infrastructure and higher living standards, there has been heightened unrest triggered by a range of social problems, most notably anti-Japanese rioting during August and September last year.

Yet it has not all been doom and gloom; there have been some positive changes in liveability over the past five years. Bogota in Colombia has seen the sharpest rise in liveability as the threat from terrorism, violence and kidnappings related to guerrilla activity has declined. Equally, while current elections are disputed, a more stable situation has prompted a rise in liveability for Harare, although the Zimbabwean capital remains in the bottom five cities of the ranking.

Cities where liveability has improved most

City

Country

Rank out of 140

Five-year
improvement in %

Bogota
Colombia

111

+7.9

Harare
Zimbabwe

136

+3.2

Dubai
UAE

77

+2.9

Algiers
Algeria

134

+2.9

Kuwait City
Kuwait

81

+2.5

Dhaka
Bangladesh

139

+2.5

Taipei
Taiwan

61

+2.0

Colombo
Sri Lanka

128

+1.8

Bratislava
Slovakia

63

+1.7

Phnom Penh
Cambodia

126

+1.6


Cities where liveability has declined most

| | | | |
| --- | --- | --- | --- |
| City | Country | Rank out of 140 | Five-year decline in % |
| Damascus | Syria | 140 | -20.4 |
| Tripoli | Libya | 133 | -19.9 |
| Cairo | Egypt | 122 | -5.9 |
| Sofia | Bulgaria | 87 | -4.9 |
| Amman | Jordan | 103 | -4.1 |
| Panama City | Panama | 97 | -3.8 |
| Tunis | Tunisia | 104 | -3.8 |
| Muscat | Oman | 88 | -3.7 |
| Reykjavik | Iceland | 54 | -3.3 |
| Nairobi | Kenya | 124 | -2.9 |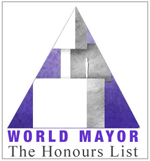 WORLD MAYOR
PRIZE 2018
Nominate exceptional women mayors for the World Mayor Prize

The 2018 World Mayor Project is dedicated to women in local government. It features the achievements of women mayors from across the world and will honour the best of them.

Please nominate your candidate now

Women have fought prejudice and struggled for equal rights and opportunities for hundreds of years. They did it with courage and resolve. In the 20th and early 21st centuries, women have achieved success in many spheres previously reserved to or monopolised by men, but their contributions are still often undervalued and their potential not recognised enough. Only some 20 per cent of the world's mayors are women.

The 2018 World Mayor Project aims to encourage more women to consider a career in local government and stand for political office.

Please nominate
exceptional women
mayors for the 2018
World Mayor Prize
and honours.