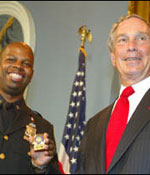 New York Mayor Michael Bloomberg presents New York Police Officer Richard Burt with an NYPD Gold Shield for his actions during the fatal shooting of Councilman James Davis. Mayor Bloomberg said that Officer Burt put himself in harm's way and thus saved countless lives. Richard Burt was also promoted to Detective.



PAGE ONE
SiteSearch
About us
Directories

Safest US cities
Sex in the City of Chicago
US cities reduce services
US cities report low growth
San Francisco shrinks
Gates millions for NYC schools
NYC fights noise pollution


City Mayors reports news from towns and cities around the world. Worldwide | Elections | North America | Latin America | Europe | Asia | Africa | Events |




Mayors from The Americas, Europe. Asia, Australia and Africa are competing for the annual World Mayor Award. More




City Mayors ranks the world's largest as well as richest cities and urban areas. It also ranks the cities in individual countries, and provides a list of the capital cities of some 200 sovereign countries. More




City Mayors lists and features urban events, conferences and conventions aimed at urban decision makers and those with an interst in cities worldwide. More




City Mayors reports political events, analyses the issues and depicts the main players. More




City Mayors describes and explains the structures and workings of local government in Europe, The Americas, Asia, Australia and Africa. More




City Mayors profiles city leaders from around the world and questions them about their achievements, policies and aims. More




City Mayors deals with economic and investment issues affecting towns and cities. More




City Mayors reports on how business developments impact on cities and examines cooperation between cities and the private sector. More




City Mayors describes and explains financial issues affecting local government. More




City Mayors reports urban environmental developments and examines the challenges faced by cities worldwide. More




City Mayors reports on and discusses urban development issues in developed and developing countries. More



City Mayors reports on developments in urban society and behaviour and reviews relevant research. More




City Mayors deals with urban transport issues in developed and developing countries and features the world's greatest metro systems. More




City Mayors examines education issues and policies affecting children and adults in urban areas. More




City Mayors investigates health issues affecting urban areas with an emphasis on health in cities in developing countries. More




City Mayors examines the contributions history and culture make to urban society and environment. More




City Mayors describes the history, architecture and politics of the greatest city halls in the world. More




City Mayors invites readers to write short stories about people in cities around the world. More




City Mayors questions those who govern the world's cities and talks to men and women who contribute to urban society and environment. More




City Mayors profiles national and international organisations representing cities as well as those dealing with urban issues. More




City Mayors reports on major national and international sporting events and their impact on cities. More




City Mayors lists cities and city organisations, profiles individual mayors and provides information on hundreds of urban events. More



This is an archived article published in July 2003
New York Mayor Michael Bloomberg
remembers Councilman James Davis
By news agencies

On 23 July 2003, City Councilman James Davis of Brooklyn was assassinated by an angry and deeply troubled individual in the balcony of the Council Chambers at City Hall. It was an assault on our democracy, and an appalling loss for Councilman Davis's family. Our deepest condolences go out to his family, colleagues and constituents.

The day after the shooting, I visited the Councilman's district office in Fort Greene, and I was tremendously impressed with the huge display there of flowers, candles and written expressions of sorrow from those he represented-Brooklyn residents of every race. It was a moving testament to the positive impact that Councilman Davis had made in his still-young life.

A former New York City police officer, Councilman Davis's political mantra was "stop the violence." On the day he perished, an officer he served with in the ranks of the NYPD-Police Officer Richard Burt-showed extraordinary bravery and skill in stopping the violence that took James Davis before it destroyed anyone else.

Davis's assassin struck just as a full Council meeting was about to begin; the chambers were filled with the Council's members, as well as scores of spectators and guests, including many small children. When the gunfire erupted, an understandably chaotic situation ensued. In the midst of that turbulence, Officer Burt, a nine-year veteran, calmly and heroically put himself in harm's way. He fired his gun from the Council floor-a distance of some 45 feet -mortally wounding the councilman's assailant without harming anyone else. Although Councilman Davis's killer had discharged the entire magazine of his gun, it was later discovered that he had brought more bullets with him, so Officer Burt almost surely prevented further bloodshed on that terrible day. For his quick and courageous action, and because we're confident he'll continue to distinguish himself in protecting our city, he has received a well-deserved promotion to the rank of detective.

Unaware that his killer had marked him for death, Councilman Davis actually escorted him into City Hall as a guest, and neither man passed through the metal detectors that are posted outside the building. For many years, we have extended that courtesy to all elected officials, but from now on and without exception, everyone who works at or visits City Hall, including me, will go through the metal detectors.

This was a crime committed in the chamber where New York City's laws are debated and passed; it was a blow struck in the very heart of our government. It's an ongoing struggle to find the right balance between operating the open government the people are entitled to while we also protect everyone's safety. Nothing has highlighted that struggle more than this shocking episode. At City Hall, we'll find and maintain that balance, so we can continue to do our jobs-working for the people of the greatest in the world.


Mayor Bloomberg condemns gun carrying
after fatal shooting in New York City Hall
James Davis, a New York City Councilman representing the 35th District in Brooklyn, was shot by a gunman in the city's Council Chamber. The shooting took place at around two o'clock on 23 July 2003.

New York Mayor Michael Bloomberg confirmed the identity of the gunman as Othniel Askew, a political rival of James Davis. Following the shooting of Mr Davis, Othniel Askew was killed by a police bodyguard for the Council Speaker, the Mayor added.

According to press reports Othniel Askew entered the Chamber as a guest of Mr Davis. Indeed, video security footage showed the two men entering City Hall together. They did not walk through metal detectors installed after 9/11. City Hall staff confirmed that elected officials routinely by-pass the metal detectors. This breach of security apparently Othniel Askew to bring a Smith & Wesson handgun into the Council Chamber. According to some reports, the gunman also hid some extra bullets in his socks. Witnesses told reporters that they saw the wo men talking on a balcony in the City Hall's second-floor rotunda where a council meeting was to take place.

Mayor Bloomberg told the press there was no sign of a verbal or physical altercation between them before the shots rang out. Authorities said Askew fired shots at Davis on the balcony and never appeared to fire down below at the rest of the city council members.

"The city council meeting was going along normally when all of a sudden there were screams and shots," the Mayor added.

James Davis was shot in the torso. The Councilman was known to carry a licensed gun, but was unable to draw the weapon, New York Police Commissioner Ray Kelley told reporters.

Witnesses in the council chamber gave a harrowing account of chaos and mayhem, with council members and their staff ducking for cover. The main floor of the chamber seats the city's 51 council members and their staff, while the balcony allows the public to observe the meetings.

After the shooting Mayor Bloomberg, who was somewhere else in the building at the time of the incident, said that, with immediate effect, all visitors to City Hall including elected officials would have to pass through metal detectors. "I don't know why people carry guns. Guns kill people," the Mayor added.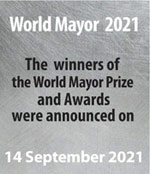 The best Mayors for Stronger | Fairer | Greener cities. Elect your candidate for the 20/21 World Mayor Prize and Honours. The Prize has been awarded since 2004