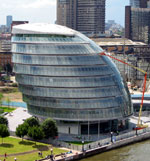 London City Hall on the South Bank of the river Thames



FRONT PAGE
SiteSearch
About us
Directories

English local elections 2014
London elections 2012
UK elections 2011
British Mayors
Parish councils England
London elections 2008
UK elections 2009
British local elections 2007
English local elections 2006
UK 2005 election - results
London government
City of London Corporation
Mayor of London
London Mayor could be disciplined
London congestion charge
UK local government


City Mayors reports news from towns and cities around the world. Worldwide | Elections | North America | Latin America | Europe | Asia | Africa | Events |




Mayors from The Americas, Europe. Asia, Australia and Africa are competing for the annual World Mayor Award. More




City Mayors ranks the world's largest as well as richest cities and urban areas. It also ranks the cities in individual countries, and provides a list of the capital cities of some 200 sovereign countries. More




City Mayors lists and features urban events, conferences and conventions aimed at urban decision makers and those with an interst in cities worldwide. More




City Mayors reports political events, analyses the issues and depicts the main players. More




City Mayors describes and explains the structures and workings of local government in Europe, The Americas, Asia, Australia and Africa. More




City Mayors profiles city leaders from around the world and questions them about their achievements, policies and aims. More




City Mayors deals with economic and investment issues affecting towns and cities. More




City Mayors reports on how business developments impact on cities and examines cooperation between cities and the private sector. More




City Mayors describes and explains financial issues affecting local government. More




City Mayors reports urban environmental developments and examines the challenges faced by cities worldwide. More




City Mayors reports on and discusses urban development issues in developed and developing countries. More



City Mayors reports on developments in urban society and behaviour and reviews relevant research. More




City Mayors deals with urban transport issues in developed and developing countries and features the world's greatest metro systems. More




City Mayors examines education issues and policies affecting children and adults in urban areas. More




City Mayors investigates health issues affecting urban areas with an emphasis on health in cities in developing countries. More




City Mayors examines the contributions history and culture make to urban society and environment. More




City Mayors examines the importance of urban tourism to city economies. More




City Mayors describes the history, architecture and politics of the greatest city halls in the world. More




City Mayors invites readers to write short stories about people in cities around the world. More




City Mayors questions those who govern the world's cities and talks to men and women who contribute to urban society and environment. More




City Mayors profiles national and international organisations representing cities as well as those dealing with urban issues. More




City Mayors reports on major national and international sporting events and their impact on cities. More




City Mayors lists cities and city organisations, profiles individual mayors and provides information on hundreds of urban events. More



This is an archived article published in June 2004
Small relief for Labour as
Livingstone wins in London

After a humiliating day in the local elections in England and Wales, where they became the first party in government nationally to come third in the number of votes cast, Ken Livingstone provided some relief for the Labour Party as he retained his London mayoral seat.

His overall percentage of the vote after first and second preferences were counted was 35.7 per cent, while his Conservative rival Steve Norris got 28.2 per cent, with Liberal Simon Hughes third on 16.8 per cent

The nature of the elections on 10 June 2004 was underlined by the success of single issue protest parties. The anti-Iraq-War coalition, Respect, polled 6.2 per cent and the United Kingdom Independence Party, opposed to the UK's membership of the European Community, got six per cent. The far right British National Party edged the Greens by three per cent to 2.9.

Of some significance is the outcome of the London Assembly elections which took place in parallel to the mayoral election. The Conservatives are now the largest party, having held on to their total of nine seats, including taking the seat of Lord Toby Harris, the outgoing Leader of the Labour Group on the Assembly and the Chairman of the Metropolitan Police Authority. Labour lost a total of two seats, down to seven. The Liberal Democrats have five and the Greens and the UK Independence Party have two each.

In spite of Mr Livingstone polling 11 per cent more in the mayoral race than his party did in the Assembly, this will restrict his freedom of movement. The Assembly's role is to monitor the mayor's proposals and the new make-up may cause the mayor difficulties. Full results


London mayoral candidates campaign on
local issues against national background
On the same day as the London mayoral election, 10 June 2004 - which is being referred to as 'Super Thursday' - there will be elections in 144 of the 387 local authorities in England, including the London Assembly, and all 22 of the local councils in Wales, as well as for all 78 British seats in the European Parliament. See results

London is one of nine English regions in the European Elections and Northern Ireland, Wales and Scotland are counted as one region each. The coincidence of the three elections will make the London Mayoral battle harder to call as national politics will influence the candidates' standing. Plymouth University's local elections centre told City Mayors that 20 per cent of voters in 1997 and 2001 voted differently in local and general elections when they were held on the same day.

After Liberal Democrat Simon Hughes's candidacy announcement on 26 April 2004, the Conservative Steve Norris and the New Labour candidate Ken Livingstone have now joined the contest for London Mayor. In addition, Darren Johnson of the Green Party is standing again.

These candidates represent the same four parties who gained seats in the last election for the 25-strong London Assembly. The main differences are that last time Mr Livingstone stood against the Labour Party for mayor and won as an Independent, and the Lib Dems now have a much more high profile candidate.

A YouGov poll published in the London Evening Standard put Mr Livingstone at 40 per cent, Mr Norris on 31, and Mr Hughes on 17. This shows a drop since December from 44 per cent for Mr Livingstone, an improvement from 26 for Mr Norris and a drop from 20 for Mr Hughes.

This is a major blow for Simon Hughes. He gave up his front bench Home Affairs post to stand for mayor after Charles Kennedy beat him in the contest for Liberal Democrat leader. The Lib Dems were buoyed up after the recent landslide by-election victory in Brent East, the London constituency previously served by Ken Livingstone.

He desperately needs to come at least second in the count of the first preferences. This is because of the crucial feature of the elections: the supplementary vote system. This means that, unless one candidate gets over 50 per cent on first preferences, second preferences for the top two candidates are taken into account. If Mr Hughes comes second most observers believe his second preferences might be enough to beat Mr Livingstone

Mr Hughes is pulling out all the stops in his campaign. He has been accused of dirty tricks for a campaign leaflet which linked Mr Norris to a photo of a body being carried from the wreckage of the Potters Bar rail crash. Mr Norris is chairman of the struggling rail maintenance giant, Jarvis, which was supposed to be in charge of rail maintenance in the area and is the centre of a fatal rail-crash investigation. Jarvis has since apologised to the victims of the crash. It is also part of one of the consortia that runs parts of London Underground.

Mr Hughes's main attack on Mr Livingstone is linked to his return to Labour. "He's Blair's mayor now", said Mr Hughes. Mr Blair's current unpopularity especially in terms of Iraq is certain to overshadow all three elections, with the certainty of a high degree of protest voting. Although Mr Livingstone has distanced himself from government policy on Iraq, foundation hospitals, and university tuition fees, will this be enough to stop him being tarred with the same brush. In addition, although the latest annual figures show falls in burglaries and gun crime, with a drop of 2 per cent in offences overall in London, all parties are attacking Mr Livingstone's record on crime.

In order, the main proposals of the parties are:
Ken Livingstone, Labour: Continue Safe Neighbourhood policing with each London ward having a team of six police or community support officers. More buses and free travel for under-eighteens. Slight extension of the congestion charge zone. Tube to run later at weekends. Back Labour's aim to provide affordable childcare for all by 2010. Aim to provide 50 per cent affordable homes.

Steve Norris, Conservative: Put more of London's 30,000 police officers on the streets. Scrap the congestion charge. No-strike deal on the Tube. Free school buses for primary school children. Tube to run until 3am at weekends.

Simon Hughes, Liberal Democrats: Eight-strong community police teams in each ward. Set up a force of 100,000 civilian volunteers trained to deal with the aftermath of a terrorist attack. Pedestrianise Oxford Street. No congestion charge zone extension. Tubes to run until 2am at weekends.

Darren Johnson, Greens: Congestion charge for all London. No new road building and £1bn to be spent on public transport. 20mph speed limit on all but major roads. Minimum living wage for low-paid. Tube running all night at weekends. (The Greens are currently 5th in the YouGov poll with 3 per cent.)

Julian Leppert, British National Party: Scrap the congestion charge. London to no longer welcome economic migrants. Schools to return to the 3 Rs way of teaching. All public buildings to fly the English flag on St George's day. (The BNP is currently 4th in the YouGov poll with 4 per cent.)

Other parties who have declared so far are:
• UK Independence Party with Frank Maloney, who wants to get rid of the London Authority, raise police numbers to 40,000 and legalise and license brothels.
• Respect Party with Lindsey German, represents the Stop the War Coalition, founded by ex-Labour MP George Galloway. They propose a flat rate £1 fare on the Tube. Minimum London weighting of £4,000 for everyone. Ban on luxury developments on the Thames. Local Income tax to replace the Council Tax.
• Christian People's Alliance, with Ram Gidoomal. Issue a People's Bond to fund Tube improvement. Increase the number of black and minority police officers. Allow boroughs to set up mini congestion charge zones in busy areas. More public toilets.
• Independent Working Class Association, Lorna Reid. Push for a London 'living wage' of £7.32 an hour



The European Parliament in Strasbourg

The European Parliament
The only directly elected EU body, it is made up of 626 Members of the European Parliament (MEPs) who are elected every five years under a system of proportional representation. Most of the work of the European Parliament is conducted in Brussels where MEPs meet in various committees but its full monthly plenary meetings take place in Strasbourg.

The European Parliament has three main roles:
• It passes laws affecting the EU in collaboration with government ministers from Member States sitting in the Council.
• It exercises democratic scrutiny over all EU institutions, and in particular the Commission. It has the power to approve or reject the nomination of Commissioners, and it can call for the resignation of the Commission as a whole.
• It shares with the Council authority over the EU budget and can therefore influence EU spending. At the end of the approval procedure, it adopts or rejects the budget in its entirety.