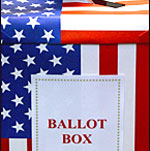 On 7 November 2006, US voters will be asked to take part in federal, state and local elections




FRONT PAGE
SiteSearch
About us
Directories

US 2012 mayoral elections
US 2011 mayoral elections
US elections 2010: Results
US mayors
Power relations in US cities
US politcs and consumerism
US elections 2009: Results
Mayors in the White House
Results of US elections 2007
US off-year elections 2007
US mayoral elections 2007
US presidential candidates 08
Mayors for US presicency
Philadelphia election 2007
US elections 2006 - California
US elections 2006 - Preview 2
US elections 2006 - Preview 1
US elections - race issues
US elections 2005
US elections 2004
Black American men


City Mayors reports news from towns and cities around the world. Worldwide | Elections | North America | Latin America | Europe | Asia | Africa | Events |




Mayors from The Americas, Europe. Asia, Australia and Africa are competing for the annual World Mayor Award. More




City Mayors ranks the world's largest as well as richest cities and urban areas. It also ranks the cities in individual countries, and provides a list of the capital cities of some 200 sovereign countries. More




City Mayors lists and features urban events, conferences and conventions aimed at urban decision makers and those with an interst in cities worldwide. More




City Mayors reports political events, analyses the issues and depicts the main players. More




City Mayors describes and explains the structures and workings of local government in Europe, The Americas, Asia, Australia and Africa. More




City Mayors profiles city leaders from around the world and questions them about their achievements, policies and aims. More




City Mayors deals with economic and investment issues affecting towns and cities. More




City Mayors reports on how business developments impact on cities and examines cooperation between cities and the private sector. More




City Mayors describes and explains financial issues affecting local government. More




City Mayors reports urban environmental developments and examines the challenges faced by cities worldwide. More




City Mayors reports on and discusses urban development issues in developed and developing countries. More



City Mayors reports on developments in urban society and behaviour and reviews relevant research. More




City Mayors deals with urban transport issues in developed and developing countries and features the world's greatest metro systems. More




City Mayors examines education issues and policies affecting children and adults in urban areas. More




City Mayors investigates health issues affecting urban areas with an emphasis on health in cities in developing countries. More




City Mayors examines the contributions history and culture make to urban society and environment. More




City Mayors describes the history, architecture and politics of the greatest city halls in the world. More




City Mayors invites readers to write short stories about people in cities around the world. More




City Mayors questions those who govern the world's cities and talks to men and women who contribute to urban society and environment. More




City Mayors profiles national and international organisations representing cities as well as those dealing with urban issues. More




City Mayors reports on major national and international sporting events and their impact on cities. More




City Mayors lists cities and city organisations, profiles individual mayors and provides information on hundreds of urban events. More



Democrats hope for mid-term gains
in US cities, states and in Congress
By Andrew Stevens, Deputy Editor
3 September 2006: This year's scheduled mayoral contests in many American cities fall on 7 November, the same day as the 36 gubernatorial contests, where the Republicans are hoping to retain their 22 states, in spite of some projected gains for the Democrats.

Election day is probably more significant for the mid-term Congressional elections being used by many to gauge the state of play between the two parties, with attention likely to focus on the possibility of the Democrats gaining a majority in the House of Representatives and the re-election bid of Senator Joe Lieberman in Connecticut following his recent primary loss to anti-war challenger Ned Lamont there.

Of the polls being held on 7 November, the largest cities holding mayoral elections are San Jose, California, Louisville Metro, Kentucky, Providence, Rhode Island, Richmond, Virginia and the capital, Washington, DC. These cities are all currently held by the Democrats, arguably the party of urban America. San Jose's first Hispanic mayor, Ron Gonzales, is retiring after suffering a stroke and more recently being charged in office on several felony counts of graft. City council member Chuck Reed and current vice mayor Cindy Chavez have gone forward as the two candidates vying to take control of America's lowest crime city this November.

Louisville Metro Mayor Jerry Abramson is seeking re-election as first mayor of the merged Louisville-Jefferson County government following the decision to merge the two councils. Abramson, a prominent Jewish politician and former president of the US Conference of Mayors, has been mockingly dubbed 'Mayor for Life' having already served three terms as mayor and avoided term limits by dint of the creation of a new council. He is predicted to face a strong campaign by Republican opponent council member Kelly Downard though polls suggest Abramson remains popular with voters in the city. David Cicilline, mayor of Providence, RI, is America's first openly gay city leader in a state capital. A Jewish liberal acclaimed for his reforming approach in a city previously beset by municipal corruption and decline, Cicilline is strongly tipped for re-election in the mainly Catholic city.

Anthony A. Williams, Mayor of Washington, DC, is retiring in 2006 and looks likely to be replaced by either Linda Cropp or Adrian Fenty, the two council members who go through to September's Democrat primary which will ultimately determine the outcome of the mayoral election. Known for his trademark bow-tie and technocratic demeanour, Williams took over from the administration of Marion Barry, whose inept governance saw the city placed under federal oversight. Barry famously won re-election in 1994 not long after serving jail time for drugs offences following a sting operation by the FBI while he was in office. Williams himself won re-election in bizarre circumstances when in 2002 he ran as a write-in candidate following an election misdemeanour committed by his re-election campaign.

Of the 36 gubernatorial races, attention is most likely to focus on California, where Arnold Schwarzenegger is hoping to retain the governorship for the Republicans following his infamous recall election win against the Democrat Gray Davis in 2003. Democrat challenger and current State Treasurer Phil Angelides is running a spirited campaign against the 'Governator', though the Schwarzenegger campaign has attracted endorsements from non-Republican Hollywood figures. In Maryland, Baltimore Mayor Martin O'Malley is standing against Republican Bob Erlich and is projected to take the governorship for the Democrats. Former Philadelphia mayor Ed Rendell is running for a second term as governor of Pennsylvania on behalf of the Democrats and predicted to win there. Texan Governor Rick Perry is also predicted to gain a second term for the Republicans, though novelist Kinky Friedman's independent campaign is polling higher than usual for a non-partisan candidate in the state.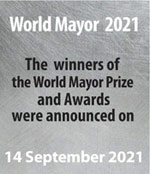 The best Mayors for Stronger | Fairer | Greener cities. Elect your candidate for the 20/21 World Mayor Prize and Honours. The Prize has been awarded since 2004