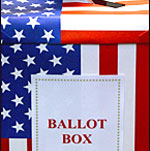 Estimates put the number of posts filled through US off-year elections at about 176,000




FRONT PAGE
SiteSearch
About us
Directories

US 2012 mayoral elections
US 2011 mayoral elections
US elections 2010: Results
US mayors
Power relations in US cities
US politcs and consumerism
Results of US elections 2007
US elections 08: Factors
Mayors in the White House
US off-year elections 2007
US mayoral elections 2007
US presidential candidates 08
Mayors for US presicency
Philadelphia election 2007


City Mayors reports news from towns and cities around the world. Worldwide | Elections | North America | Latin America | Europe | Asia | Africa | Events |




Mayors from The Americas, Europe. Asia, Australia and Africa are competing for the annual World Mayor Award. More




City Mayors ranks the world's largest as well as richest cities and urban areas. It also ranks the cities in individual countries, and provides a list of the capital cities of some 200 sovereign countries. More




City Mayors reports political events, analyses the issues and depicts the main players. More




City Mayors describes and explains the structures and workings of local government in Europe, The Americas, Asia, Australia and Africa. More




City Mayors profiles city leaders from around the world and questions them about their achievements, policies and aims. More




City Mayors deals with economic and investment issues affecting towns and cities. More




City Mayors reports on how business developments impact on cities and examines cooperation between cities and the private sector. More




City Mayors describes and explains financial issues affecting local government. More




City Mayors lists and features urban events, conferences and conventions aimed at urban decision makers and those with an interst in cities worldwide. More




City Mayors reports urban environmental developments and examines the challenges faced by cities worldwide. More




City Mayors reports on and discusses urban development issues in developed and developing countries. More



City Mayors reports on developments in urban society and behaviour and reviews relevant research. More




City Mayors deals with urban transport issues in developed and developing countries and features the world's greatest metro systems. More




City Mayors examines education issues and policies affecting children and adults in urban areas. More




City Mayors investigates health issues affecting urban areas with an emphasis on health in cities in developing countries. More




City Mayors examines the importance of urban tourism to city economies. More




City Mayors examines the contributions history and culture make to urban society and environment. More




City Mayors describes the history, architecture and politics of the greatest city halls in the world. More




City Mayors invites readers to write short stories about people in cities around the world. More




City Mayors questions those who govern the world's cities and talks to men and women who contribute to urban society and environment. More




City Mayors profiles national and international organisations representing cities as well as those dealing with urban issues. More




City Mayors reports on major national and international sporting events and their impact on cities. More




City Mayors lists cities and city organisations, profiles individual mayors and provides information on hundreds of urban events. More


Democrat city mayors did well
in American off-year elections
By Andrew Stevens, Deputy Editor
7 November 2007: In any other country it would be tempting to consider the results of municipal races as part of a national trend affecting the outcome of future general elections, but in the US the familiar saying all politics is local truly holds sway. While presidential contenders continue to vie for their party's endorsement, across urban America the Democrats either returned mayors or introduced new faces into city halls. Most significantly, San Francisco's Gavin Newsom, Houston's Bill White, Baltimore's Sheila Dixon and Pittsburgh's Luke Ravenstahl, all Democrats, easily won re-election, while in Philadelphia Michael Nutter coasted home to replace term-limited John Street.

Discuss the 2007 election results

2007 is an 'off year' in American electoral politics – with the 2006 mid-terms firmly out of the way and all eyes on the 2008 presidential election, currently the widest open in living memory. In terms of the scheduled off-year elections, most concerned mid-sized and smaller cities, with only three gubernatorial races to speak of.

In Kentucky, the Republican incumbent Governor Ernie Fletcher lost to Democrat challenger and former Lt. Gov. Steve Beshear following a scandal over hiring political allies, which led to his being indicted in office. Louisiana's race for governor was already settled in the primary of October 20, where Republican Congressman Bobby Jindal replaced departing Democrat Governor Kathleen Blanco, who was heavily criticised for her performance in the relief efforts after Hurricane Katrina. 36-year old Jindal is the first non-white Governor of Louisiana and the first Indian American governor in the US. Lt. Gov. Mitch Landrieu, a Democrat and Ray Nagin's chief opponent in the 2006 New Orleans mayoral election, won a second term and will serve alongside Jindal.

Mississippi's incumbent Governor Haley Barbour was re-elected for a second term. Though hailed for his "Giuliani-like" handling of the Katrina crisis, Barbour is allied to a number of right-wing causes and raised eyebrows when he refused to criticise members of a segregationist group he had been photographed with. Barbour, a former tobacco industry lobbyist in DC, also refused to raise tobacco taxes in the state while keeping grocery taxes the highest in the US, as well as eliminating state support for anti-teen smoking programmes.

Though votes are not yet all counted and new state balloting laws may see the count go on for weeks, Gavin Newsom confidently predicted victory and a second term from his San Francisco campaign headquarters, promising a new hospital for the city. Houston's Bill White scored a third term in office with 86 per cent of the vote against two unknown opponents, dismissing persistent rumours of a gubernatorial or senate run in 2010. In the Maryland coastal city of Baltimore, Sheila Dixon was able to turn her partial term as mayor into re-election with an easy victory over her Republican challenger, as an all-black female team were voted into city offices. Michael Nutter, a Philadelphia city council member and critic of retiring mayor John Street, was elected with 83 per cent of the vote tally. Pittsburgh's youthful mayor Luke Ravenstahl was also re-elected to serve out the remainder of the term following the death of former mayor Bob O'Connor.

In other races, Democrats surged ahead in Ohio, with Columbus Mayor Michael Coleman breezing to a third term of office and the Republicans' loss of the mayoralty of Canton placing the Democrats in charge of all eight large cities in the state ahead of the 2008 polls.

Salt Lake City's trailblazing progressive two-term Mayor Rocky Anderson was replaced by state legislature minority leader Ralph Becker after standing down from the post. Becker, also a Democrat, beat Republican Dave Buhler 64% to 35% in the non-partisan race and will assume office in January 2008.

A number of races in North Carolina saw interesting outcomes, with Charlotte's Republican Mayor Pat McCrory sealing an historic seventh term of office with voter approval for a transit tax in a separate ballot. Three-term Mayor Kevin Foy also coasted to re-election in the university town of Chapel Hill in the state. Foy is a leading member of the Mayors Against Illegal Guns Coalition.


---
Comment & Debate
City Mayors is inviting its readers to engage in a debate on the issues raised in the article on this page. Please post your comments below. Your comments should deal with the topics of this article and must be legal and ethical. You may also reply to and/or challenge comments of other readers. While we endeavour to publish all relevant comments, we reserve the right to edit them and to reject unsuitable contributions.
Please add your comment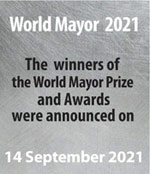 The best Mayors for Stronger | Fairer | Greener cities. Elect your candidate for the 20/21 World Mayor Prize and Honours. The Prize has been awarded since 2004