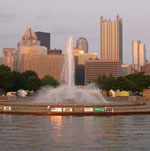 View of Pittsburgh waterfront





FRONT PAGE
Site Search
About us | Quiénes somos |
A propos de nous | Über uns |
Mayor Monitor
Directories
Events
Debate




US Mayors
World Mayor
World index of mayors
Mayors from Africa
Mayors from Asia & Australia
Mayors from The Americas
Mayors from Europe
Mayors and political parties
World's largest cities
and their mayors 2011
Elected US mayors

Mayors from Canada and the US (Former mayors in italics)
| Akron | Albuquerque | Atlanta (Franklin) | Atlanta (Reed) | Baltimore | Boston | Calgary | Chicago Emanuel | Chicago Daley | Columbus | Dayton | Denver | Detroit (Bing) | Detroit (Kilpatrick) | Edmonton | Harrisburg | Honolulu | Houston (Parker) | Houston (White) | London (Ontario) | Los Angeles | Louisville | Memphis | Miami | Minneapolis | Mississauga | News Orleans (Landrieu) | New Orleans (Nagin) | Newark | New York | Oakland | Oklahoma City | Phoenix | Philiadelphia | Pittsburgh | Pomona | Portland (Adams) | Portland (Potter) | Providence | Salt Lake City (Anderson) | Salt Lake City (Becker) | San Francisco | Seattle (McGinn) | Seattle (Nickels) | South Bay | Southfield | Stamford | Surrey BC | Toronto | Trenton | Tulsa | Washington DC | Winnipeg |




City Mayors reports news from towns and cities around the world. Worldwide | Elections | North America | Latin America | Europe | Asia | Africa | Events |




Mayors from The Americas, Europe. Asia, Australia and Africa are competing for the annual World Mayor Award. More




City Mayors ranks the world's largest as well as richest cities and urban areas. It also ranks the cities in individual countries, and provides a list of the capital cities of some 200 sovereign countries. More




City Mayors reports political events, analyses the issues and depicts the main players. More




City Mayors describes and explains the structures and workings of local government in Europe, The Americas, Asia, Australia and Africa. More




City Mayors profiles city leaders from around the world and questions them about their achievements, policies and aims. More




City Mayors deals with economic and investment issues affecting towns and cities. More




City Mayors reports on how business developments impact on cities and examines cooperation between cities and the private sector. More




City Mayors describes and explains financial issues affecting local government. More




City Mayors lists and features urban events, conferences and conventions aimed at urban decision makers and those with an interst in cities worldwide. More




City Mayors reports urban environmental developments and examines the challenges faced by cities worldwide. More




City Mayors reports on and discusses urban development issues in developed and developing countries. More



City Mayors reports on developments in urban society and behaviour and reviews relevant research. More




City Mayors deals with urban transport issues in developed and developing countries and features the world's greatest metro systems. More




City Mayors examines education issues and policies affecting children and adults in urban areas. More




City Mayors investigates health issues affecting urban areas with an emphasis on health in cities in developing countries. More




City Mayors examines the contributions history and culture make to urban society and environment. More




City Mayors examines the importance of urban tourism to city economies. More




City Mayors describes the history, architecture and politics of the greatest city halls in the world. More




City Mayors invites readers to write short stories about people in cities around the world. More




City Mayors questions those who govern the world's cities and talks to men and women who contribute to urban society and environment. More




City Mayors profiles national and international organisations representing cities as well as those dealing with urban issues. More




City Mayors reports on major national and international sporting events and their impact on cities. More




City Mayors lists cities and city organisations, profiles individual mayors and provides information on hundreds of urban events. More


27-year old mayor of Pittsburgh
shows gravitas beyond his years
By Andrew Stevens
8 November 2009: Born in 1980, the year Ronald Reagan won his first presidential election, at 27, Pittsburgh's mayor Luke Ravenstahl is nationally known as the youngest city leader of any major city in American history. Having assumed office under the city charter as council president following the death of the incumbent mayor, Ravenstahl was elected to his first term in November 2007 and re-elected in November 2009.

Update November 2013: Bill Peduto elected as mayor in the 5 November mayoral elections.

The mayor's age has inevitably led to media comments about the city having a baby-faced mayor, though Ravenstahl's serious demeanour and grounding in politics (his father a judge and his grandfather a state representative) displays gravitas beyond his years.

However, his future political career was evident even earlier. Ravenstahl graduated from a Catholic high school in 1998 (he remains a weekly churchgoer), where he excelled in sports and served as school council president. He then studied at nearby Washington & Jefferson College, where he continued his sports captaincies and obtained a bachelors in business administration.

Following graduation Ravenstahl worked as an account manager for a courier, before standing for the city council and successfully beating the incumbent, just four months after graduation. Ravenstahl was elected council president after only two years on the council and had already begun to direct its administration once Mayor Bob O'Connor was diagnosed terminally ill.

As a result of his elevation, Ravenstahl will face a general election in November 2007, as decided by the local electoral commission. In May he faced his first electoral test in the city primary, receiving the highest number of votes in the city's history. Since his elevation to the mayoralty, Ravenstahl has promoted a 'Neighbourhoods first' approach to quality of life issues, as well as pushing for a return to beat cop policing. He also convened a summit of Pennsylvanian mayors to discuss how to tackle budget deficits across the state.

Pittsburgh is noted for its strong performance in national liveability indices, the only big city to score highly across all, owing to its low cost of living, low crime rate and cultural vibrancy. In 2005 it was ranked joint top in the US (alongside Cleveland) by The Economist and 26th worldwide. Traditionally the city has been host to large German, Polish and Irish communities, which led to its distinctive dialect. Pittsburgh has the highest number of Croat residents outside of Croatia, as well as higher than average concentrations of other Balkan nations.

The city has been heavily Democrat (registrations currently run at five Democrats to each Republican in the city) since the Great Depression era, with the mayor and nine-member council elected to four yearly terms of office.

The mayor has faced a degree of controversy in the recent past following a drunken altercation with a police officer in 2005 and his accepting sponsorship for a golf tournament in June 2007.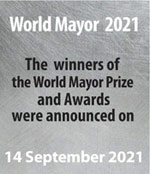 The best Mayors for Stronger | Fairer | Greener cities. Elect your candidate for the 20/21 World Mayor Prize and Honours. The Prize has been awarded since 2004