Brenda Lawrence, Mayor of Southfield, Michigan





FRONT PAGE
Site Search
About us | Quiénes somos |
A propos de nous | Über uns |
Mayor Monitor
Directories
Events
Debate




US Mayors
World Mayor
World index of mayors
Mayors from Africa
Mayors from Asia & Australia
Mayors from The Americas
Mayors from Europe
Mayors and political parties
World's largest cities
and their mayors 2011
Elected US mayors

Mayors from Canada and the US (Former mayors in italics)
| Akron | Albuquerque | Atlanta (Franklin) | Atlanta (Reed) | Baltimore | Boston | Calgary | Chicago Emanuel | Chicago Daley | Columbus | Dayton | Denver | Detroit (Bing) | Detroit (Kilpatrick) | Edmonton | Harrisburg | Honolulu | Houston (Parker) | Houston (White) | London (Ontario) | Los Angeles | Louisville | Memphis | Miami | Minneapolis | Mississauga | News Orleans (Landrieu) | New Orleans (Nagin) | Newark | New York | Oakland | Oklahoma City | Phoenix | Philiadelphia | Pittsburgh | Pomona | Portland (Adams) | Portland (Potter) | Providence | Salt Lake City (Anderson) | Salt Lake City (Becker) | San Francisco | Seattle (McGinn) | Seattle (Nickels) | South Bay | Southfield | Stamford | Surrey BC | Toronto | Trenton | Tulsa | Washington DC | Winnipeg |




City Mayors reports news from towns and cities around the world. Worldwide | Elections | North America | Latin America | Europe | Asia | Africa | Events |




Mayors from The Americas, Europe. Asia, Australia and Africa are competing for the annual World Mayor Award. More




City Mayors ranks the world's largest as well as richest cities and urban areas. It also ranks the cities in individual countries, and provides a list of the capital cities of some 200 sovereign countries. More




City Mayors reports political events, analyses the issues and depicts the main players. More




City Mayors describes and explains the structures and workings of local government in Europe, The Americas, Asia, Australia and Africa. More




City Mayors profiles city leaders from around the world and questions them about their achievements, policies and aims. More




City Mayors deals with economic and investment issues affecting towns and cities. More




City Mayors reports on how business developments impact on cities and examines cooperation between cities and the private sector. More




City Mayors describes and explains financial issues affecting local government. More




City Mayors lists and features urban events, conferences and conventions aimed at urban decision makers and those with an interst in cities worldwide. More




City Mayors reports urban environmental developments and examines the challenges faced by cities worldwide. More




City Mayors reports on and discusses urban development issues in developed and developing countries. More



City Mayors reports on developments in urban society and behaviour and reviews relevant research. More




City Mayors deals with urban transport issues in developed and developing countries and features the world's greatest metro systems. More




City Mayors examines education issues and policies affecting children and adults in urban areas. More




City Mayors investigates health issues affecting urban areas with an emphasis on health in cities in developing countries. More




City Mayors examines the contributions history and culture make to urban society and environment. More




City Mayors examines the importance of urban tourism to city economies. More




City Mayors describes the history, architecture and politics of the greatest city halls in the world. More




City Mayors invites readers to write short stories about people in cities around the world. More




City Mayors questions those who govern the world's cities and talks to men and women who contribute to urban society and environment. More




City Mayors profiles national and international organisations representing cities as well as those dealing with urban issues. More




City Mayors reports on major national and international sporting events and their impact on cities. More




City Mayors lists cities and city organisations, profiles individual mayors and provides information on hundreds of urban events. More


Brenda Lawrence
Mayor of Southfield, Michigan
By Andrew Stevens, Deputy Editor
10 March 2008: Brenda Lawrence is a long-time resident of the city of Southfield, Michigan. A product of Michigan's public school system, Mayor Lawrence is an alumna of Pershing High School and received her BA in Public Administration from Central Michigan University.

Lawrence was elected mayor of the city of Southfield in November of 2001, beating opponent Donald Fracassi with 52.6 per cent of the vote. She is the first African American and first woman mayor of Southfield, a city with a resident population of 78,300, a city budget of $118 million, and 833 city employees. Southfield is situated in Oakland County and is part of the Detroit Metro Area. Mayor Lawrence says she is committed to diversity, fiscal responsibility, education, and keeping a clean and safe city. She was re-elected unopposed in 2005 and is said to be considering a run for county executive this year. In 2008 she was elected Vice President (Policy) of the National Conference of Democratic Mayors, having served as a Michigan delegate to the 2004 Democratic National Convention.

Mayor Lawrence has been a community advocate for many years, both as an elected official and local citizen. She has served on the Southfield City Council, where she was elected president in 1999. As a councilwoman, Ms. Lawrence gained experience in managing a multi-million dollar budget and demonstrated fiscal responsibility. Ms. Lawrence has also served on the Southfield Public School Board of Education as president, vice-president, and secretary. Her love for community involvement has been evident through her previous service as a volunteer in various capacities on the Parent Youth Guidance Commission, Oakland County United Way Advisory Committee, and Oakland County Aids Council.

Since becoming mayor, Ms. Lawrence has initiated the following community programs: The Mayor's Walk community health program; Mayor's Roundtable-a citizen driven forum where residents can discuss one-on-one topics of concern; Southfield Reads! – a programme designed to promote reading literacy in the city of Southfield; Annual Flower Day; City-wide Blood Drive; and Today's Woman-a cable show featuring respected women in and around Southfield.

Mayor Lawrence claims to be committed to diversity in the city of Southfield. She is a recipient of the "2004 Wand Award" for breaking new frontiers for women and minorities, the Jewish War Veterans-State of Michigan "Brotherhood Award", the Leadership Detroit "Challenging the Process" award, the ABWA Millennium Chapter "Woman of the Year Award", the Detroit Historical Society's "Enterprising Women", Leadership Oakland's 2004 Distinguished Leadership & Future Leaders Award for Exemplary Leadership, and the "Black Women Achiever Award". Ms. Lawrence has been named to the Women's Informal Network "List of the Most Influential Black Women in Metropolitan Detroit" and CORP Magazine's "95 Most Influential Women in Michigan". Through a survey of area leadership organizations, Ms. Lawrence was identified by Crain's Detroit Business as a regional leader with the "skills and determination to bridge the historic parochialism of the metropolitan area".

Mayor Lawrence is a member of the Oakland County Chapter of the NAACP, a member of the Michigan Association of Mayor's Board of Directors, the U.S. Conference of Mayors Advisory Board, Southfield-Lathrup Optimist Club, Women's Economic Club, Women Officials Network Board of Directors, Birmingham YMCA Advisory Board, the Pepsi Community Advisory Board and the Board of Governors of the Renaissance/Skyline Club.

Mayor Brenda L. Lawrence and her husband, McArthur Lawrence, have been married for over 30 years. They are the parents of Michael and Michelle, both graduates of Southfield public schools, and have a granddaughter, Asya.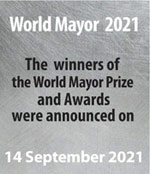 The best Mayors for Stronger | Fairer | Greener cities. Elect your candidate for the 20/21 World Mayor Prize and Honours. The Prize has been awarded since 2004