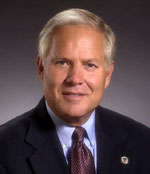 Donald L Plusquellic, Mayor of Akron, Ohio




FRONT PAGE
Site Search
About us | Quiénes somos |
A propos de nous | Über uns |
Mayor Monitor
Directories
Events
Debate




US Mayors
World Mayor
World index of mayors
Mayors from Africa
Mayors from Asia & Australia
Mayors from The Americas
Mayors from Europe
Mayors and political parties
World's largest cities
and their mayors 2011

Mayors from Canada and the US (Former mayors in italics)
| Akron | Albuquerque | Atlanta (Franklin) | Atlanta (Reed) | Baltimore | Boston | Calgary | Chicago Emanuel | Chicago Daley | Columbus | Dayton | Denver | Detroit (Bing) | Detroit (Kilpatrick) | Edmonton | Harrisburg | Honolulu | Houston (Parker) | Houston (White) | London (Ontario) | Los Angeles | Louisville | Memphis | Miami | Minneapolis | Mississauga | News Orleans (Landrieu) | New Orleans (Nagin) | Newark | New York | Oakland | Oklahoma City | Phoenix | Philiadelphia | Pittsburgh | Pomona | Portland (Adams) | Portland (Potter) | Providence | Salt Lake City (Anderson) | Salt Lake City (Becker) | San Francisco | Seattle (McGinn) | Seattle (Nickels) | South Bay | Southfield | Stamford | Surrey BC | Toronto | Trenton | Tulsa | Washington DC | Winnipeg |




City Mayors reports news from towns and cities around the world. Worldwide | Elections | North America | Latin America | Europe | Asia | Africa | Events |




Mayors from The Americas, Europe. Asia, Australia and Africa are competing for the annual World Mayor Award. More




City Mayors ranks the world's largest as well as richest cities and urban areas. It also ranks the cities in individual countries, and provides a list of the capital cities of some 200 sovereign countries. More




City Mayors reports political events, analyses the issues and depicts the main players. More




City Mayors describes and explains the structures and workings of local government in Europe, The Americas, Asia, Australia and Africa. More




City Mayors profiles city leaders from around the world and questions them about their achievements, policies and aims. More




City Mayors deals with economic and investment issues affecting towns and cities. More




City Mayors reports on how business developments impact on cities and examines cooperation between cities and the private sector. More




City Mayors describes and explains financial issues affecting local government. More




City Mayors lists and features urban events, conferences and conventions aimed at urban decision makers and those with an interst in cities worldwide. More




City Mayors reports urban environmental developments and examines the challenges faced by cities worldwide. More




City Mayors reports on and discusses urban development issues in developed and developing countries. More



City Mayors reports on developments in urban society and behaviour and reviews relevant research. More




City Mayors deals with urban transport issues in developed and developing countries and features the world's greatest metro systems. More




City Mayors examines education issues and policies affecting children and adults in urban areas. More




City Mayors investigates health issues affecting urban areas with an emphasis on health in cities in developing countries. More




City Mayors examines the importance of urban tourism to city economies. More




City Mayors examines the contributions history and culture make to urban society and environment. More




City Mayors describes the history, architecture and politics of the greatest city halls in the world. More




City Mayors invites readers to write short stories about people in cities around the world. More




City Mayors questions those who govern the world's cities and talks to men and women who contribute to urban society and environment. More




City Mayors profiles national and international organisations representing cities as well as those dealing with urban issues. More




City Mayors reports on major national and international sporting events and their impact on cities. More




City Mayors lists cities and city organisations, profiles individual mayors and provides information on hundreds of urban events. More


Donald L Plusquellic
Mayor of Akron, Ohio
8 November 2009: On 28 June 2004, in Boston, Donald Plusquellic, Mayor of Akron, Ohio was inaugurated as the 62nd President of the United States Conference of Mayors. This 500-member, bi-partisan organization represents 500 cities around America. Mayor Plusquellic's term as president will run through to June of 2005. During his inauguration speech, the mayor pledged to work in a collaborative, non-partisan manner to do what he called 'America's business' for the people of Akron and the nation.

It was January 2004 when Don Plusquellic began his 18th year as Mayor of the City of Akron after being re-elected for a fifth four-year term. The city's longest-serving mayor is a life-long resident of Akron. He became the 59th Mayor of Akron in 1987, after serving with distinction for 13 years on Akron City Council, including three years as president from 1984-1987. Citizens of Ward 9 first elected him to council as their representative in 1973, when he was 24 years old.

Mayor Plusquellic received the highest honor bestowed on city leaders by the US Conference of Mayors in 1999, the prestigious City Livability Award, for the Mayor's leadership in the decade-long effort to create and develop Joint Economic Development Districts (JEDD) in Ohio.

The Wall Street Journal recognized the Mayor in a front-page article (5/16/00) concerning the importance of Mayoral leadership in America.

Among Mayor Plusquellic's passions is public education. He has been a faithful partner with the Akron Public Schools in providing leadership and the assurance of community-wide support for the challenges the school system faces in the coming years. Under his leadership, voters resoundingly approved ballot issues to support operating and capital needs for Akron Public Schools well into the future. Additionally, the Mayor has been instrumental in developing after-school programs that now serve youngsters from Akron's most impoverished neighborhoods, in 12 different locations..

Under Mayor Plusquellic, Akron has seen the construction of hundreds of new market-rate homes throughout the inner city as part of a public, non-profit corporation called the Urban Neighborhood Development Corporation. In developing housing in Akron's historically-stable neighborhoods, more than $56,000,000 has been spent in rehabilitating older homes during his tenure. In the past 10 years, the City has partnered with non-profit and private builders to construct more than 415 new homes in Akron. And under his direction, the City has also seen the construction of eight new neighborhood community centers that provide activities and education for all citizens.

Most visibly, Mayor Plusquellic has transformed downtown Akron. From luring the National Inventors Hall of Fame to its new child-friendly headquarters in Akron, to the construction of a new minor league baseball stadium and a new convention center, downtown Akron has experienced somewhat of a renaissance in the years of Plusquellic's leadership. As a result, more than a dozen new restaurants and clubs with an eclectic blend of music and nightlife have invigorated downtown. As the principal employment center of the county with some 30,000 workers, Downtown Akron has produced significant increases in revenue generated from downtown businesses, which in turn have helped Akron to continue investing in neighborhoods to make them even stronger.

Currently vice president of the Mayors for Peace organisation, Plusquellic was first elected mayor of Akron in 1987 and is the city's longest serving, with six terms. However, in June 2009 a special election was held following a recall campaign, which saw Plusquellic remain in office.

A graduate of Akron's Kenmore High School, Donald Plusquellic attended the University of Pittsburgh School of Engineering and graduated from Bowling Green State University School of Business. He earned his JD from The University of Akron School of Law.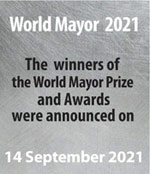 The best Mayors for Stronger | Fairer | Greener cities. Elect your candidate for the 20/21 World Mayor Prize and Honours. The Prize has been awarded since 2004