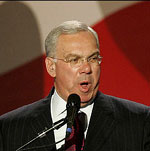 Boston Mayor Thomas M Menino





FRONT PAGE
Site Search
About us | Quiénes somos |
A propos de nous | Über uns |
Mayor Monitor
Directories
Events
Debate




Index of mayors
Elected US mayors
Mayors from The Americas
The World Mayor Project

Mayors from Canada and the US (Former mayors in italics)
| Akron | Albuquerque | Atlanta (Franklin) | Atlanta (Reed) | Baltimore | Boston | Calgary | Chicago Emanuel | Chicago Daley | Columbus | Dayton | Denver | Detroit (Bing) | Detroit (Kilpatrick) | Edmonton | Harrisburg | Honolulu | Houston (Parker) | Houston (White) | London (Ontario) | Los Angeles | Louisville | Memphis | Miami | Minneapolis | Mississauga | News Orleans (Landrieu) | New Orleans (Nagin) | Newark | New York | Oakland | Oklahoma City | Phoenix | Philiadelphia | Pittsburgh | Pomona | Portland (Adams) | Portland (Potter) | Providence | Salt Lake City (Anderson) | Salt Lake City (Becker) | San Francisco | Seattle (McGinn) | Seattle (Nickels) | South Bay | Southfield | Stamford | Surrey BC | Toronto | Trenton | Tulsa | Washington DC | Winnipeg |




City Mayors reports news from towns and cities around the world. Worldwide | Elections | North America | Latin America | Europe | Asia | Africa | Events |




Mayors from The Americas, Europe. Asia, Australia and Africa are competing for the annual World Mayor Award. More




City Mayors ranks the world's largest as well as richest cities and urban areas. It also ranks the cities in individual countries, and provides a list of the capital cities of some 200 sovereign countries. More




City Mayors reports political events, analyses the issues and depicts the main players. More




City Mayors describes and explains the structures and workings of local government in Europe, The Americas, Asia, Australia and Africa. More




City Mayors profiles city leaders from around the world and questions them about their achievements, policies and aims. More




City Mayors deals with economic and investment issues affecting towns and cities. More




City Mayors reports on how business developments impact on cities and examines cooperation between cities and the private sector. More




City Mayors describes and explains financial issues affecting local government. More




City Mayors lists and features urban events, conferences and conventions aimed at urban decision makers and those with an interst in cities worldwide. More




City Mayors reports urban environmental developments and examines the challenges faced by cities worldwide. More




City Mayors reports on and discusses urban development issues in developed and developing countries. More



City Mayors reports on developments in urban society and behaviour and reviews relevant research. More




City Mayors deals with urban transport issues in developed and developing countries and features the world's greatest metro systems. More




City Mayors examines education issues and policies affecting children and adults in urban areas. More




City Mayors investigates health issues affecting urban areas with an emphasis on health in cities in developing countries. More




City Mayors examines the contributions history and culture make to urban society and environment. More




City Mayors examines the importance of urban tourism to city economies. More




City Mayors describes the history, architecture and politics of the greatest city halls in the world. More




City Mayors invites readers to write short stories about people in cities around the world. More




City Mayors questions those who govern the world's cities and talks to men and women who contribute to urban society and environment. More




City Mayors profiles national and international organisations representing cities as well as those dealing with urban issues. More




City Mayors reports on major national and international sporting events and their impact on cities. More




City Mayors lists cities and city organisations, profiles individual mayors and provides information on hundreds of urban events. More


Thomas M Menino
Mayor of Boston
By Andrew Stevens
26 August 2009: Boston Mayor Thomas M Menino has an enviable electoral track record and is now the city's longest-serving mayor. Menino is also the city's first Italian-American mayor and took office in 1993 as acting mayor while city council president following Ray Flynn's appointment as US ambassador to the Vatican. Hailed by supporters for his blue collar credentials, the mayor appears more comfortable watching the local Red Sox team than working his way through the New England Democratic establishment.

Update November 2013: Marty Walsh elected as mayor in the 5 November mayoral elections.

Born in 1942 in the Hyde Park district of the city, he graduated from St. Thomas Aquinas High School before attending Chamberlayne Community College, where he obtained an associate's degree in marketing. He later graduated with a BA in community planning from the University
of Massachusetts (Amherst), while sitting on the Boston city council.

For the duration of his time as a city councillor, Boston's mayor was Ray Flynn, a progressive Democrat and pro-life activist who was key to persuading reluctant Catholics to back Clinton in 1992 but who later endorsed George W. Bush over the issue of abortion in the 2000 presidential election. Menino became acting mayor in 1993 when President Clinton appointed Flynn as US ambassador to the Holy See and in the scheduled election of 1994 was successfully elected with 64% of the vote against state representative Jim Brett. Menino was then re-elected unopposed in 1997 and secured a third term in 2001 against city councillor Peggy Davis-Mullen with over 76% of the vote. In 2005 he saw off a challenge from city councillor Maura Hennigan and came back to city hall for the fourth time with 67% of the city's voters' backing.

Mayor Menino served as the president of the US Conference of Mayors in 2002/2003. In contrast to his predecessor and the general record of politicians in the heavily Democratic state, Menino shuns the political ladder and for this reason and his affable manner he has enjoyed high levels of popularity. It could be said that Menino would probably fail in any attempt to secure higher political office and health concerns over the Crohn's disease he was diagnosed as having in 2004 effectively rule this out. However, that year he did bring the Democratic National Convention to the city.

Menino's ease with voters and down to earth image is also seen as a contributing factor to his high popularity but as mayor he can also point to a record of delivery. Essentially, his policies have been geared towards achieving liveability through clean streets and lower crime, as well as improving inner city education and providing more affordable housing. In education, the city's schools were recognised with the first ever Council of Urban Boards of Education award by the National School Boards Association and in 2005 the city was again honoured for its achievements in improving maths, for which the city's chief educator also received Public Official of the Year. Mayor Menino has also received plaudits for his Leading the Way programmes of urban renewal, which saw derelict land utilised to provide affordable housing.

In February 2006, Menino announced a joint iniative to tackle gun crime with New York Mayor Michael Bloomberg, which will lobby for a joined-up approach at local, state and federal levels as well as the resources, both legislative and financial, to back it up. The mayor also took a stand on the environment, joining forces with other US mayors to demand automotive manufacturers take the production of hybrid fuel vehicles more seriously in order to tackle global warming.

If there is a potential black mark against the Menino administration, it is concerning the faint whiff of scandal over zoning policy. In 2001, the city's Globe newspaper claimed that Menino personally intervened to have a pharmacy chain's application to site a new store near to that of a supporter's blocked. However, Menino does arguably take a more hands-on approach to city planning than many mayors of cities the size of Boston, having its zoning code re-written after seeing a new housing development not to his taste. The city's planning function is ruled with a rod of iron from city hall, with even small-scale projects called in. While this may appear invasive, Menino's time in office has seen a real estate boom across the city, which commentators now venture has been firmly crafted in his own image.

Menino's 16 year administration has however largely avoided the taint of scandal so far and he is said to be careful to attend every function invited to where possible. The mayor enjoys enviably high approval ratings, despite having pledged to only stand for two terms during his original election bid. His subsequent rejoinder while running for a third in 2001 ("two terms, in every century") sums up the quick wit of Boston's down to earth city chief.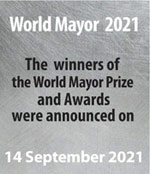 The best Mayors for Stronger | Fairer | Greener cities. Elect your candidate for the 20/21 World Mayor Prize and Honours. The Prize has been awarded since 2004