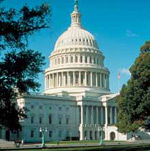 The Capitol, seat of the US House of Representatives and Senate





FRONT PAGE
Site Search
About us | Quiénes somos |
A propos de nous | Über uns |
Mayor Monitor
Directories
Events
Debate




US Mayors
World Mayor
World index of mayors
Mayors from Africa
Mayors from Asia & Australia
Mayors from The Americas
Mayors from Europe
Mayors and political parties
World's largest cities
and their mayors 2011
Elected US mayors

Mayors from Canada and the US (Former mayors in italics)
| Akron | Albuquerque | Atlanta (Franklin) | Atlanta (Reed) | Baltimore | Boston | Calgary | Chicago Emanuel | Chicago Daley | Columbus | Dayton | Denver | Detroit (Bing) | Detroit (Kilpatrick) | Edmonton | Harrisburg | Honolulu | Houston (Parker) | Houston (White) | London (Ontario) | Los Angeles | Louisville | Memphis | Miami | Minneapolis | Mississauga | News Orleans (Landrieu) | New Orleans (Nagin) | Newark | New York | Oakland | Oklahoma City | Phoenix | Philiadelphia | Pittsburgh | Pomona | Portland (Adams) | Portland (Potter) | Providence | Salt Lake City (Anderson) | Salt Lake City (Becker) | San Francisco | Seattle (McGinn) | Seattle (Nickels) | South Bay | Southfield | Stamford | Surrey BC | Toronto | Trenton | Tulsa | Washington DC | Winnipeg |




City Mayors reports news from towns and cities around the world. Worldwide | Elections | North America | Latin America | Europe | Asia | Africa | Events |




Mayors from The Americas, Europe. Asia, Australia and Africa are competing for the annual World Mayor Award. More




City Mayors ranks the world's largest as well as richest cities and urban areas. It also ranks the cities in individual countries, and provides a list of the capital cities of some 200 sovereign countries. More




City Mayors reports political events, analyses the issues and depicts the main players. More




City Mayors describes and explains the structures and workings of local government in Europe, The Americas, Asia, Australia and Africa. More




City Mayors profiles city leaders from around the world and questions them about their achievements, policies and aims. More




City Mayors deals with economic and investment issues affecting towns and cities. More




City Mayors reports on how business developments impact on cities and examines cooperation between cities and the private sector. More




City Mayors describes and explains financial issues affecting local government. More




City Mayors lists and features urban events, conferences and conventions aimed at urban decision makers and those with an interst in cities worldwide. More




City Mayors reports urban environmental developments and examines the challenges faced by cities worldwide. More




City Mayors reports on and discusses urban development issues in developed and developing countries. More



City Mayors reports on developments in urban society and behaviour and reviews relevant research. More




City Mayors deals with urban transport issues in developed and developing countries and features the world's greatest metro systems. More




City Mayors examines education issues and policies affecting children and adults in urban areas. More




City Mayors investigates health issues affecting urban areas with an emphasis on health in cities in developing countries. More




City Mayors examines the contributions history and culture make to urban society and environment. More




City Mayors examines the importance of urban tourism to city economies. More




City Mayors describes the history, architecture and politics of the greatest city halls in the world. More




City Mayors invites readers to write short stories about people in cities around the world. More




City Mayors questions those who govern the world's cities and talks to men and women who contribute to urban society and environment. More




City Mayors profiles national and international organisations representing cities as well as those dealing with urban issues. More




City Mayors reports on major national and international sporting events and their impact on cities. More




City Mayors lists cities and city organisations, profiles individual mayors and provides information on hundreds of urban events. More


Adrian Fenty
Mayor of Washington, DC
By Andrew Stevens
13 September 2007: At 35 Adrian Fenty has become the US capital's youngest ever mayor. Having served as a councilmember until his election as mayor last year, Fenty is also only the second native Washingtonian to be elected to the office. The mayor has already won plaudits for his publicly open and accessible style of governing but other politicians in the capital claim he fails to consult key allies on policy and appointments.

Update November 2010: Vincent Gray has been elected Mayor of Washington DC.

Update, 15 September 2010: Washington DC Council Chairman Vincent Gray defeats Mayor Fenty in Democratic primary.

Update November 2011: Vincent Gray elected Mayor of Washington DC

The mayor was born in the capital and raised in its Mount Pleasant district, an upper working/lower middle class area. Fenty's parents own a shoe store in neighbouring Adam's Morgan, the highly diverse entertainment district. He holds a bachelors in English and Economics from Ohio's Oberlin College and a law degree from the DC's Howard University. While Fenty graduated from Howard, regarded as a traditionally black university, he himself has bi-racial parentage, increasingly common for many young Washingtonians.

Though only 35 and describing his rise as unplanned, Fenty has already served his time politically and professionally in Washington. He worked 'on the hill' in the congressional offices of a number of Democratic politicians, including Eleanor Holmes-Norton, the district's current non-voting Delegate to the House of Representatives. Before serving on the city council, Fenty presided over his local civic association and was elected to one of the capital's 37 Advisory Neighbourhood Commissions (community councils), serving as treasurer. In 2000 he was elected to serve as city council member for Ward 4 among the 12-member city council, being re-elected in 2004. During his stint as a council member he attracted a reputation as a champion for public services, occasionally coming up against the policies of Mayor Anthony Williams' administration.

Politics on both the city council and in its dominant Democratic Party is divisively fraught at the best of times, possibly because of the party's stranglehold on city politics and the absence of a serious Republican challenge locally. The near-perpetual presence of Marion Barry on and around the council, once dubbed 'mayor for life', has led to a corrosion of civic values in local institutions and the thwarting of local autonomy by the imposition of a federal control board to run a parallel administration throughout the latter half of the 1990s. There is no shortage of factional backbiting and personality cults in DC's local politics either. While this may have presented itself as an opportunity for the young Fenty to emerge as a safe pair of hands, though lacking experience, it also points to obstacles for him to overcome in his forming an administration. Fenty will also have to placate or at least negotiate his former city council colleagues, none of whom endorsed his bid for the mayoralty.

Fenty announced his bid for the mayoralty in 2005 and came up against an array of challengers in the September 2006 primary vote to select a Democratic candidate. In a city where Democrats out-number Republicans 10-1, the winner of the Democratic primary is effectively guaranteed election in the November general election. Fenty's principal opponent in the primary was council president Linda Cropp, a longstanding veteran of DC politics who was endorsed by current mayor Anthony A. Williams. In the vote however, Fenty received 57 per cent and won all precincts, being hailed by the influential Washington Post as offering the best blend of energy, nouse and popular support.

Though mayor of the nation's capital and federal district, DC's city chief tends to be overshadowed by mayors of bigger US cities. However, Fenty follows an interesting array of former mayors, most immediately the technocrat Anthony A. Williams (1999-2007), frequently noted for his signature bow-tie and stiff demeanour. Aside from the unmemorable administration of Sharon Pratt Dixon (nee Kelly) during the interregnum (1991-1995) precipitated by his incarceration for drugs convictions, from 1979-1991 and then from 1995-1999, the DC mayoralty was held by the notorious Marion Barry. Throughout Barry's final term as mayor, a federal Control Board effectively administered the district's affairs in his stead. Barry was elected to serve alongside mayor-elect Fenty as a council member in 2004. Barry's predecessor as mayor, the first following the decision to grant home rule to the district in 1975, was Walter Washington, who also ran the city as its appointed mayor-commissioner from 1967. Before this date, the district was governed by boards of commissioners also appointed by the president.

Fenty's wife Michelle, whom he met at law school, is a commercial lawyer and they have young twin sons. Mayor Fenty is a keen runner, even going so far as to encourage residents to join him on his morning run.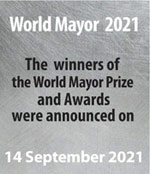 The best Mayors for Stronger | Fairer | Greener cities. Elect your candidate for the 20/21 World Mayor Prize and Honours. The Prize has been awarded since 2004