Rhine McLin, former Mayor of Dayton, Ohio





FRONT PAGE
Site Search
About us | Quiénes somos |
A propos de nous | Über uns |
Mayor Monitor
Directories
Events
Debate




US Mayors
World Mayor
World index of mayors
Mayors from Africa
Mayors from Asia & Australia
Mayors from The Americas
Mayors from Europe
Mayors and political parties
World's largest cities
and their mayors 2011
Elected US mayors

Mayors from Canada and the US (Former mayors in italics)
| Akron | Albuquerque | Atlanta (Franklin) | Atlanta (Reed) | Baltimore | Boston | Calgary | Chicago Emanuel | Chicago Daley | Columbus | Dayton | Denver | Detroit (Bing) | Detroit (Kilpatrick) | Edmonton | Harrisburg | Honolulu | Houston (Parker) | Houston (White) | London (Ontario) | Los Angeles | Louisville | Memphis | Miami | Minneapolis | Mississauga | News Orleans (Landrieu) | New Orleans (Nagin) | Newark | New York | Oakland | Oklahoma City | Phoenix | Philiadelphia | Pittsburgh | Pomona | Portland (Adams) | Portland (Potter) | Providence | Salt Lake City (Anderson) | Salt Lake City (Becker) | San Francisco | Seattle (McGinn) | Seattle (Nickels) | South Bay | Southfield | Stamford | Surrey BC | Toronto | Trenton | Tulsa | Washington DC | Winnipeg |




City Mayors reports news from towns and cities around the world. Worldwide | Elections | North America | Latin America | Europe | Asia | Africa | Events |




Mayors from The Americas, Europe. Asia, Australia and Africa are competing for the annual World Mayor Award. More




City Mayors ranks the world's largest as well as richest cities and urban areas. It also ranks the cities in individual countries, and provides a list of the capital cities of some 200 sovereign countries. More




City Mayors reports political events, analyses the issues and depicts the main players. More




City Mayors describes and explains the structures and workings of local government in Europe, The Americas, Asia, Australia and Africa. More




City Mayors profiles city leaders from around the world and questions them about their achievements, policies and aims. More




City Mayors deals with economic and investment issues affecting towns and cities. More




City Mayors reports on how business developments impact on cities and examines cooperation between cities and the private sector. More




City Mayors describes and explains financial issues affecting local government. More




City Mayors lists and features urban events, conferences and conventions aimed at urban decision makers and those with an interst in cities worldwide. More




City Mayors reports urban environmental developments and examines the challenges faced by cities worldwide. More




City Mayors reports on and discusses urban development issues in developed and developing countries. More



City Mayors reports on developments in urban society and behaviour and reviews relevant research. More




City Mayors deals with urban transport issues in developed and developing countries and features the world's greatest metro systems. More




City Mayors examines education issues and policies affecting children and adults in urban areas. More




City Mayors investigates health issues affecting urban areas with an emphasis on health in cities in developing countries. More




City Mayors examines the contributions history and culture make to urban society and environment. More




City Mayors examines the importance of urban tourism to city economies. More




City Mayors describes the history, architecture and politics of the greatest city halls in the world. More




City Mayors invites readers to write short stories about people in cities around the world. More




City Mayors questions those who govern the world's cities and talks to men and women who contribute to urban society and environment. More




City Mayors profiles national and international organisations representing cities as well as those dealing with urban issues. More




City Mayors reports on major national and international sporting events and their impact on cities. More




City Mayors lists cities and city organisations, profiles individual mayors and provides information on hundreds of urban events. More


Rhine McLin
Former Mayor of Dayton, Ohio
10 March 2008: A Dayton native, Mayor Rhine McLin has a long history of active community involvement, which attests to her commitment to public service. She became the first female Mayor of Dayton when she was elected to the City Commission for a term beginning 7 January 2002.

Update 4 November 2009: In November 2009 Rhine McLin was defeated in the city's mayoral election. More

McLin received a B.A. in sociology and secondary education from Parsons College in Iowa and a Master of Education in guidance counseling from Xavier University in Cincinnati. Mayor McLin also has an associate degree in mortuary science from Cincinnati College of Mortuary Science. She is a licensed Funeral Director and Embalmer for McLin Funeral Home in Dayton. She served as an instructor at Central State University West, where she taught Criminology, Juvenile Delinquency and Race Relations from 1982 to 1997.

Mayor McLin previously served six years in the Ohio House of Representatives, from 1988 to 1994, and was then elected state senator for the 5th Ohio Senate District, serving Montgomery and Miami Counties. When elected in 1994, she became the first African-American woman to serve in the Ohio Senate. In 1998, McLin was elected by her peers to serve in leadership as Minority Whip. Two years later, she was elected again to serve in the Senate leadership as Minority Leader. Mayor McLin is Dayton's 67th Mayor and the third African-American Mayor in the city's history.

The following lists a number of awards and honors Rhine McLin has received: 1995 Paul Harris Fellowship; 1999 Gabriel Louis Mann Fellowship; 2000 James E. Stamps Alumni Recognition Award; 2000 Myrl H. Shoemaker Award; 2000 Columbus Area Women's Political Caucus "Breaking the Glass Ceiling" Award; 2003 NFBPA (Dayton Chapter) Marks of Excellence Award for Public Service.

McLin is a member of the Mayors Against Illegal Guns coalition and in January 2008 was elected Secretary of the National Conference of Democratic Mayors.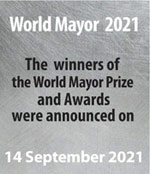 The best Mayors for Stronger | Fairer | Greener cities. Elect your candidate for the 20/21 World Mayor Prize and Honours. The Prize has been awarded since 2004