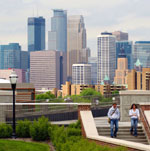 Minneapolis, a city of some 370,000 people





FRONT PAGE
Site Search
About us | Quiénes somos |
A propos de nous | Über uns |
Mayor Monitor
Directories
Events
Debate




US Mayors
World Mayor
World index of mayors
Mayors from Africa
Mayors from Asia & Australia
Mayors from The Americas
Mayors from Europe
Mayors and political parties
World's largest cities
and their mayors 2011
Elected US mayors

Mayors from Canada and the US (Former mayors in italics)
| Akron | Albuquerque | Atlanta (Franklin) | Atlanta (Reed) | Baltimore | Boston | Calgary | Chicago Emanuel | Chicago Daley | Columbus | Dayton | Denver | Detroit (Bing) | Detroit (Kilpatrick) | Edmonton | Harrisburg | Honolulu | Houston (Parker) | Houston (White) | London (Ontario) | Los Angeles | Louisville | Memphis | Miami | Minneapolis | Mississauga | News Orleans (Landrieu) | New Orleans (Nagin) | Newark | New York | Oakland | Oklahoma City | Phoenix | Philiadelphia | Pittsburgh | Pomona | Portland (Adams) | Portland (Potter) | Providence | Salt Lake City (Anderson) | Salt Lake City (Becker) | San Francisco | Seattle (McGinn) | Seattle (Nickels) | South Bay | Southfield | Stamford | Surrey BC | Toronto | Trenton | Tulsa | Washington DC | Winnipeg |




City Mayors reports news from towns and cities around the world. Worldwide | Elections | North America | Latin America | Europe | Asia | Africa |




City Mayors ranks the world's largest, best as well as richest cities and urban areas. It also ranks the cities in individual countries, and provides a list of the capital cities of some 200 sovereign countries. More




City Mayors profiles city leaders from around the world. More




City Mayors describes the history, architecture and politics of the greatest city halls in the world. More




Mayors from The Americas, Europe. Asia, Australia and Africa compete for the World Mayor Award. More




Use Mayor Monitor to rate the performance of mayors from across the world More




In your opinion: Praise Criticise. Write




City Mayors reports political events, analyses the issues and depicts the main players. More




City Mayors describes and explains the structures and workings of local government in Europe, The Americas, Asia, Australia and Africa. More




City Mayors deals with economic and investment issues affecting towns and cities. More




City Mayors describes and explains financial issues affecting local government. More




City Mayors reports urban environmental developments and examines the challenges faced by cities worldwide. More




City Mayors reports on and discusses urban development issues in developed and developing countries. More



City Mayors reports on developments in urban society and behaviour and reviews relevant research. More




City Mayors invites readers to write about the people in their cities. More




City Mayors examines city brands and marketing. More




City Mayors lists and features urban events, conferences and conventions aimed at urban decision makers and those with an interst in cities worldwide. More




City Mayors deals with urban transport issues in developed and developing countries and features the world's greatest metro systems. More




City Mayors examines education issues and policies affecting children and adults in urban areas. More




City Mayors investigates health issues affecting urban areas with an emphasis on health in cities in developing countries. More




City Mayors reports on how business developments impact on cities and examines cooperation between cities and the private sector. More




City Mayors examines the contributions history and culture make to urban society and environment. More




City Mayors examines the importance of urban tourism to city economies. More




City Mayors questions those who govern the world's cities and talks to men and women who contribute to urban society and environment. More




City Mayors profiles national and international organisations representing cities as well as those dealing with urban issues. More




City Mayors reports on major national and international sporting events and their impact on cities. More




City Mayors lists cities and city organisations, profiles individual mayors and provides information on hundreds of urban events. More


Minneapolis Mayor R T Rybak Jr
An early opponent of the Iraq war
By Andrew Stevens, Deputy Editor
8 November 2009: The crowd-surfing mayor of one of the Twin Cities' first came to prominence as a journalist and community activist, eventually replacing its first female and African-American mayor in 2001. Comfortably re-elected in 2005 and 2009, its charismatic and driven city leader is picking up plaudits on a number of fronts as a representative of the state's Democratic-Farmer-Labor Party (DFL). The mayor has been short-listed for the 2008 World Mayor Award.

Update November 2013: Betsy Hodges elected as mayor in the 5 November mayoral elections.


A lifelong Minneapolitan, Raymond Thomas Rybak Jr was born in 1955, the son of a pharmacist. Rybak was schooled at the private Episcopalian Breck School and graduated from the private Catholic Boston College in 1978. He began his career as a journalist, working on the Minneapolis Tribune (later Star Tribune) in the late 1970s and 1980s, before going on to edit the Twin Cities Reader. He also acted as Development Director for Minneapolis' Downtown Council.

Though the paper folded in 1997, Rybak took advantage of the dot-com era and headed Internet Broadcasting Systems, the leading platform for America's premier TV companies, headquartered in the Minnesota's largest city on account of its origins as the website for local TV station WCCO. After his stint there, he branched out as an internet strategist, as the R.T.Rybak Company, before running for mayor. As the founder of Q Monthly, a local gay newspaper, Rybak has been a vocal supporter of the Twin Cities' lesbian and gay community and became best known before becoming mayor as one of the founders of ROAR (Residents Against Airport Racket), which campaigned against night flights at Minneapolis-St Paul International Airport.

Having covered the city council and its crime beat as a reporter on the local paper, Rybak was attune with many city residents' priorities while campaigning against two-term mayor Sharon Sayles-Belton, also a DFL-er. Rybak's The Minnesota Democratic-Farmer-Labor Party is the only state Democratic Party to exist on the ballot in the US under another name, on account of the merger between the state Democratic Party and the Farmer-Labor Party in 1944. The party, notable for former US vice presidents Hubert Humphrey and Walter Mondale, owes its heritage to the descendents of Scandinavian agrarian socialists and is regarded as being more progressive and populist compared to the mainstream Democratic Party.

On becoming mayor, Rybak signaled his opposition to the US invasion of Iraq but also threatened to veto any city council motion against the war on account of it being merely symbolic. He also raised eyebrows when he stage-dived at a rock concert held in the city, a move that proved ultimately popular, having pledged to repeat the experience again. As mayor, Rybak has had to make tough decisions to balance the budget on account of inherited deficits. However, his reforms to the city's development control system have been accredited with delivering both new housing supply and an expansion of the jobs market, which have garnered interest across the US. The mayor has also placed great emphasis on increasing sports participation as a means to improve both quality of life and promote tourism in the city, such as Rybak's own brainchild, the Loppet urban-ski race, the only in North America.

Having spearheaded an Ethics Task Force to examine and overhaul the city's ethical code, as well as abolishing the stricken Libraries Board, Rybak had the city's Board of Estimate and Taxation in his sights, arguing for the abolition of the "obscure" body which has the final say on the city's taxes. However, when put to voters during his 2009 re-election campaign, an amendment to the city charter to effect this was roundly defeated. Conscious of the need to promote the city's brand as one of the Twin Cities, both Minneapolis and longstanding rival state capital St Paul have come together as Minneapolis-St. Paul in a move designed to eliminate competition and promote the metro area as a single entity in which to live, work or visit. The initiative is also supported by St Paul's new Mayor Chris Coleman, elected in 2006 to replace longstanding mayor and fellow DFL-er Randy Kelly, who had controversially endorsed George W. Bush's re-election bid two years earlier.

Mayor Rybak was a co-chair of the Minnesota for Howard Dean presidential campaign in 2004 and was chair of the Minnesota for Barack Obama campaign in 2008, the first mayor to endorse him. In addition, as one of Minnesota's leading Democrats, Mayor Rybak campaigned for Al Gore in 2000 and John Kerry in 2004. In 2008 he was elected as Vice President (Communications) of the National Conference of Democratic Mayors.

Mayor Rybak is married to Megan and has two children, Charlie, who attends George Washington University, and Grace, who attends his alma mater Breck, for which he has received criticism for not supporting the city's public schools by sending his own children there.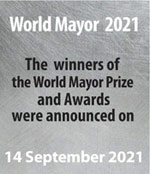 The best Mayors for Stronger | Fairer | Greener cities. Elect your candidate for the 20/21 World Mayor Prize and Honours. The Prize has been awarded since 2004