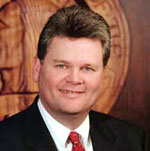 Greg Nickels, former Mayor of Seattle




FRONT PAGE
SiteSearch
About us
Directories


US Mayors
World Mayor
World index of mayors
Mayors from Africa
Mayors from Asia & Australia
Mayors from The Americas
Mayors from Europe
Mayors and political parties
World's largest cities
and their mayors 2011
Elected US mayors

Mayors from Canada and the US (Former mayors in italics)
| Akron | Albuquerque | Atlanta (Franklin) | Atlanta (Reed) | Baltimore | Boston | Calgary | Chicago Emanuel | Chicago Daley | Columbus | Dayton | Denver | Detroit (Bing) | Detroit (Kilpatrick) | Edmonton | Harrisburg | Honolulu | Houston (Parker) | Houston (White) | London (Ontario) | Los Angeles | Louisville | Memphis | Miami | Minneapolis | Mississauga | News Orleans (Landrieu) | New Orleans (Nagin) | Newark | New York | Oakland | Oklahoma City | Phoenix | Philiadelphia | Pittsburgh | Pomona | Portland (Adams) | Portland (Potter) | Providence | Salt Lake City (Anderson) | Salt Lake City (Becker) | San Francisco | Seattle (McGinn) | Seattle (Nickels) | South Bay | Southfield | Stamford | Surrey BC | Toronto | Trenton | Tulsa | Washington DC | Winnipeg |

World index of mayors




City Mayors reports news from towns and cities around the world. Worldwide | Elections | North America | Latin America | Europe | Asia | Africa | Events |




Mayors from The Americas, Europe. Asia, Australia and Africa are competing for the annual World Mayor Award. More




City Mayors ranks the world's largest as well as richest cities and urban areas. It also ranks the cities in individual countries, and provides a list of the capital cities of some 200 sovereign countries. More




City Mayors reports political events, analyses the issues and depicts the main players. More




City Mayors describes and explains the structures and workings of local government in Europe, The Americas, Asia, Australia and Africa. More




City Mayors profiles city leaders from around the world and questions them about their achievements, policies and aims. More




City Mayors deals with economic and investment issues affecting towns and cities. More




City Mayors reports on how business developments impact on cities and examines cooperation between cities and the private sector. More




City Mayors describes and explains financial issues affecting local government. More




City Mayors lists and features urban events, conferences and conventions aimed at urban decision makers and those with an interst in cities worldwide. More




City Mayors reports urban environmental developments and examines the challenges faced by cities worldwide. More




City Mayors reports on and discusses urban development issues in developed and developing countries. More



City Mayors reports on developments in urban society and behaviour and reviews relevant research. More




City Mayors deals with urban transport issues in developed and developing countries and features the world's greatest metro systems. More




City Mayors examines education issues and policies affecting children and adults in urban areas. More




City Mayors investigates health issues affecting urban areas with an emphasis on health in cities in developing countries. More




City Mayors examines the contributions history and culture make to urban society and environment. More




City Mayors examines the importance of urban tourism to city economies. More




City Mayors describes the history, architecture and politics of the greatest city halls in the world. More




City Mayors invites readers to write short stories about people in cities around the world. More




City Mayors questions those who govern the world's cities and talks to men and women who contribute to urban society and environment. More




City Mayors profiles national and international organisations representing cities as well as those dealing with urban issues. More




City Mayors reports on major national and international sporting events and their impact on cities. More




City Mayors lists cities and city organisations, profiles individual mayors and provides information on hundreds of urban events. More


Greg Nickels
Former Mayor of Seattle
By Andrew Stevens, Deputy Editor
28 January 2008: Seattle's Mayor Greg Nickels was elected in 2001. Since then he has taken a lead on US mayors' efforts to commit cities to fighting global warming and has committed his administration to outlawing discrimination against same-sex couples. Re-elected in 2005, he and the city council have been entangled in the monorail controversy, which saw millions of dollars spent on a failed scheme.

Update November 2009: In 2009 Nickels failed to be elected in the city's primary election for mayor and will stand down from office in January 2010. More

31 March 2010: Profile of Seattle Mayor McGinn

Greg Nickels was born in Chicago in 1955. His family moved to Seattle in 1961 and he was schooled at Seattle Prep, then attending the University of Washington. Nickels began his political career in 1979 as an adviser to city councillor Norm Rice, who went on to become the city's first and only Afro-American mayor in 1989. Nickels himself secured election to the King County Council in 1987 and was re-elected on three subsequent occasions.

Nickels was serving on King County Council when he sought the mayoralty against incumbent Paul Schell in 2001. Schell was blamed for the fiasco that was the 1999 World Trade Organisation gathering, at which massive rioting saw lasting damage to the city's economy. The event was held up as poorly planned and of little actual benefit to the city. Nickels and another opponent beat the incumbent in the first round of voting in the city's non-partisan election, surprising many. Nickels was re-elected in November 2005 by a large margin.

Mayor Nickels fronted the much-vaunted US Conference of Mayors declaration of a US Mayors Climate Protection Agreement in 2005, a commitment of 188 US mayors to the goals of the Kyoto Protocol dispensed with by the Bush administration. 208 mayors have now signed up to the agreement. Nickels chairs the conference's advisory board and also sits on the board of trustees and is a former chair of its transportation committee. He is also Vice President of the National Conference of Democratic Mayors. In 2004 he signed an executive order to give equal rights at work to Seattle public employees in same-sex marriages, as well as outlawing discrimination to same-sex couples in public housing and the provision of goods and services.

The city's monorail and Space Needle hold iconic status as legacy features of its 1962 World Fair. A recent project to build a large-scale monorail network for Seattle ground to a halt in 2005 when the city council withheld planning consent, effectively killing off the project, though the vehicle tax levied by the city after voters' consent in 2002 will continue to be paid to cover its debts. Seattle also shot to global prominence in the early 1990s during the ascendancy of its Grunge scene, which was centred around bands such as Nirvana and Pearl Jam, reflecting the primacy of culture there also.

Seattle is a charter city, with responsibilities denoted under the city charter, as opposed to other cities in Washington State which operated under the Mayor-Council Manager system. The nine city councillors are elected on at large basis. The city also operates an array of public utilities compared to other US cities which rely on private sector provision. Seattle Public Utilities provides water and refuse collection while Seattle City Light is responsible for electricity supply. Both are agencies of the city. This is perhaps a reflection of the city's politics, which are firmly left of centre by national standards.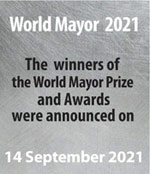 The best Mayors for Stronger | Fairer | Greener cities. Elect your candidate for the 20/21 World Mayor Prize and Honours. The Prize has been awarded since 2004