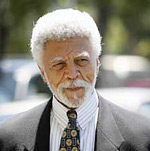 Ron Dellums, Mayor of Oakland





FRONT PAGE
Site Search
About us | Quiénes somos |
A propos de nous | Über uns |
Mayor Monitor
Directories
Events
Debate




Index of mayors
Elected US mayors
Mayors from The Americas
The World Mayor Project

Mayors from Canada and the US (Former mayors in italics)
| Akron | Albuquerque | Atlanta (Franklin) | Atlanta (Reed) | Baltimore | Boston | Calgary | Chicago Emanuel | Chicago Daley | Columbus | Dayton | Denver | Detroit (Bing) | Detroit (Kilpatrick) | Edmonton | Harrisburg | Honolulu | Houston (Parker) | Houston (White) | London (Ontario) | Los Angeles | Louisville | Memphis | Miami | Minneapolis | Mississauga | News Orleans (Landrieu) | New Orleans (Nagin) | Newark | New York | Oakland | Oklahoma City | Phoenix | Philiadelphia | Pittsburgh | Pomona | Portland (Adams) | Portland (Potter) | Providence | Salt Lake City (Anderson) | Salt Lake City (Becker) | San Francisco | Seattle (McGinn) | Seattle (Nickels) | South Bay | Southfield | Stamford | Surrey BC | Toronto | Trenton | Tulsa | Washington DC | Winnipeg |




City Mayors reports news from towns and cities around the world. Worldwide | Elections | North America | Latin America | Europe | Asia | Africa | Events |




Mayors from The Americas, Europe. Asia, Australia and Africa are competing for the annual World Mayor Award. More




City Mayors ranks the world's largest as well as richest cities and urban areas. It also ranks the cities in individual countries, and provides a list of the capital cities of some 200 sovereign countries. More




City Mayors reports political events, analyses the issues and depicts the main players. More




City Mayors describes and explains the structures and workings of local government in Europe, The Americas, Asia, Australia and Africa. More




City Mayors profiles city leaders from around the world and questions them about their achievements, policies and aims. More




City Mayors deals with economic and investment issues affecting towns and cities. More




City Mayors reports on how business developments impact on cities and examines cooperation between cities and the private sector. More




City Mayors describes and explains financial issues affecting local government. More




City Mayors lists and features urban events, conferences and conventions aimed at urban decision makers and those with an interst in cities worldwide. More




City Mayors reports urban environmental developments and examines the challenges faced by cities worldwide. More




City Mayors reports on and discusses urban development issues in developed and developing countries. More



City Mayors reports on developments in urban society and behaviour and reviews relevant research. More




City Mayors deals with urban transport issues in developed and developing countries and features the world's greatest metro systems. More




City Mayors examines education issues and policies affecting children and adults in urban areas. More




City Mayors investigates health issues affecting urban areas with an emphasis on health in cities in developing countries. More




City Mayors examines the contributions history and culture make to urban society and environment. More




City Mayors examines the importance of urban tourism to city economies. More




City Mayors describes the history, architecture and politics of the greatest city halls in the world. More




City Mayors invites readers to write short stories about people in cities around the world. More




City Mayors questions those who govern the world's cities and talks to men and women who contribute to urban society and environment. More




City Mayors profiles national and international organisations representing cities as well as those dealing with urban issues. More




City Mayors reports on major national and international sporting events and their impact on cities. More




City Mayors lists cities and city organisations, profiles individual mayors and provides information on hundreds of urban events. More


Ron Dellums
Mayor of Oakland, California
By Andrew Stevens
8 August 2010: Ron Dellums, the Bay Area city of Oakland's mayor, is a veteran left-liberal congressional leader and standard-bearer for African-Americans in public life. A Berkeley-trained psychiatric social worker, he has gone from the lengthy chairmanship of the congressional committee overseeing the US capital's city government to leading California's eighth-largest city.

Update November 2010: Jean Quan elected Mayor of Oakland.

Dellums was born 1935 in the city he now leads to a family of labour organisers, and attended the Oakland Technical High School and then the McClymonds High School. Having served in the Marine Corps for two years in the early 1950s, he commenced his higher education at Oakland City College, where he earned an associate's degree in 1958, a bachelors degree from San Francisco State University in 1960 and his masters degree from Berkeley in 1962. Dellums was a member of the Alpha Phi Alpha fraternity for African-American students during this time and retains close links with the association to this day, serving as a member of its world policy council. He followed this by entering a career in psychiatric social work and became a community activist in a number of causes, becoming a member of Berkeley City Council in 1967.

In 1970 Dellums was drafted by anti-Vietnam war activists in the infamous college town to run against its sitting Democratic Congressman Jeffery Cohelan, whose blue collar welfarist politics were insufficiently in keeping with the countervailing post-civil rights/anti-war mood of many in the party at that time. Dellums easily won the Democratic primary and took the seat, the 9th congressional district of California – the state's safest and most liberal seat. He then began an unbroken 27 year stint in Congress from 1971, quickly establishing his liberal credentials by securing a place on President Nixon's 'Enemies List' of 20 political opponents singled out for dirty tricks by aides. Dellums spent the next 27 years campaigning on high profile causes, firstly against war crimes in Vietnam and then against military build-up during the Cold War. A chairman of the House Committee on the Armed Services, he strongly opposed the development of the B-2 Stealth Bomber and new ballistic missiles. A consistent critic of military spending, Dellums even supported the closure of a naval airbase in his own constituency, despite the loss of local jobs and supply orders. He served on various subcommittees for military procurement throughout the Clinton administration.

As co-founder of the Congressional Black Caucus (now chaired by Congresswoman Carolyn Cheeks Kilpatrick, mother of Detroit mayor Kwame), Dellums was a fierce and vocal opponent of the South African apartheid regime and instigated legislation to levy sanctions against its government, the first country to do so at a time when leaders such as Reagan and Thatcher called for restraint and engagement with the regime. The bipartisan Congressional support for Dellums' Act saw the first override of a presidential veto over a foreign policy issue in the 20th century. Dellums was later portrayed in a film covering his role in the anti-apartheid struggle, Disney's The Color of Friendship, released two years after his 1998 retirement from Congress. However, his support for Cuba's intervention in the Angolan civil war against that of South Africa renewed conservative scrutiny of his political record.

Though a registered Democrat throughout his political career in local and national government, Dellums has long been regarded as a left-liberal within the party and has flirted with a number of extra-party causes such as the New Left's Democratic Socialist Organizing Committee during the 1970s and later the Democratic Socialists of America (the US' Socialist International affiliate), of which he was vice chair. Along with Senators Bernie Sanders and the late Paul Wellstone, Dellums has long been regarded as proud to be associated with the "embarrassingly liberal" tag leveled by conservative opponents. His congressional voting record is regarded as unblemished or beyond reproach, depending on if it is the trade unions or gun lobby who is keeping score.

Dellums also served as chairman of the House Committee on the District of Columbia, the congressional committee which provided oversight of the governance by Washington, DC's local government. The committee was often charged with soft racism accusations (particularly when chaired by politicians of a Deep South stripe) by not entrusting the governance of the capital to a largely black population, but during Dellums' tenure as chairman he was able to advance a progressive social agenda aimed at improving life chances for the capital's poorest. Nonetheless, Dellums' committee work came at a time of strained relations between congress and the federal capital's local government, not least during the administration and incarceration of mayor Marion S. Barry.

In 1997 Dellums announced his retirement from congress, earning tributes on both sides of the house. His mid-term resignation sparked a notable series of by-elections following the elevation of his successor, former aide Barbara Lee, from the state senate to congress and the knock-on effects of her own replacement, the costly effects of which rippled throughout state politics. Following his 1998 retirement, Dellums became a professional lobbyist, disillusioning some long-time allies and supporters in the process, not least for his work on behalf of defence manufacturer Rolls Royce aerospace and for private healthcare groups and pharmaceuticals concerns.

In 2006, two-term mayor and former state governor Jerry Brown was forced by term limits to retire and instead chose to revive his own state-level political career when he successfully ran for attorney general. Brown, a former grassroots contender for the 1992 Democratic presidential nomination, had managed to gain the city's approval via a referendum to amend the city charter to move from the weak mayor and council system to the strong executive mayoral model, altering the character of municipal politics in the process. Brown, along with then Los Angeles mayor James Hahn, had also praised governor Arnold Schwarzenegger for his budget transfers to the city, implying criticism of his former chief of state Gray Davis, who had preceded the Hollywood star as governor. Following Brown's formal bid for attorney general, local activists began a campaign to 'Draft Dellums' and after weeks of speculation he formally announced his candidacy.

In August 2010, after turbulent latter half of his term of personnel
departures and budget crises, Dellums announced to a private gathering
of close aides and supporters that he would not be seeking re-election
in the November poll. For a mayoral career which began amid much
public fanfare and expectation, it was seen by observers as a tragic
yet fitting end. His predecessor as mayor Jerry Brown, on the other
hand, will stand in November to attempt to regain the state
governorship he last held in 1982.

The Oakland mayor has married three times and is now married to Cynthia. He has seven children and three grandchildren. Two of his children are well-known actors while his step-son is currently serving life imprisonment for murder.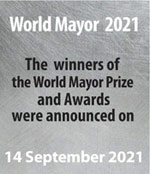 The best Mayors for Stronger | Fairer | Greener cities. Elect your candidate for the 20/21 World Mayor Prize and Honours. The Prize has been awarded since 2004