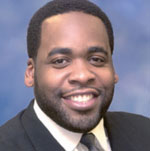 Kwame Kilpatrick, former Mayor of Detroit





FRONT PAGE
Site Search
About us | Quiénes somos |
A propos de nous | Über uns |
Mayor Monitor
Directories
Events
Debate




US Mayors
Corrupt US mayors
World Mayor
World index of mayors
Mayors from Africa
Mayors from Asia & Australia
Mayors from The Americas
Mayors from Europe
Mayors and political parties
World's largest cities
and their mayors 2011
Elected US mayors

Mayors from Canada and the US (Former mayors in italics)
| Akron | Albuquerque | Atlanta (Franklin) | Atlanta (Reed) | Baltimore | Boston | Calgary | Chicago | Columbus | Dayton | Denver | Detroit (Bing) | Detroit (Kilpatrick) | Edmonton | Harrisburg | Honolulu | Houston (Parker) | Houston (White) | London (Ontario) | Los Angeles | Louisville | Memphis | Miami | Minneapolis | Mississauga | News Orleans (Landrieu) | New Orleans (Nagin) | Newark | New York | Oakland | Oklahoma City | Phoenix | Philiadelphia | Pittsburgh | Pomona | Portland (Adams) | Portland (Potter) | Providence | Salt Lake City (Anderson) | Salt Lake City (Becker) | San Francisco | Seattle (McGinn) | Seattle (Nickels) | South Bay | Southfield | Stamford | Surrey BC | Toronto | Trenton | Tulsa | Washington DC | Winnipeg |




City Mayors reports news from towns and cities around the world. Worldwide | Elections | North America | Latin America | Europe | Asia | Africa | Events |




Mayors from The Americas, Europe. Asia, Australia and Africa are competing for the annual World Mayor Award. More




City Mayors ranks the world's largest as well as richest cities and urban areas. It also ranks the cities in individual countries, and provides a list of the capital cities of some 200 sovereign countries. More




City Mayors reports political events, analyses the issues and depicts the main players. More




City Mayors describes and explains the structures and workings of local government in Europe, The Americas, Asia, Australia and Africa. More




City Mayors profiles city leaders from around the world and questions them about their achievements, policies and aims. More




City Mayors deals with economic and investment issues affecting towns and cities. More




City Mayors reports on how business developments impact on cities and examines cooperation between cities and the private sector. More




City Mayors describes and explains financial issues affecting local government. More




City Mayors lists and features urban events, conferences and conventions aimed at urban decision makers and those with an interst in cities worldwide. More




City Mayors reports urban environmental developments and examines the challenges faced by cities worldwide. More




City Mayors reports on and discusses urban development issues in developed and developing countries. More



City Mayors reports on developments in urban society and behaviour and reviews relevant research. More




City Mayors deals with urban transport issues in developed and developing countries and features the world's greatest metro systems. More




City Mayors examines education issues and policies affecting children and adults in urban areas. More




City Mayors investigates health issues affecting urban areas with an emphasis on health in cities in developing countries. More




City Mayors examines the contributions history and culture make to urban society and environment. More




City Mayors examines the importance of urban tourism to city economies. More




City Mayors describes the history, architecture and politics of the greatest city halls in the world. More




City Mayors invites readers to write short stories about people in cities around the world. More




City Mayors questions those who govern the world's cities and talks to men and women who contribute to urban society and environment. More




City Mayors profiles national and international organisations representing cities as well as those dealing with urban issues. More




City Mayors reports on major national and international sporting events and their impact on cities. More




City Mayors lists cities and city organisations, profiles individual mayors and provides information on hundreds of urban events. More


Kwame Kilpatrick
Former Mayor of Detroit
By Andrew Stevens
4 June 2008: Mockingly dubbed the 'hip-hop mayor', labelled one of America's worst and then written off after placing second in his re-election primary, Detroit's Kwame Kilpatrick staged one of 2005's greatest political comebacks by confounding critics and returning to city hall for a second term. The mayor's grip on city hall has weakened during his second term however, with a scandal of an affair with an aide and his bizarre claim to be on assignment from God in his defence. At 37 Kilpatrick is one of the youngest big city mayors in America.

5 September 2008 update: Detroit Mayor Kwame Kilpatrick has agreed to step down from office and plead guilty to two felony misconduct charges that stem from a sex scandal. Kilpatrick admitted to two counts of obstruction of justice Thursday, 4 September, in a Michigan courtroom, after his lawyers struck a deal with prosecutors. As part of the plea agreement, Kilpatrick must serve four months in jail and pay $1 million in restitution. He also is barred from holding public office for five years.

9 November 2009 update: Detroit's Dave Bing was elected to his first full term of office, having won the city's special election to replace the ousted Kwame Kilpatrick in May. The former pro-basketball player beat three-time challenger Tom Barrow 56-41 per cent. The elections ushered in a new leadership to the rest of the city council, which has been beset by a number of governance challenges in recent years, suggesting a public appetite for change. More

31 March 2010: Profile of Detroit Mayor Bing

Born in 1970, Kilpatrick attended Detroit's Pelham Middle School and Cass Technical High School. After graduating the selective school, he attended Florida A&M University where he obtained a BSc in political science. He also holds a Juris Doctorate from the Detroit College of Law. Before attaining elected office, Kilpatrick worked as a teacher in the Detroit public schools system. Kilpatrick's biography on the Detroit City website claims he holds a teaching certificate from Florida A&M but recent media reports claim the university deny this.

Kilpatrick began his political career at an early age when he succeeded his mother in the Michigan State House of Representatives at just 26. He went on to lead the Democrats in the state legislature as minority leader, the first Afro-American to do so. He came to national prominence when he addressed the 2000 Democratic National Convention in Los Angeles and spoke again at the 2004 Boston convention. During his stint in the legislature he brokered the Clean Michigan Initiative which promoted urban renewal through new funding and also secured a deal to preserve healthcare funding for those on low incomes. In 2000, the Democratic Leadership Council, the modernising faction that came to prominence under Clinton and Gore, tipped Kilpatrick as 'one to watch'. He is Vice President of the National Conference of Democratic Mayors and also a trustee of the US Conference of Mayors.

In January 2008 it was disclosed that the married mayor had sent salacious text messages to his chief of staff Christine Beatty. The messages contradicted a sworn statement made by the mayor that he had not had a physical relationship with Ms Beatty. The messages were said to have been exchanged over two-month periods in 2002 and 2003 and showed the two planning to meet in hotel rooms and recounting their sexual relations. Dismissing calls to resign, he then claimed in an radio interview that he was on assignment from God in his position as mayor.

In 2001 Kilpatrick used his Detroit seat to run for the mayoralty, defeating city council president and former police chief Gil Hill 54% to 46%. However, getting elected proved to be the first of several battles before his 2005 re-election contest when victory was far from assured. The city's media homed in on the mayor's lavish lifestyle, his leasing a Lincoln sedan for his wife using city funds and the charging of $210,000 to city for entertaining raised more than a few eyebrows.

A stripper party at the mayoral mansion merely exacerbated Kilpatrick's poor standing, earning him the sobriquet of 'hip-hop mayor' on account of his 'bling' lifestyle. Kilpatrick's supporters however saw this as a racist slur. Local media scrutiny was nothing compared to the unhelpful election year intervention by Time Magazine when it labelled Kilpatrick one of America's worst mayors. Kilpatrick has repeatedly claimed that he has presided over a reversal of the city's poor finances, inherited from Dennis Archer's administration, though critics on the council and among staff have blasted the scale of his cuts to services.

In the 2 August 2005 primary for his re-election, Kilpatrick polled second to lead challenger Freman Hendrix, former deputy mayor under Dennis Archer, with Archer's former designated successor Sharon McPhail in third place. Kilpatrick was Detroit's first incumbent mayor in over 50 years to poll second in the primary and local newspapers had endorsed Hendrix's campaign. However, Kilpatrick regained the ground initially lost to Hendrix by the time of the November election, emerging with 53% of the vote to Hendrix's 47%. During this time, Hendrix was accused of running a hubristic campaign while Kilpatrick's role in the memorial service for civil rights leader Rosa Parks enabled him to rise in the estimation of many critical voters.

In spite of his national civic offices, Kilpatrick languishes under the constant threat of ouster from office by the city council and even prosecution. While matters remain at a legal impasse over whether or not the city council is competent enough to remove him, both the local media and many city residents continue to call for his departure, though the mayor himself remains in defiant pose and firmly wedded to occupancy of his office. To add a touch of hubris to the proceedings, Kilpatrick recently launched his own television chatshow. The mayor's activities have seen him compared to Bill Clinton and former New York Governor Eliot Spitzer, proving at least that he is still thought of as a political heavyweight in more ways than one.

Detroit operates under the strong mayor-council model, with the city council of nine members all elected on an at-large basis. The city sits in Wayne County, Michigan. First best known as the centre of US automobile production, Detroit was then famed as the city of the Motown sound in the 1960s, before the burgeoning Detroit techno scene of the 1990s made the city's name globally resonate once again.

Mayor Kilpatrick is married to wife Carlita and they have three children. His mother Caroline is a Congresswoman and his father Bernard worked for Wayne County's former County Executive.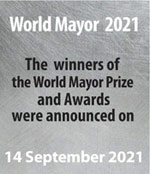 The best Mayors for Stronger | Fairer | Greener cities. Elect your candidate for the 20/21 World Mayor Prize and Honours. The Prize has been awarded since 2004