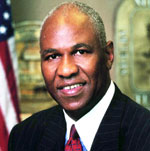 Willie Herenton, former Mayor of Memphis





FRONT PAGE
Site Search
About us | Quiénes somos |
A propos de nous | Über uns |
Mayor Monitor
Directories
Events
Debate




US Mayors
World Mayor
World index of mayors
Mayors from Africa
Mayors from Asia & Australia
Mayors from The Americas
Mayors from Europe
Mayors and political parties
World's largest cities
and their mayors 2011
Elected US mayors

Mayors from Canada and the US (Former mayors in italics)
| Akron | Albuquerque | Atlanta (Franklin) | Atlanta (Reed) | Baltimore | Boston | Calgary | Chicago Emanuel | Chicago Daley | Columbus | Dayton | Denver | Detroit (Bing) | Detroit (Kilpatrick) | Edmonton | Harrisburg | Honolulu | Houston (Parker) | Houston (White) | London (Ontario) | Los Angeles | Louisville | Memphis | Miami | Minneapolis | Mississauga | News Orleans (Landrieu) | New Orleans (Nagin) | Newark | New York | Oakland | Oklahoma City | Phoenix | Philiadelphia | Pittsburgh | Pomona | Portland (Adams) | Portland (Potter) | Providence | Salt Lake City (Anderson) | Salt Lake City (Becker) | San Francisco | Seattle (McGinn) | Seattle (Nickels) | South Bay | Southfield | Stamford | Surrey BC | Toronto | Trenton | Tulsa | Washington DC | Winnipeg |




City Mayors reports news from towns and cities around the world. Worldwide | Elections | North America | Latin America | Europe | Asia | Africa | Events |




Mayors from The Americas, Europe. Asia, Australia and Africa are competing for the annual World Mayor Award. More




City Mayors ranks the world's largest as well as richest cities and urban areas. It also ranks the cities in individual countries, and provides a list of the capital cities of some 200 sovereign countries. More




City Mayors reports political events, analyses the issues and depicts the main players. More




City Mayors describes and explains the structures and workings of local government in Europe, The Americas, Asia, Australia and Africa. More




City Mayors profiles city leaders from around the world and questions them about their achievements, policies and aims. More




City Mayors deals with economic and investment issues affecting towns and cities. More




City Mayors reports on how business developments impact on cities and examines cooperation between cities and the private sector. More




City Mayors describes and explains financial issues affecting local government. More




City Mayors lists and features urban events, conferences and conventions aimed at urban decision makers and those with an interst in cities worldwide. More




City Mayors reports urban environmental developments and examines the challenges faced by cities worldwide. More




City Mayors reports on and discusses urban development issues in developed and developing countries. More



City Mayors reports on developments in urban society and behaviour and reviews relevant research. More




City Mayors deals with urban transport issues in developed and developing countries and features the world's greatest metro systems. More




City Mayors examines education issues and policies affecting children and adults in urban areas. More




City Mayors investigates health issues affecting urban areas with an emphasis on health in cities in developing countries. More




City Mayors examines the contributions history and culture make to urban society and environment. More




City Mayors examines the importance of urban tourism to city economies. More




City Mayors describes the history, architecture and politics of the greatest city halls in the world. More




City Mayors invites readers to write short stories about people in cities around the world. More




City Mayors questions those who govern the world's cities and talks to men and women who contribute to urban society and environment. More




City Mayors profiles national and international organisations representing cities as well as those dealing with urban issues. More




City Mayors reports on major national and international sporting events and their impact on cities. More




City Mayors lists cities and city organisations, profiles individual mayors and provides information on hundreds of urban events. More


Willie Herenton
former Mayor of Memphis
10 March 2008: A controversial figure by any standards, Memphis' combative mayor, Willie Herenton, is now on his fifth term of office. A former superintendent of the city's schools system, there are those who would claim the "consummate politician" represents something of a public service role model for young black men, while critics continue to seek his removal from office. Herenton is longlisted for the 2008 World Mayor Award.

Update 16 October 2009: Shelby County Mayor, A C Wharton, won a special election to replace Willie Herenton as mayor of Memphis. Herenton stepped down in June after 18 year as city leader to run for US Congress. Myron Lowery, mayor pro tem since June, came second. More than two dozen candidates were vying to serve out Herenton's unexpired term for Tennessee's capital city.

Herenton was born into a broken home in the Tennessee city in 1940, where he was raised by his mother and grandmother and helped support the family by picking cotton. He had originally hoped the emulate the sporting success of his idols Joe Louis and Sugar Ray Robinson and despite some success as boxer, abandoned his attempts and instead chose a career as an educator, graduating from LeMoyne College in the city in 1963 and becoming a teacher in the city's public schools system. He picked up an MA from Memphis State University three years later and in 1967 became the youngest elementary school principal in the city at just 27.

From here he was able to gain a doctorate from Southern Illinois University in 1971 and in 1974 became deputy superintendent of the city's public schools system. He made superintendent in 1979, a position he held for 12 years. During this time he was twice awarded a place in the Executive Educator Journal's top 100 school administrators and a Horatio Alger Award for his work in turning around failing schools, the award's administrators claiming that he represented "a role model for more than 100,000 youths in his system, the majority of whom are black. Herenton is seen as a symbol of what they can achieve."

In 1991, Herenton was able to use his position and plaudits to run for mayor, defeating two-term incumbent Dick Hackett by just 142 votes, the closest ever mayoral race in the city's history. Though the last city mayor to hail from the city's falling white population, Hackett was regarded as more cooperative with black community leaders than his conservative predecessors. Aided by an improving city economy, Herenton coasted to re-election in 1995, defeating three opponents with almost three quarters of the total vote. Yet the more divisive period of Herenton's tenure began with his 1999 re-election effort, where he faced 13 opponents, including a more credible challenger in the form of Joe Ford, scion of a local political dynasty. Herenton secured re-election with 46 per cent of the vote, with no run-off required due to the provisions of the city charter. In 2007 Herenton was returned for an unprecedented fifth term of office, again with 42 per cent of the vote, though his closest challenger came within less than 10 percentage points of unseating him on this occasion. The 2007 campaign was regarded as highly racially divisive, though this is not unusual in a city where the two parties are split along racial lines.

In his resignation letter, Herenton claimed he wished to "pursue other challenges". Speculation among political allies and the local media include a return to his former job or even a run for Congress.

Herenton is divorced and has three children with former wife Ida. In addition to two honorary doctorates, Herenton holds memberships on the National Board of Directors of the Urban League, Junior Achievement, National Executive Board of the National Conference of Christians and Jews, Rotary Club and the Economic Club of Memphis.

Memphis is governed by the mayor and council system, with 13 council members elected to the city council. There has been some discussion around merging the city council with the Shelby County into one consolidated metropolitan county, as in Nashville elsewhere in the state.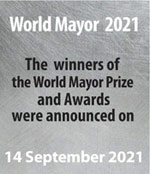 The best Mayors for Stronger | Fairer | Greener cities. Elect your candidate for the 20/21 World Mayor Prize and Honours. The Prize has been awarded since 2004