Cory Booker, Mayor of Newark, New Jersey





FRONT PAGE
Site Search
About us | Quiénes somos |
A propos de nous | Über uns |
Mayor Monitor
Directories
Events
Debate




US Mayors
World Mayor
World index of mayors
Mayors from Africa
Mayors from Asia & Australia
Mayors from The Americas
Mayors from Europe
Mayors and political parties
World's largest cities
and their mayors 2011
Elected US mayors

Mayors from Canada and the US (Former mayors in italics)
| Akron | Albuquerque | Atlanta (Franklin) | Atlanta (Reed) | Baltimore | Boston | Calgary | Chicago Emanuel | Chicago Daley | Columbus | Dayton | Denver | Detroit (Bing) | Detroit (Kilpatrick) | Edmonton | Harrisburg | Honolulu | Houston (Parker) | Houston (White) | London (Ontario) | Los Angeles | Louisville | Memphis | Miami | Minneapolis | Mississauga | News Orleans (Landrieu) | New Orleans (Nagin) | Newark | New York | Oakland | Oklahoma City | Phoenix | Philiadelphia | Pittsburgh | Pomona | Portland (Adams) | Portland (Potter) | Providence | Salt Lake City (Anderson) | Salt Lake City (Becker) | San Francisco | Seattle (McGinn) | Seattle (Nickels) | South Bay | Southfield | Stamford | Surrey BC | Toronto | Trenton | Tulsa | Washington DC | Winnipeg |




City Mayors reports news from towns and cities around the world. Worldwide | Elections | North America | Latin America | Europe | Asia | Africa | Events |




Mayors from The Americas, Europe. Asia, Australia and Africa are competing for the annual World Mayor Award. More




City Mayors ranks the world's largest as well as richest cities and urban areas. It also ranks the cities in individual countries, and provides a list of the capital cities of some 200 sovereign countries. More




City Mayors reports political events, analyses the issues and depicts the main players. More




City Mayors describes and explains the structures and workings of local government in Europe, The Americas, Asia, Australia and Africa. More




City Mayors profiles city leaders from around the world and questions them about their achievements, policies and aims. More




City Mayors deals with economic and investment issues affecting towns and cities. More




City Mayors reports on how business developments impact on cities and examines cooperation between cities and the private sector. More




City Mayors describes and explains financial issues affecting local government. More




City Mayors lists and features urban events, conferences and conventions aimed at urban decision makers and those with an interst in cities worldwide. More




City Mayors reports urban environmental developments and examines the challenges faced by cities worldwide. More




City Mayors reports on and discusses urban development issues in developed and developing countries. More



City Mayors reports on developments in urban society and behaviour and reviews relevant research. More




City Mayors deals with urban transport issues in developed and developing countries and features the world's greatest metro systems. More




City Mayors examines education issues and policies affecting children and adults in urban areas. More




City Mayors investigates health issues affecting urban areas with an emphasis on health in cities in developing countries. More




City Mayors examines the contributions history and culture make to urban society and environment. More




City Mayors examines the importance of urban tourism to city economies. More




City Mayors describes the history, architecture and politics of the greatest city halls in the world. More




City Mayors invites readers to write short stories about people in cities around the world. More




City Mayors questions those who govern the world's cities and talks to men and women who contribute to urban society and environment. More




City Mayors profiles national and international organisations representing cities as well as those dealing with urban issues. More




City Mayors reports on major national and international sporting events and their impact on cities. More




City Mayors lists cities and city organisations, profiles individual mayors and provides information on hundreds of urban events. More


Cory Booker
Mayor of Newark, New Jersey
By Andrew Stevens
14 May 2010: The Stanford and Oxford-educated project-dwelling mayor of Newark is a figure of unorthodox contradictions. Raised by affluent civil rights activists, his candidature for mayor was rejected by the city's political establishment as being "not black enough", yet the national Democrat establishment marked him as one to watch. His determined battle to unseat a corrupt city baron was the subject of an Oscar-nominated documentary and he cites both Malcolm X and the Founding Fathers as his inspiration. Since becoming mayor against the odds, he has battled crime in the notorious city and was even offered national office under the incoming Obama administration. Mayor Booker was awarded seventh place in World Mayor 2010.

Update 16 October 2013: Cory Booker elected to represent New Jersey in the US Senate. He is replaced by Council President Luis Quintana, who will serve out Booker's term.

Cory was born in 1969 in Washington, DC, to Cary and Carolyn Booker, civil rights activists notable for being among the first black executives at IBM. He grew up in the affluent suburban setting of Harrington Park, New Jersey, and graduated from the blue ribbon Northern Valley Regional High School. His college schooling took place at Stanford University, where he obtained a degree in political science (1991) and a masters in sociology (1992), with the usual sporting achievements and extracurricular voluntary and student body activities. Having attended Queens College Oxford, England on a Rhodes Scholarship, he was awarded a further degree in modern history in 1994. He then took his juris doctor at Yale Law School, providing pro bono legal advice to poor residents in New Haven.

On his return to New Jersey, Booker practiced as staff attorney for the Urban Justice Center in New York City and as program coordinator of the Newark Youth Project. He also lived in a notorious public housing project in downtown Newark during this period, organising tenants to campaign for better conditions. It was this experience which led him to stand for the city council, securing victory over a lethargic four term incumbent in 1998. A year later, Booker undertook a 10 day long hunger strike to protest over open drug dealing amid housing projects, camping out in one such problem area, the first of several publicity stunts. He then lived in a motor home for five months, parking alongside drug problem areas once again. His actions failed to win him any friends on the city council, where he was regularly voted down when proposing action on housing and crime. Meanwhile on the national scene, in 2000 Booker was tapped as one of '100 to Watch' by the Democratic Leadership Council, the centrist faction associated with the Clintons' New Democrat wing of the party.

Booker's frequent battles on the city council and his streetwise campaigning were a marker for his candidacy in the 2002 Newark mayoral election, where he challenged four term incumbent Sharpe James, rather than seek another term on the council. That Booker was willing to take such a gamble demonstrated his lone voice among the city's machine politics but James' defence of his cosy municipal sinecure (his $200,000 salary as mayor placed him on higher pay than a state governor) saw new depths plumbed by the mayor and his supporters. In spite of Booker's considerable activist record and standing in the local community, James was able to claim through endorser Jesse Jackson (whom Booker had even campaigned for in 1988) that Booker was "not black enough" and too suburban to lead Newark (despite his living in a project compared to the mansion-dwelling James). A particular low was sunk to when James resorted to accusing Booker of not only being a closet Republican but also taking money off the Ku Klux Klan, the Taliban and somewhat incongruously Jews (Booker was president of the L'Chaim Society at Oxford but is a devout Christian and promotes inter-faith dialogue) and, most tellingly, being a "faggot white boy". Despite resorting to gutter smears, James clung on to office with 53% of the vote. The explosive atmosphere of the 2002 campaign was made into an Oscar-nominated documentary in 2005, Street Fight.

After his Quixotic bid to unseat James, Booker vowed to take him on again in 2006. In the interim he settled for becoming the director of a grassroots non-profit body, Newark Now, taking partnership in a local law firm and a senior fellowship at the state's Rutgers University. In 2004 he attempted to save the life of a neighbour who had been shot by a gang in front of their apartments. Immediately prior to the May 2006 race, Sharpe James signalled that he would not run as he wished to concentrate on his seat in the state senate, instead pushing the candidacy of deputy mayor and fellow state senator Ronald Rice. In the event, Booker managed to outgun the Rice campaign financially (having raised $6m) and then electorally, by taking not only the mayoralty with 72% of the vote, but also all nine council seats under his slate of supporters (the 'Booker Team'). Just before entering office in June, the state police foiled an assassination plot orchestrated by gang members in state prisons to kill Booker on account of his proposed harder line on crime and increase in police numbers in the city, for which he remains under police protection. Booker is also a member of the Mayors Against Illegal Guns coalition.

Booker's 2006 victory was interpreted by liberal pundits such as Arianna Huffington as an emphatic rejection by cities of the kind of Tammany Hall politics which often pass as the norm in urban America, with most complacently resigned to this. The centre-right Manhattan Institute's City Journal has hailed his reordering of the city's budget to concentrate on crime, the radical overhaul of the public schools system and the hiring of new managers from across the states.

The bulk of Booker's first term (few doubt that a second is already in the bag, given his 80% approval ratings) has been occupied with tackling crime in the notorious hotspot. Booker brought in tough-talking New York City cop Garry McCarthy (as the name suggests, an Irish-American) to lead the city's police department from the front and dent the crime stats. The mayor's fight against crime is personal, his bedroom wall carries his murder rate target. However, as Booker's aides presciently note, talking up the fight against crime can lead to an increase in residents' fear of crime and does not a vision make. The mayor has tried to channel his standing among the Hollywood A-list into a philanthropic boom for the city, which aside from its longstanding problems has battled the financial crisis as an additional challenge. Yet Booker's social standing has also led to charges of vanity ahead of public spirit.

During Booker's ascent to mayoral office, which given the resources marshalled against him was never a cert, he was often held up as the one most likely to become "the first black president". Booker's agenda is firmly Newark however, for the time being, as he declined an invitation by the incoming first black president to head up the Office of Urban Affairs (which eventually went to former Bronx Borough President Adolfo Carrión, Jr). Unsurprisingly, Booker is often associated with other African-American rising stars of the Democratic Party, for instance Washington DC mayor Adrian Fenty, an equally shrewd and telegenic operator who beat the local establishment to gain office. Both have reputations for hiring outsiders to shake up their administrations, unsurprising given their own paths to power.

In more recent months, the mayor has gained notoriety for his online antics, which have included a series of jovial YouTube spats with the Tonight Show's Conan O'Brien. The rows have concerned Brooker's own personal attendance as part of nightly citizen patrols of the recession-hit city. Booker also made the news in late 2009 when in response to a constituent's twitter post asking him to send a city worker to shovel snow from her infirm father's driveway, the mayor turned up in person to do it himself. Booker was however re-elected to a second term in May 2010.

The postscript on Sharpe James was his indictment by a federal grand jury on 25 counts of fraud and conspiracy, mostly emanating from his time as mayor, including running up large entertainment bills on city credit cards and taking a trip to Brazil using public funds. His state senate term having expired, in July 2008 he was sentenced to 27 months in prison.

Newark was founded by New England Puritans in the 17th century as 'New Ark'. It has since emerged as the largest city in New Jersey as part of the New York metro area (it sits just five miles from Manhattan), with industry attracting significant numbers of Italian, Irish and German immigrants during the 19th century. The city is heavily Democrat, though its three most recent mayors have all been indicted on criminal charges, with many more aides doing jail time for corruption.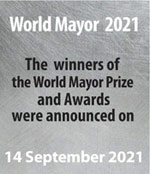 The best Mayors for Stronger | Fairer | Greener cities. Elect your candidate for the 20/21 World Mayor Prize and Honours. The Prize has been awarded since 2004