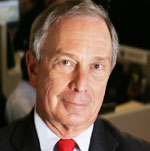 Michael Bloomberg, Mayor of New York City




FRONT PAGE
About us




MAYORS OF THE MONTH
In 2015
Mayor of Seoul, South Korea (04/2015)
Mayor of Rotterdam, Netherlands (03/2015)
Mayor of Houston, USA, (02/2015)
Mayor of Pristina, Kosovo (01/2015)

In 2014
Mayor of Warsaw, Poland, (12/2014)
Governor of Tokyo, Japan, (11/2014)
Mayor of Wellington, New Zealand (10/2014)
Mayor of Sucre, Miranda, Venezuela (09/2014)
Mayor of Vienna, Austria (08/2014)
Mayor of Lampedusa, Italy (07/2014)
Mayor of Ghent, Belgium (06/2014)
Mayor of Montería, Colombia (05/2014)
Mayor of Liverpool, UK (04/2014)
Mayor of Pittsford Village, NY, USA (03/2014)
Mayor of Surabaya, Indonesia (02/2014)
Mayor of Santiago, Chile (01/2014)

In 2013
Mayor of Soda, India (12/2013)
Mayor of Zaragoza, Spain (11/2013)
Mayor of Marseille, France (10/2013)
Mayor of Schwäbisch Gmünd, Germany (09/2013)
Mayor of Detroit, USA (08/2013)
Mayor of Moore, USA (07/2013)
Mayor of Mexico City, Mexico (06/2013)
Mayor of Cape Town, South Africa (05/2013)
Mayor of Lima, Peru (04/2013)
Mayor of Salerno, Italy (03/2013)
Governor of Jakarta, Inbdonesia (02/2013)
Mayor of Rio de Janeiro, Brazil (01/2013)

In 2012
Mayor of Izmir, Turkey (12/2012)
Mayor of San Antonio, USA (11/2012)
Mayor of Thessaloniki, Greece (10/2012)
Mayor of London, UK (09/2012)
Mayor of New York, USA (08/2012)
Mayor of Bilbao, Spain (07/2012)
Mayor of Bogotá, Columbia (06/2012)
Mayor of Perth, Australia (05/2012)
Mayor of Mazatlán, Mexico (04/2012)
Mayor of Tel Aviv, Israel (03/2012)
Mayor of Surrey, Canada (02/2012)
Mayor of Osaka, Japan (01/2012)

In 2011
Mayor of Ljubljana, Slovenia (12/2011)


Local government in the US




Worldwide | Elections | North America | Latin America | Europe | Asia | Africa |

























Mayor of the Month for August 2012*
Michael Bloomberg
Mayor of New York
By Andrew Stevens
12 September 2013*: Michael Rubens Bloomberg became New York City's 108th mayor on 1 January 2002, re-elected in 2005 and, more controversially, 2009. America's 12th richest person and proprietor of the financial data firm bearing his name, Bloomberg's brand of fiscal conservatism and social liberalism places him in the tradition of the Democrat-leaning city's iconoclast Republican mayors. The mayor is also leader of the Mayors Against Illegal Guns coalition and C40 climate change group.

Update 6 November 2013: Bill de Blasio elected mayor of New York City

Bloomberg was born into a Jewish-American family on 14 February 1942 in Medford, Massachusetts, where his father was the bookkeeper for a local dairy. After attending Johns Hopkins University to study electrical engineering, where he was a self-financed student, he obtained his MBA from Harvard Business School in 1966. He was then hired by Salomon Brothers to work on Wall Street.

He quickly advanced through the ranks and became a partner in 1972. Soon after, he was supervising all of Salomon's stock trading, sales and later, its information systems. He was dismissed in 1981 after another company acquired Salomon. Bloomberg used his $10m stake from the Salomon sale to start his own company, an enterprise that would revolutionise the way Wall Street did business. In 1982, Bloomberg L.P. sold 20 subscriptions to its service; 20 years later that figure had multiplied to over 165,000 subscribers worldwide. As the business proved its viability, the company branched out and in 1990 Bloomberg LP entered the media business, launching a news service, and then radio, television, Internet, and publishing operations.

Bloomberg's election as mayor in 2001 came in the aftermath of 9/11, with two-term Republican Mayor Rudy Giuliani prevented from standing again by term limits. Giuliani's tenure as mayor was notable for the zero tolerance policies he had pioneered alongside NYPD Commissioner Bill Bratton, having made his name as a tough city prosecutor during the 1980s. The Republicans' hold on City Hall comes after the Democrat era typified by the terms of Ed Koch and David Dinkins and a series of damaging splits in the late 1970s. New Yorkers' political allegiances are known to be fluid, with many voters prizing independence of mind rather than partisan allegiances and the ability to split ticket for elections at different levels of government. That said, machine politics still play a part in the selection of candidates in partisan primaries. Much is also made of ethnic voting blocs, with candidates assiduously courting the votes of Jewish, Irish, Italian and Hispanic communities.

In September 2004, Bloomberg was ranked number 34 in a Forbes poll of the 400 Richest Americans and as of 2011 the 12th richest, making him one of the richest people in the world (30th as of 2011). This was given as one consideration of his decision in 2001 to seek the post of New York Mayor as a Republican, rather than a Democrat, due to his belief that having no political background to draw on, the tightly organised factions in the city party would opt for a favoured son. The New York Democrats eventually chose Mark Green, a consumer activist and associate of Ralph Nader. Bloomberg himself defeated former Democratic Congressman and Deputy Mayor Herman Badillo in the Republican primary, which had to be re-staged because of the events of 9/11.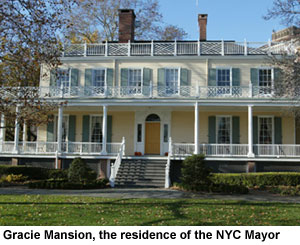 Despite his wealth, the Bloomberg claims to retain something of a down to earth manner, even travelling to city hall on the subway some days. He does not reside in the official residence of the New York Mayor, Gracie Mansion, but at his own home on the Upper East Side. He also waives his entitlement to the mayor's salary and accepts a token payment of one dollar annually.

Bloomberg is widely acknowledged for the deft city statecraft and competence of his administration, with his managerial style of leadership credited to building on the work of his predecessor. Bloomberg, though committed to reducing crime, has taken a more low-key stance on the issue compared to the prominence given to it by Giuliani however. He has also called for homeland security funding to be allocated on the basis of risk and population, in light of the 9/11 attacks.

The mayor has also supported the extension of the city's smoking ban to drinking establishments. Since the resumption of mayoral oversight of schooling in 2000, city schools have shown few discernable gains in exam performance however and the funding by results formula introduced to incentivise higher grades has seen some question its effect. His handling of the unsuccessful 2012 Olympic bid also led some to question his leadership, especially over his much-derided proposals to give the New York Mets a new stadium.

Given his lifelong Democrat affiliation prior to seeking the GOP nomination, Bloomberg was seen as a liberal Republican before his 2007 Independent registration and has stated his belief in gun control, a woman's right to choose abortion and same-sex marriages. In 2012 these sticking points have seen him back away from endorsing Mitt Romney's presidential campaign, having stayed tight-lipped on any preference in 2008.

Bloomberg coasted to re-election in 2005, defeating his Democrat challenger, the former Bronx Borough President Fernando Ferrer, by a margin of 20 per cent, the highest ever for a Republican in the city. Bloomberg was re-selected unopposed by the Republicans for their nomination, though one disgruntled party activist ran as a Conservative in the race in opposition to Bloomberg's liberal outlook and 'betrayal' of Republican ideals. Though initially prevented from standing again at the end of his term in 2009, Bloomberg has already joined Rudy Giuliani and Fiorello LaGuardia as the city's most successful Republican mayors – in October 2008 the city council voted to suspend its term limits on account of the financial crisis, enabling him to successfully run for a third term.

Mayor Bloomberg frequently appeared in press speculation linked to a potential presidential bid in 2008, not least because of the wide-open field this time round. In June 2007 he changed his registered affiliation from Republican to Independent, feverishly renewing such speculation. Though reticent on his post-mayoral ambitions and coy about stating anything beyond a return to philanthropy once he departs from city hall, permutations of a Bloomberg ticket included Los Angeles Mayor Villaraigosa, a Democrat, as a potential vice president to add political and geographical balance.

However, Bloomberg's social liberalism, most notably his stance on gun control, seen as hardline anti in key swing states, would have rendered such a bid difficult to say the least. Though hailed for his work as the figurehead of the 600-strong Mayors Against Illegal Guns coalition, the outrage which followed Bloomberg's foray outside of his own city jurisdiction, not to mention state, into Virginia as part of an entrapment stunt designed to demonstrate the state's lax gun laws, was seen as a wider sign of his Yankee stigma to the electorate south of the Mason-Dixon line. In February 2008 Bloomberg killed off any speculation once and for all when he stated: "I am not — and will not be — a candidate for president." Ahead of the 2012 race, Bloomberg sought to draw a line under any discussion by saying "no way, no how", as he also did concerning a mooted run for state governor in 2010.

In the final year of his third and his final term as mayor, Bloomberg can point to an administration notable for not only his economic stewardship but also bold and innovative stances on social and environmental issues. Following the fatal Aurora shootings of July 2012, Bloomberg used his position as co-founder of Mayors Against Illegal Guns to make a rare foray into the presidential race by demanding the two main candidates specify a stronger stance on gun control. He has also made great efforts to promote the city's tech sector globally, even going so far as to learn how to code himself.

Even amid the US' struggling economy and the federal level's preoccupation with this, Bloomberg has also made great strides in environmental leadership, taking over in 2010 as Chair of the C40 group of global cities addressing climate change. For any politician concerned with legacy, Bloomberg's visible and pragmatic leadership on these issues could be seen as updating the maxim of his independent-minded predecessor Fiorello LaGuardia that "there is no Republican way or Democratic way to clean a street or build a sewer, but merely a right way and a wrong way."

* This article was originally published in August 2012 and updated several times since then.