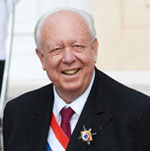 Jean-Claude Gaudin, Mayor of Marseille, France




FRONT PAGE
About us




MAYORS OF THE MONTH
In 2015
Mayor of Seoul, South Korea (04/2015)
Mayor of Rotterdam, Netherlands (03/2015)
Mayor of Houston, USA, (02/2015)
Mayor of Pristina, Kosovo (01/2015)

In 2014
Mayor of Warsaw, Poland, (12/2014)
Governor of Tokyo, Japan, (11/2014)
Mayor of Wellington, New Zealand (10/2014)
Mayor of Sucre, Miranda, Venezuela (09/2014)
Mayor of Vienna, Austria (08/2014)
Mayor of Lampedusa (07/2014)
Mayor of Ghent, Belgium (06/2014)
Mayor of Montería, Colombia (05/2014)
Mayor of Liverpool, UK (04/2014)
Mayor of Pittsford Village, NY, USA (03/2014)
Mayor of Surabaya, Indonesia (02/2014)
Mayor of Santiago, Chile (01/2014)

In 2013
Mayor of Soda, India (12/2013)
Mayor of Zaragoza, Spain (11/2013)
Mayor of Marseille, France (10/2013)
Mayor of Schwäbisch Gmünd, Germany (09/2013)
Mayor of Detroit, USA (08/2013)
Mayor of Moore, USA (07/2013)
Mayor of Mexico City, Mexico (06/2013)
Mayor of Cape Town, South Africa (05/2013)
Mayor of Lima, Peru (04/2013)
Mayor of Salerno, Italy (03/2013)
Governor of Jakarta, Inbdonesia (02/2013)
Mayor of Rio de Janeiro, Brazil (01/2013)

In 2012
Mayor of Izmir, Turkey (12/2012)
Mayor of San Antonio, USA (11/2012)
Mayor of Thessaloniki, Greece (10/2012)
Mayor of London, UK (09/2012)
Mayor of New York, USA (08/2012)
Mayor of Bilbao, Spain (07/2012)
Mayor of Bogotá, Columbia (06/2012)
Mayor of Perth, Australia (05/2012)
Mayor of Mazatlán, Mexico (04/2012)
Mayor of Tel Aviv, Israel (03/2012)
Mayor of Surrey, Canada (02/2012)
Mayor of Osaka, Japan (01/2012)

In 2011
Mayor of Ljubljana, Slovenia (12/2011)


COUNTRY SECTIONS
Argentine Mayors
Belgian Mayors
Brazilian Mayors
British Mayors
Canadian Mayors
Chilean Mayors
Colombian Mayors
Czech Mayors
French Mayors
German Mayors
Italian Mayors
Japanese Mayors
Mexican Mayors
Spanish Mayors
US Mayors

Local government in the US




Worldwide | Elections | North America | Latin America | Europe | Asia | Africa |

























Mayor of the Month for October 2013*
Jean-Claude Gaudin
Mayor of Marseille, France
By Tann vom Hove and Pierre Michel
31 March 2014*: Having been Mayor of Marseille since 1995, Jean-Claude Gaudin won a fourth term in France's 2014 municipal elections. The mayor, from the centre-right UMP (Union for a Popular Movement), easily defeated candidates from the Socialist Party and the right-wing National Front. He was supported by 42.5 per cent of voters, with the Socialists on 30.8 per cent and the National Front on 27 per cent. Throughout the election campaign, opinion polls put Mayor Gaudin, who is 74 and has suffered heart problems, in front of all rivals from left and right and even from within his own party.

• Mayor Gaudin
• Brief history of Marseille
• Immigration
• European Capital of Culture
• Drugs and crime
• The mayor's record

Mayor Gaudin
Jean-Claude Gaudin is one of the big beasts of French politics. In 1965 he became the youngest member of Marseille's city council as part of a centre-left group headed by Gaston Defferre, who many regard as one of the greatest mayors of Marseille and a politician still very much admired by Gaudin even though both men drifted politically apart in later years.

In 1978, Gaudin was elected to the French National Assembly and only three years later, after winning re-election, he became parliamentary leader of the centrist UDF (Union for French Democracy) group. In 1988, he won a fourth term as deputy (member of parliament) for Marseille's second district, achieving more than 60 per cent of the vote.

While still a member of the French National Assembly, Jean-Claude Gaudin almost succeeded in unseating his erstwhile mentor Gaston Defferre as mayor of Marseille. He lost the 1983 municipal elections by less than 2,500 votes. Gaudin's second attempt to become mayor of the country's second-largest city was also unsuccessful when, in 1989, he lost to the then socialist mayor Robert Vigouroux. But six years later Gaudin replaced Vigouroux when the incumbent withdrew his candidacy after opinion polls gave him less than 15 per cent of the vote. Gaudin won re-elections in 2001 and 2008.

Mayor Gaudin has also been a member of the French Senate (upper house of parliament) since 1989 and its vice president from 1998 until 2011, when he was elected senate leader of his UMP party. Between 1995 and 1997, Gaudin served as local government minister under President Jacques Chirac.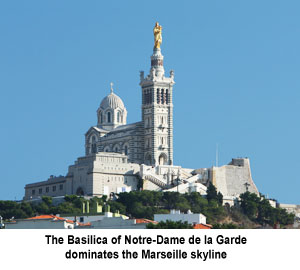 Brief history of Marseille
Marseille is one of the oldest cities in Europe. Founded some 2,600 years ago by Greek merchants and named Massalia, it thrived under the Romans, first as a protectorate during the Roman Republic and then as an integrate part of the Empire. With the decline of Roman influence and powers, the city was ruled by various Goth tribes until, in the sixth century, Marseille became part of the Frankish kingdoms. Emperor Charlemagne granted civic powers to the city. In 1482 Marseille became part of France.

During the French revolution, the city enthusiastically embraced the Republican cause and sent fighting men to Paris to defend the revolutionary government. While the French national anthem, La Marseillaise, does not actually originate from Marseille - the mayor of Strasbourg commissioned Rouget de Lisle to compose a song to rally the soldiers of the French Rhine army - it became popular when Marseille volunteers sang it in the streets of Paris. In 1795 it was adopted as the national anthem but later banned by the Kings Louis XVIII and Charles X as well as by Emperor Napoleon III. The Paris Commune adopted it as its rallying song in 1871 and eight years later La Marseillaise was restored as the nation's anthem.

Immigration
During its 2,600-year long history, Marseille has always been a city of immigration. In an interview, Mayor Gaudin explained that as a port city people are used to foreigners coming here. "The city itself is composed, stratum by stratum, of populations from abroad who came because of international developments. After 1915, for instance, Armenians escaping genocide in Turkey began arriving. In the 1930s Italians who fled fascism settled in Marseille. After World War II a Jewish immigration from North Africa began. And after France had given up control of Algeria, Morocco and Tunisia as well as its colonies in central Africa, Marseille filled with tens of thousands of people of different races."

Politicians from the right-wing National Front, which regards Marseille as its home turf, disagree. At the party's national convention, which was held in Marseille in September 2013, speaker after speaker predicted that the city would become the first major Western European metropolis where a majority of people are Muslims. Stéphane Ravier, the National Front mayoral candidate, said the French in Marseille were being replaced by another people, their culture and religion. "The wave of immigration has been so huge in the last 20 years that we are being submerged," he warned.

Mayor Gaudin does not believe the people of Marseille will be taken in by the scare mongering of the far right. "There are some feelings of xenophobia that show themselves from time to time," he conceded. "But my policies are the complete opposite. My administration practises what it preaches: generosity, fraternity and unity."

The mayor has been a supporter of a grand mosque since the project was first discussed in 2009. While there are almost as many mosques and Muslim prayer rooms as Catholic churches in Marseille, many are inadequate for their purpose. Gaudin believes that each religion is entitled to have a significant building in the city. While conservative Christians complained that the minaret would detract from the Basilica of Notre-Dame de la Garde, some 60 per cent of the population approved of the planned mosque. After three years of legal wrangling over planning issues, construction of the Grand Mosque started in July 2013.


2013 European Capital of Culture
Marseille was selected as 2013 European Capital of Culture because it successfully argued that culture and the arts in today's Europe must address questions like migration, racial and religious diversity, gender and ecology. To prepare for its reign, Marseille started an unprecedented building programme. The city invited some of the world's best-known architects - including Zaha Hadid, Jean Nouvel, Eric Castaldi and Norman Foster - to 'redesign Marseille's profile'.

The new Museum of European and Mediterranean Civilisations (MuCEM), which was inaugurated in July 2013 by President François Hollande, is the most important component of Mayor Gaudin's vision to transform Marseille into one of the top five centres for history, culture and the arts around the Mediterranean.

The museum, designed by architect Rudy Ricciotti, focuses primarily on the cultures of the Mediterranean. The aim is to reflect the 'world culture' that characterises the Mediterranean in order to extend this beyond its geographical confines: the blend of Latin culture and Christianity extends to the Americas; the Muslim world unfolds from the Saharan tip of Africa to the borders of Indonesia, through the Middle East; Jewish culture has spread to all continents, and the Orthodox world, starting with Greece and South Slavic Europe, has penetrated as far as Siberia. Bruno Suzzarelli, the museum's director, said for him the Mediterranean was a meeting point but it was also an area of great contradiction. "MuCEM will allow different ideas of the Mediterranean to meet, to be compared and to be challenged."

Mayor Gaudin was particularly keen to hire Norman Foster's architectural firm to make the city's Old Port more accessible to pedestrians by reducing traffic. The mayor stipulated that the 2,600-year port should be modernised by conserving its essential elements. The first phase, which was finished this year, provides pedestrians with much improved access. A second phase, scheduled to be completed by 2020, envisages the addition of public green spaces and parks to adjoin the port area.

Drugs and crime
Political opponents of Mayor Gaudin accuse him of living in denial about the state of Marseille. After a spate of drug-related killings this summer, they say the city could be described as the capital of the Kalashnikov rather than capital of culture. Already this year, 17 people have been killed, with most of the victims being gunned down by Kalashnikovs (AK47s). Last year's toll amounted to 24. The city's overall murder rate, at 5.3 per 100,000 inhabitants, is more than five times the nationwide figure.

If you are young, male and from northern Marseille you risk dying long before the age of 65. Young men are shot dead every month as part of a war for the lucrative franchise to sell drugs - mostly cannabis and cocaine - to clients from the wealthier parts of the city and its suburbs.

Successive French governments have vowed to deal with the issue through various security measures, but without much success. Last year, the newly installed Socialist government sent more than 200 extra police officers to the city and declared parts of northern and southern Marseille 'priority security zones'. When these measures didn't work, French interior minister Manuel Valls deployed riot police, but critics claim Marseille must begin by addressing underlying issues such as the city's high unemployment and poverty rates as well as the marginalisation of immigrant communities. Unemployment is above the national average and in some districts in the north of the city youth unemployment runs as high as 40 per cent. It is also estimated that some 20 per cent of the population live below the poverty line, a figure that can be as high as 40 per cent on some estates.

Samia Ghali, a district mayor from northern Marseille, where the footballers Zinedine Zidane and Eric Cantona come from, accused Mayor Gaudin of belittling the shootings by calling them turf-war killings rather than treating them as murder. She called on the French government to bring in troops to intercept the flow of cheap automatic weapons brought in from the Balkan and North Africa. "Only the army can stop the drug trade and connected violence," she said.

The mayor's record
Mayor Gaudin rejects the criticism made by the left and the far right and emphasises his record since leading the city. He also accused the French media of Marseille bashing. "In 1995, when I took office, unemployment in Marseille stood at 22 per cent, today it is down to 13 per cent. Twenty years ago, under a Socialist mayor, 1,500 homes were built a year, today we construct 6,000, with 1,500 being reserved for poorer residents." The mayor added that when he took office, Marseille attracted 80,000 cruise ship passengers per year. This year nearly one million will visit the city. The mayor also talked about the restoration of the Old Port and the successful staging of hundreds cultural events during Marseille's reign as European cultural capital and last but not least the opening of the Museum of European and Mediterranean Civilisations.

But the mayor admitted that his so far 18-year reign had entailed that changing circumstances forced him to break some of his earlier promises. As a deeply religious man, he swore that no gambling would be allowed in Marseille, but this June the city council, controlled by his party, gave the go-ahead for a casino. He also promised that the Stade Vélodrome, home to the Olympique de Marseille football club, would not be privatised, but again this year he signed a deal, handing over the stadium for 35 years to Arema, a subsidiary of the industrial conglomerates Bouygue.

* The article was originally published in October 2013 and updated in March 2014.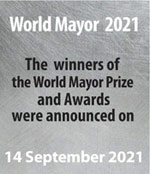 The best Mayors for Stronger | Fairer | Greener cities. Elect your candidate for the 20/21 World Mayor Prize and Honours. The Prize has been awarded since 2004