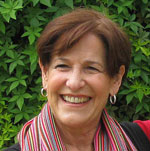 Susana Villarán, Mayor of Lima, Peru




FRONT PAGE
About us




MAYORS OF THE MONTH
In 2015
Mayor of Seoul, South Korea (04/2015)
Mayor of Rotterdam, Netherlands (03/2015)
Mayor of Houston, USA, (02/2015)
Mayor of Pristina, Kosovo (01/2015)

In 2014
Mayor of Warsaw, Poland, (12/2014)
Governor of Tokyo, Japan, (11/2014)
Mayor of Wellington, New Zealand (10/2014)
Mayor of Sucre, Miranda, Venezuela (09/2014)
Mayor of Vienna, Austria (08/2014)
Mayor of Lampedusa (07/2014)
Mayor of Ghent, Belgium (06/2014)
Mayor of Montería, Colombia (05/2014)
Mayor of Liverpool, UK (04/2014)
Mayor of Pittsford Village, NY, USA (03/2014)
Mayor of Surabaya, Indonesia (02/2014)
Mayor of Santiago, Chile (01/2014)

In 2013
Mayor of Soda, India (12/2013)
Mayor of Zaragoza, Spain (11/2013)
Mayor of Marseille, France (10/2013)
Mayor of Schwäbisch Gmünd, Germany (09/2013)
Mayor of Detroit, USA (08/2013)
Mayor of Moore, USA (07/2013)
Mayor of Mexico City, Mexico (06/2013)
Mayor of Cape Town, South Africa (05/2013)
Mayor of Lima, Peru (04/2013)
Mayor of Salerno, Italy (03/2013)
Governor of Jakarta, Inbdonesia (02/2013)
Mayor of Rio de Janeiro, Brazil (01/2013)

In 2012
Mayor of Izmir, Turkey (12/2012)
Mayor of San Antonio, USA (11/2012)
Mayor of Thessaloniki, Greece (10/2012)
Mayor of London, UK (09/2012)
Mayor of New York, USA (08/2012)
Mayor of Bilbao, Spain (07/2012)
Mayor of Bogotá, Columbia (06/2012)
Mayor of Perth, Australia (05/2012)
Mayor of Mazatlán, Mexico (04/2012)
Mayor of Tel Aviv, Israel (03/2012)
Mayor of Surrey, Canada (02/2012)
Mayor of Osaka, Japan (01/2012)

In 2011
Mayor of Ljubljana, Slovenia (12/2011)


COUNTRY SECTIONS
Argentine Mayors
Belgian Mayors
Brazilian Mayors
British Mayors
Canadian Mayors
Chilean Mayors
Colombian Mayors
Czech Mayors
French Mayors
German Mayors
Italian Mayors
Japanese Mayors
Mexican Mayors
Spanish Mayors
US Mayors

Local government in the US




Worldwide | Elections | North America | Latin America | Europe | Asia | Africa |

























Mayor of the Month for April 2013
Susana Villarán
Mayor of Lima, Peru
2 April 2013: It is a truth universally accepted that a victorious politician has acquired many enemies on the way to success* is a fitting opening line for an article about Lima Mayor Susana Villarán. While election winners are usually granted a honeymoon period, Ms Villarán's opponents and political enemies started to plot against her almost immediately after her victory in October 2010. To the Peruvian capital's conservative establishment, which had ruled the city for the past 27 years, Susana Villarán's election success was nothing short of a left-wing revolution. Not only was she Lima's first female mayor, she also held progressive liberal views, including support for gay rights, and furthermore declared war on corruption and vowed not to spare the special interest groups that had controlled many activities in the city.

• Recall referendum
• Relocating the wholesale market
• Traffic and public transport
• Regional Plan for Lima
• Biography

The recall referendum
Last year, opponents of Mayor Villarán succeeded in collecting the 400,000 signatures necessary to request Peru's National Office of Electoral Processes to allow a recall referendum of the mayor and Lima's metropolitan council. The recall campaign was organised by Marco Tulio Gutiérrez, a lawyer with the Peruvian Institute of Municipal Management, and strongly supported by former Lima Mayor Luis Castañeda Lossio, former President Alan García and former presidential candidate Keiko Fujimori. They accused the Mayor of mismanagement, negligence and failure to invest in infrastructure.

However, Mayor Villarán enjoyed the support of a broad coalition of parties including her own centre-left Fuerza Social party as well as center and center-right parties particularly the the Popular Christian Party led by Lourdes Flores. Flores narrowly lost to Villaran in the 2010 municipal election and is an influential figure in national politics. She was also backed by the Peruvian President Ollanta Humala and by former UN secretary general, Javier Pérez de Cuéllar.

Early opinion polls suggested that the Mayor would lose the referendum by up to ten percentage points but the gap narrowed steadily as polling day approached. Voting on the recall took place on 17 March 2013, when some 52 per cent of voters backed the mayor, but 20 councillors, mostly from the mayor's party, were recalled. There will now have to be a special election in December 2013 to replace the councillors whose mandates have been revoked.

Relocation of the wholesale market
Upon taking office in January 2011, Susana Villarán declared reforming Lima's chaotic transport structure and relocating the city's wholesale market La Parada to a new site two of her top priorities. Lima's previous municipal administration had already earmarked Santa Anita as the site for the a new market.

While no one disputed that during the past 40 years La Parada market had developed into Peru's centre for bootlegged and stolen merchandise, mostly run by criminal gangs, it had offered work to thousands of people and allowed the poor to buy goods they could not afford to purchase in conventional stores.

Critics of the market closure also argued that rich merchants could afford to move to Santa Anita, while small traders could not. Therefore it was not surprising that Mayor Villarán's determination to go ahead with the closure of La Parada met with widespread opposition, culminating in riots last October, which cost the lives of four people. At the time, the mayor accused merchants opposed to the move to hiring thugs and arming them with clubs and other weapons. "Lima cannot be at the mercy from those who profit from chaos, enrich themselves in the black market and wish to control spaces that belong to the city," she said.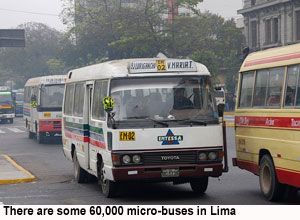 Traffic and public transport
Lima, home to almost nine million people, is the most dangerous city for pedestrians in Latin America. The city tops the league of deaths due to road accidents, with four out of five deaths involving pedestrians.

Public transport relies almost entirely on privately operated taxis and micro-buses. The city's electric railway consists of just one line and only became fully operational in July 2011, although construction started in 1986. The construction of phase 2, which began in April 2012, will extend the line from 21 km to 34 km. The Peruvian government and Lima's city administration have in principle also agreed to build a second line and Mayor Villarán has presented a feasibility study for a third line, which would run underground. In October 2010, a Bus Rapid Transit (BRT) system started operating, crossing the city from north to south.

Micro-buses (Micros) are the most common means of public transport in Lima. There are some 60,000 privately owned micros, running along the city's major thoroughfares and often competing with each other for passengers. They tend to pick up riders anywhere along their routes. There is also an excessive supply of taxis, which are the fastest mode of transportation.

Because of Lima's reliance on cars and buses, the city has the worst air pollution of any capital in Latin America. According to a 2010 study by the Institute of Peruvian Studies, some 80 per cent of emissions comes from motor vehicles mostly equipped with dieses engines. The report, which said that decades ago Lima had organised, safe and clean transport systems, blamed successive governments and municipal administrations for having failed to invest in modern public transport.

Mayor Susana Villarán has used some of the report's findings to promote cycling. While currently only 0.5 per cent of all trips in the city are conducted on a bike, the city's government hopes to increase that number to four per cent over the next four years. The city administration announced it would build 200 km of new bike lanes by 2014 in different parts of the city, in order to promote the use bicycles as a means of sustainable and environmentally friendly transport. It is estimated that there are 620,000 bicycles in the city, as well as some 120 kilometers of existing bicycle lanes.

The Regional Plan for Lima
Early in her term of office, Mayor Villarán unveiled her 2012 to 2025 Regional Plan for Lima. The plan, which according to the Mayor aims to dramatically improve the quality of life of the city's inhabitants, lists a number of priority areas including • public security; • mobility, transport and roads; • urban growth, water, drainage and housing; • education; • environment, risk and vulnerability; • public spaces, green areas and leisure; • culture and development; • economy, trade, production and services and • urban poverty.

The mayor is keen to involve the people of Lima when implementing the Plan. She stressed the importance of consulting all sections of the population and paying special attention to the needs of women, the disabled, the elderly and minorities.

The Greening of Lima will also be promoted as part of the Plan. The city says that during Mayor Villarán first two years in office more than 10,000 new trees had been planted and a further 100,000 will be planted through an 'Adopt a Tree' programme supported by municipal districts, private companies and and social organizations. The city also has plans for six new parks to add to the 14 already in existence.

Biography
Susana Villarán was born 16 August 1949 and studied sociology at the Catholic University of Chile. She has an extensive experience in public administration and with social work organizations, is specialist in human rights, citizen security, justice and coexistence, and social policies with special attention to the fields of women and gender equality, children and youth. She was a successful Minister of Women in the Transitional Government, where she created the Roundtables for Poverty Reduction, the National Program against Family and sexual Violence and promoted the creation of the Commission for Truth and Reconciliation.

The Lima Mayor has received various awards for her advocacy of human rights and has published several reports human rights, corruption and democracy in Peru. In 2007, she was a member of the Advisory Committee of the Academy on Human Rights and Humanitarian Law at Washington College of Law at American University.

Susana Villarán was shortlisted for the 2012 World Mayor Prize.

*After Jane Austen's opening line of Pride and Prejudice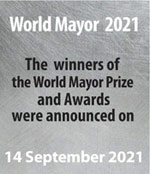 The best Mayors for Stronger | Fairer | Greener cities. Elect your candidate for the 20/21 World Mayor Prize and Honours. The Prize has been awarded since 2004