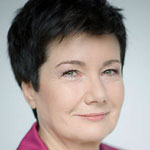 Hanna Gronkiewicz-Waltz, Mayor (President) of Warsaw, Poland




FRONT PAGE
About us




MAYORS OF THE MONTH
In 2015
Mayor of Seoul, South Korea (04/2015)
Mayor of Rotterdam, Netherlands (03/2015)
Mayor of Houston, USA, (02/2015)
Mayor of Pristina, Kosovo (01/2015)

In 2014
Mayor of Warsaw, Poland, (12/2014)
Governor of Tokyo, Japan, (11/2014)
Mayor of Wellington, New Zealand (10/2014)
Mayor of Sucre, Miranda, Venezuela (09/2014)
Mayor of Vienna, Austria (08/2014)
Mayor of Lampedusa, Italy (07/2014)
Mayor of Ghent, Belgium (06/2014)
Mayor of Montería, Colombia (05/2014)
Mayor of Liverpool, UK (04/2014)
Mayor of Pittsford Village, NY, USA (03/2014)
Mayor of Surabaya, Indonesia (02/2014)
Mayor of Santiago, Chile (01/2014)

In 2013
Mayor of Soda, India (12/2013)
Mayor of Zaragoza, Spain (11/2013)
Mayor of Marseille, France (10/2013)
Mayor of Schwäbisch Gmünd, Germany (09/2013)
Mayor of Detroit, USA (08/2013)
Mayor of Moore, USA (07/2013)
Mayor of Mexico City, Mexico (06/2013)
Mayor of Cape Town, South Africa (05/2013)
Mayor of Lima, Peru (04/2013)
Mayor of Salerno, Italy (03/2013)
Governor of Jakarta, Indonesia (02/2013)
Mayor of Rio de Janeiro, Brazil (01/2013)

In 2012
Mayor of Izmir, Turkey (12/2012)
Mayor of San Antonio, USA (11/2012)
Mayor of Thessaloniki, Greece (10/2012)
Mayor of London, UK (09/2012)
Mayor of New York, USA (08/2012)
Mayor of Bilbao, Spain (07/2012)
Mayor of Bogotá, Columbia (06/2012)
Mayor of Perth, Australia (05/2012)
Mayor of Mazatlán, Mexico (04/2012)
Mayor of Tel Aviv, Israel (03/2012)
Mayor of Surrey, Canada (02/2012)
Mayor of Osaka, Japan (01/2012)

In 2011
Mayor of Ljubljana, Slovenia (12/2011)




Worldwide | Elections | North America | Latin America | Europe | Asia | Africa |

























Mayor of the Month for December 2014
Hanna Gronkiewicz-Waltz
Mayor of Warsaw, Poland
By Jodla Wojcek
3 December 2014: At the end of November 2014, Warsaw's Mayor Hanna Gronkiewicz-Waltz won re-election to an unprecedented third term. Her victory over a conservative candidate came a year after Poland's right-wing opposition almost succeeded in removing her from office through a recall referendum. Gronkiewicz-Waltz, a member of the country's ruling centrist Civic Platform, has been maligned by the right-wing opposition Law and Justice party almost immediately after she took office. After a distinguished career in banking, Gronkiewicz-Waltz decided to enter politics, first as a parliamentarian and then, in November 2006, as Mayor of Warsaw. She is the Polish capital's first female mayor and the first one to win three terms.

• The 2013 recall referendum
• Social diversity
• Environment
• Economic development

In her first election in 2006, Hanna Gronkiewicz-Waltz defeated Kazimierz Marcinkiewicz, who took over as interim mayor of Warsaw after the incumbent Lech Kaczynski was elected President of Poland. Both Marcinkiewicz and Kaczyn´ski belonged to the then ruling right-wing Law and Justice party (PiS), which pursued socially conservative policies. As mayor, Lech Kaczynski twice banned gay pride parades saying that homosexuals had no right to demonstrate and describing them as perverts. Soon after her election, Gronkiewicz-Waltz reversed the decisions of her predecessors and allowed the 2007 gay pride parade to go ahead. In 2010, Warsaw presented itself as a modern and tolerant Western European city by hosting the EuroPride parade.


The 2013 recall referendum
The 2013 referendum to oust Hanna Gronkiewicz-Waltz from the mayor's office was initiated by Warszawska Wspólnota Samorzadowa, a grouping of civic organisations opposed to the mayor. The group used public dissatisfaction with rising public transport costs, unreliable rubbish collection and the delayed opening of the second line of the Warsaw metro railway to launch a campaign to collect enough signatures to force a recall referendum. It gathered 232,000 signatures, considerably more than the 133,500 needed.

The referendum was set for 13 October 2013 and according to Poland's electoral law, at least 29 per cent of the votes cast in the 2010 mayoral election were needed to oust the mayor. The recall failed for a number of reasons. Although 95 per cent of those who took part in the referendum wanted to remove the mayor, the turnout of 25.7 per cent meant that the referendum was not valid. In the months leading up to the referendum, Mayor Gronkiewicz-Waltz's approval ratings also rose steadily after she fired a number of unpopular officials and speeded up investments.

As soon as it became clear that a referendum would be called, backers of the mayor, including Prime Minister Donald Tusk and the Polish President Bronisaw Komorowski, called on Hanna Gronkiewicz-Waltz's supporters to boycott the referendum as the best way to keep her in office. The boycott call proved to be effective as the referendum turnout was lowest in those parts of the city where her party traditionally enjoyed its highest levels of electoral support.



Social diversity
Mayor Gronkiewicz-Waltz has made diversity a cornerstone of her administration's social agenda. Diversity is seen by her as an asset and active pro-diversity policies are pursued by her administration. The mayor believes that only by promoting and supporting cultural and social diversity, Warsaw will be able to compete with Berlin and other European capitals to attract young science and creative professionals.

In 2012, the cultural Adam Mickiewicz Institute commissioned artist Julita Wójcik to design a giant rainbow arch for Warsaw's Saviour Square. While the installation was originally meant to evoke feelings of love, peace and hope, it has become identified with the gay and lesbian movement. Since its erection, the arch has been vandalised and burned several times by right-wing vandals and thugs. While political opponents of Mayor Gronkiewicz-Waltz have described the arch as 'faggot rainbow', she has declared it will be rebuilt as many times as necessary.

Urban Policies on Diversity in Warsaw, a report published in August 2014, says that diversity is treated as a considerably new phenomenon in Warsaw. "The city finds itself at a less advanced stage with respect to international social and ethnic diversity than most other cities in the European Union."

The report's authors emphasise that the city must raise awareness amongst residents about diversity issues, including the acceptance of ethnic diversity, gender issues and sexual orientation. A representative of the Warsaw Office of Education is cited as saying that public opinion polls still indicate a rather low level of tolerance.

Under Mayor Gronkiewicz-Walt, the City of Warsaw has initiated a number of diversity programmes aimed at foreign residents. Diverse Warsaw helps foreign children and their parents to integrate in their new environment, while Study in Warsaw aims to support the recruitment of foreign students and the internationalisation of the city's educational institutions. Under the umbrella of the European Union Comenius Regio programme, Warsaw and the Welsh capital Cardiff are developing a programme to further multicultural education in schools.

Although Hanna Gronkiewicz-Waltz's social programmes are welcomed by most neutral observers, they are criticised for often lacking substance. "Many programmes only exist on paper and still await implementation." In the report Urban Policies on Diversity in Warsaw a representative from the Association of Polish Town Planners says that some features of diversity, such as gender, life style, religion, are treated as problems of awareness rather than issues to be tackled by urban policy.


Environment
Mayor Gronkiewicz-Walt has long been the bête noire of Poland's political right, but she is also prepared to take on her own Civic Platform party. This summer, she described the government, headed by Civic Platform, as environmental cowards. In a letter sent to Poland's deputy prime minister on 14 August 2014, the mayor rebuked the government for its opposition to European clean energy goals. She wrote that contrary to what the government felt, the goals were unambitious and risk failing the EU decarbonisation moves. "The EU's current proposals do not show the ambition necessary to meet European obligations in the field of climate and energy by 2050", she rote, referring to an EU pledge to cut emissions at least 80 per cent by mid-century.

The Mayor of Warsaw is one of a growing number of Polish city leaders who believe the government's pro-coal policy is wrong. Warsaw is a member of Cities of Power, a group of four cities, which promote local renewable energy use. The other three member cities are Klagenfurt (Austria), Turin (Italy) and Ravenna (Italy). The city is also a partner of E3SoHo, a pan-European project aimed at reducing energy consumption in social housing.

According to research by Greenpeace, Poland depends on coal for 90 per cent of its energy consumption. CO2 emissions have increased by more than eight per cent since the country signed the Kyoto Protocol in 2002. While the government is banking on coal and keen to explore shale gas, the City of Warsaw is seen as a leader in climate protection.



Economic development
Rather than trying to emulate London or Paris, Warsaw regards Berlin as its role model. Both cities had to establish new identities after the end of communism. Polish city officials acknowledge that the German capital has successfully transformed itself from a city divided into one of the most vibrant in Europe. Warsaw's mayor and city council have earmarked culture and innovation as the two areas, which promise the greatest potential. To that end, two programmes - Innovation Warsaw 2020 and City of Culture 2020 - have been launched. The culture programme is designed to support the development of creativity and promote cultural activities as well as attracting and developing creative industries.

The programme Innovation Warsaw 2020 is designed to foster entrepreneurship, innovation and R&D. The key activity fields in the programme are biotechnologies, energetics, optoelectronics, IT, nanotechnologies and the creative sector.

The city will provide start-ups with expert support and commercial space in city owned buildings. In June 2014, Google announced that its next Campus for Entrepreneurs will be established in Warsaw. The company's Executive Chairman Eric Schmidt told Mayor Gronkiewicz-Walt that the Google campus will provide entrepreneurs with the space and support to learn, connect and build companies that will change the world. Google currently operates campuses in London and Tel Aviv.

Warsaw's mayor has also set up a body of experts charged with developing better conditions for innovation in the city. The Innovation Policy Council attached to the mayor's office co-ordinates activities by colleges, R&D units and local government.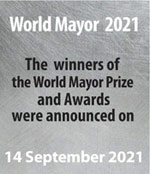 The best Mayors for Stronger | Fairer | Greener cities. Elect your candidate for the 20/21 World Mayor Prize and Honours. The Prize has been awarded since 2004