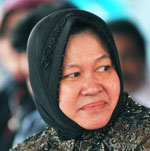 Tri Rismaharini, Mayor of Surabaya, Indonesia




FRONT PAGE
About us




MAYORS OF THE MONTH
In 2015
Mayor of Seoul, South Korea (04/2015)
Mayor of Rotterdam, Netherlands (03/2015)
Mayor of Houston, USA, (02/2015)
Mayor of Pristina, Kosovo (01/2015)

In 2014
Mayor of Warsaw, Poland, (12/2014)
Governor of Tokyo, Japan, (11/2014)
Mayor of Wellington, New Zealand (10/2014)
Mayor of Sucre, Miranda, Venezuela (09/2014)
Mayor of Vienna, Austria (08/2014)
Mayor of Lampedusa, Italy (07/2014)
Mayor of Ghent, Belgium (06/2014)
Mayor of Montería, Colombia (05/2014)
Mayor of Liverpool, UK (04/2014)
Mayor of Pittsford Village, NY, USA (03/2014)
Mayor of Surabaya, Indonesia (02/2014)
Mayor of Santiago, Chile (01/2014)

In 2013
Mayor of Soda, India (12/2013)
Mayor of Zaragoza, Spain (11/2013)
Mayor of Marseille, France (10/2013)
Mayor of Schwäbisch Gmünd, Germany (09/2013)
Mayor of Detroit, USA (08/2013)
Mayor of Moore, USA (07/2013)
Mayor of Mexico City, Mexico (06/2013)
Mayor of Cape Town, South Africa (05/2013)
Mayor of Lima, Peru (04/2013)
Mayor of Salerno, Italy (03/2013)
Governor of Jakarta, Inbdonesia (02/2013)
Mayor of Rio de Janeiro, Brazil (01/2013)

In 2012
Mayor of Izmir, Turkey (12/2012)
Mayor of San Antonio, USA (11/2012)
Mayor of Thessaloniki, Greece (10/2012)
Mayor of London, UK (09/2012)
Mayor of New York, USA (08/2012)
Mayor of Bilbao, Spain (07/2012)
Mayor of Bogotá, Columbia (06/2012)
Mayor of Perth, Australia (05/2012)
Mayor of Mazatlán, Mexico (04/2012)
Mayor of Tel Aviv, Israel (03/2012)
Mayor of Surrey, Canada (02/2012)
Mayor of Osaka, Japan (01/2012)

In 2011
Mayor of Ljubljana, Slovenia (12/2011)


COUNTRY SECTIONS
Argentine Mayors
Belgian Mayors
Brazilian Mayors
British Mayors
Canadian Mayors
Chilean Mayors
Colombian Mayors
Czech Mayors
French Mayors
German Mayors
Italian Mayors
Japanese Mayors
Mexican Mayors
Spanish Mayors
US Mayors

Local government in the US




Worldwide | Elections | North America | Latin America | Europe | Asia | Africa |

























Mayor of the Month for February 2014
Tri Rismaharini
Mayor of Surabaya, Indonesia
By Tann vom Hove with contributions from Peter McCawley* and Harri Baskoro A.**
5 February 2014: With Jakarta Governor Joko Widodo's election to the Presidency of Indonasia, another Indonesian city leader has attracted national and international attention for energetically promoting social, economic and environmental policies in the country's second-largest city. When Tri Rismaharini was first elected Mayor in 2010, Surabaya, although rich in history, was a city neglected by successive governments.

The once mighty port, much fought over by the Dutch, Japanese and British, had lost out to Asian competitors. One of Mayor Risma's first priorities in office was to persuade the Indonesian government to go ahead with a port development project that had been kept on hold for two decades. Since then Surabaya's port has experienced a 200-per cent increase in traffic.

Tri Rismaharini, born in 1961, was elected Mayor of Surabaya in 2010. Like Joko Widodo, she belongs to Indonesia's main opposition Democratic Party – Struggle (PDI-P), whose leader Megawati Sukarnoputri was the country's president from 2001 to 2004. Prior to becoming Surabaya's first citizen, Ms Risma, who has a degree in architecture, led the city's parks department. In that role, she was active in rejuvenating the city's parks and turning many derelict plots into green spaces. Once described by a Dutch writer as a 'dirty city full of pretensions and greed', Surabaya is now known as a 'million-park' city.


Mayor Risma's policy has been to make the most of empty land and open spaces. There are now eleven major parks in Surabaya, all with different themes. There are parks like Friendship Park (Taman Persahabatan), Expression Park (Taman Ekspresi), Skating and BMX Park (Taman Skate & BMX) and Flora Park (Taman Flora). Many parks also provide Wi-Fi access and include libraries, fitness and other sports facilities. Surabaya has also enlarged other open spaces such as cemeteries so that they serve as water absorption space – unlike Jakarta, the city had not had any serious flooding for three years – has added green lanes along main roads and created city forests.

Surabaya green agenda has the support of all the city's stakeholders, including the private sector, schools and universities as well as first and foremost the public. The 'one soul, one tree' campaign resulted in the sponsoring of 5,000 trees by individual citizens and in an effort to preserve the mangrove forests along the beaches, Ms Risma's administration has encouraged and taught communities to produce mangrove-based products, such as mangrove batik, syrup and other mangrove food products. The authorities have also started an urban farming programme by providing advice, seed stock and farming tools.

Tri Rismaharini often talks of the need to govern not only for the people but also with the people. "A city must be first and foremost be a home for its citizens." She learnt from the experience of other fast-growing cities in Asia and Europe that massive new developments can alienate people. The Mayor is therefore keen to match built development with social programmes. Early in her time in office, brothels in some areas of the city were converted into kindergartens and abandoned petrol stations into children playgrounds. But while there is no doubt about Mayor Risma's heart-felt concern about the spread of brothels, commentators point out that the fuss about prostitution has been going on for decades. "It regularly becomes an issue and mayors regularly say that they are going to 'clean up' the brothels. But in fact, not much ever happens! The market is too strong!"

As part of her package of social reforms, the Mayor has introduced free education and health care for the poorer sections of her community. Some 35 per cent of the city's budget is spent on education. "Being a mayor," she said "is not just about solving a flood problem or things like that. It's about helping the people to develop and be successful."

The mayor warns that in countries like Indonesia fast growth and development provides rich pickings for corrupt officials. She recently said that previously in Surabaya civil servants were only interested in implementing projects because they provided them with opportunities to enrich themselves. She said that she has never thought like that herself. "I think my role is to make the people of my city more prosperous."

While some private developers miss the 'laissez faire' of previous administrations – "local government is very strict under Mayor Risma" – foreign investors have come to value the honesty and professionalism of her administration. Benefiting from the rising costs of doing business in Jakarta, Surabaya, Indonesia's second city with more than three million people, has attracted a number of well-known foreign companies, including Yakult (Japan), Unicharm (Japan), Swing (South Korea), Cargill (USA) and Unilever (Netherlands / UK).

Nevertheless, it will not be easy to implement some of the programmes that Mayor Risma has announced. One of her main challenges is that the city budget for Surabaya is quite limited. In 2012, the budget of around $500 million allowed for annual spending of around $160 per person, which means that the city government must often look for support from the private sector for urban programmes.

An issue that is threatening to take some off the shine of Mayor Risma's international reputation is the management of Surabaya Zoo. The zoo, which holds the widest collection of protected and endangered species in Southeast Asia, has in recent years been criticised for the cramped conditions in which some animals, in particular large mammals, are held. After a spate of deaths last year - an 18-months old lion was found hanged after he got his head stuck between steel cables – newspapers in Europe and the USA labelled the zoo as the cruellest in the world. Fearing for Surabaya's reputation – the zoo is one of its main tourist attractions – the city administration unilaterally took over the management of the zoo last July. The mayor said at the time, the takeover was necessary to independently investigate the unexplained death of many animals and to prevent the closure of the zoo. Ms Risma claimed that private investors were lining up to demolish the attraction and build a hotel on the city-owned land. The official hand-over of the zoo to the City of Surabaya was finalised in February 2014. The mayor said that a new management team would be installed after claims that officials had sold animals on the black market. She alleged that according to a study by Airlangga University, zoo officials had received cars as part of deals to sell animals. "A Komodo dragon could fetch up to US$80,000 and two are missing," the mayor was quoted in a newspaper.

Tri Rismaharini gained a BA in Architecture and an MA in Urban Development Management from Sepuluh Nopember Institute of Technology in Surabaya. She also completed a course in Urban Development Management at the Institute for Housing and Urban Development Studies in Rotterdam. She has travelled to the Netherlands to learn about port management, to South Korea to study the country's successful teaching methods and to Germany to look at street infrastructure.

Since Ms Risma became mayor, Surabaya has won a number of awards including the ASEAN Environmentally Sustainable City Award 2012 and the Adipura Kencana, the highest environmental awards in Indonesia. The Mayor herself was named as one of the ten most inspiring women 2013 by Forbes Indonesia. Forbes praised her for defeating a government plan to build a toll road through the city and instead introduce plans for a monorail and tram system.

* Peter McCawley is a Visiting Fellow, Indonesian Project, ANU
** Harri Baskoro is City Mayors' Indonesia Correspondent