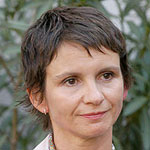 Carolina Tohá, Mayor of Santiago, Chile




FRONT PAGE
About us




MAYORS OF THE MONTH
In 2015
Mayor of Seoul, South Korea (04/2015)
Mayor of Rotterdam, Netherlands (03/2015)
Mayor of Houston, USA, (02/2015)
Mayor of Pristina, Kosovo (01/2015)

In 2014
Mayor of Warsaw, Poland, (12/2014)
Governor of Tokyo, Japan, (11/2014)
Mayor of Wellington, New Zealand (10/2014)
Mayor of Sucre, Miranda, Venezuela (09/2014)
Mayor of Vienna, Austria (08/2014)
Mayor of Lampedusa, Italy (07/2014)
Mayor of Ghent, Belgium (06/2014)
Mayor of Montería, Colombia (05/2014)
Mayor of Liverpool, UK (04/2014)
Mayor of Pittsford Village, NY, USA (03/2014)
Mayor of Surabaya, Indonesia (02/2014)
Mayor of Santiago, Chile (01/2014)

In 2013
Mayor of Soda, India (12/2013)
Mayor of Zaragoza, Spain (11/2013)
Mayor of Marseille, France (10/2013)
Mayor of Schwäbisch Gmünd, Germany (09/2013)
Mayor of Detroit, USA (08/2013)
Mayor of Moore, USA (07/2013)
Mayor of Mexico City, Mexico (06/2013)
Mayor of Cape Town, South Africa (05/2013)
Mayor of Lima, Peru (04/2013)
Mayor of Salerno, Italy (03/2013)
Governor of Jakarta, Inbdonesia (02/2013)
Mayor of Rio de Janeiro, Brazil (01/2013)

In 2012
Mayor of Izmir, Turkey (12/2012)
Mayor of San Antonio, USA (11/2012)
Mayor of Thessaloniki, Greece (10/2012)
Mayor of London, UK (09/2012)
Mayor of New York, USA (08/2012)
Mayor of Bilbao, Spain (07/2012)
Mayor of Bogotá, Columbia (06/2012)
Mayor of Perth, Australia (05/2012)
Mayor of Mazatlán, Mexico (04/2012)
Mayor of Tel Aviv, Israel (03/2012)
Mayor of Surrey, Canada (02/2012)
Mayor of Osaka, Japan (01/2012)

In 2011
Mayor of Ljubljana, Slovenia (12/2011)


COUNTRY SECTIONS
Argentine Mayors
Belgian Mayors
Brazilian Mayors
British Mayors
Canadian Mayors
Chilean Mayors
Colombian Mayors
Czech Mayors
French Mayors
German Mayors
Italian Mayors
Japanese Mayors
Mexican Mayors
Spanish Mayors
US Mayors

Local government in the US




Worldwide | Elections | North America | Latin America | Europe | Asia | Africa |

























Mayor of the Month for January 2014
Carolina Tohá
Mayor of Santiago, Chile
By Adriana Maciel and Tann vom Hove
6 January 2014: When in March of this year Michelle Bachelet assumed the presidency of Chile, the country's two most important political jobs are being held by women whose families suffered under the dictatorship of General Augusto Pinochet. The fathers of the president-elect and Santiago's Mayor Carolina Tohá both served under the elected President Salvador Allende and, after his overthrow, died in 1974 while being held and tortured by the Pinochet regime. Both women spent several years in exile - Bachelet in Australia and East Germany, Tohá in Mexico - and, after being allowed back to Chile, fought for the restoration of democracy.

• Carolina Tohá's early years
• Chile emerges from dictatorship
• Mayor of Santiago

Carolina Tohá's early years
Carolina Tohá, who was elected Mayor of Santiago in October 2012, has been active in left-wing politics since her teenage years. In 1970 her father became Minister of the Interior under President Salvador Allende. After his death in 1974, Carolina's mother took her and her brother into exile to Mexico. She returned to Chile in 1979 and shortly afterwards joined the students' movement, fighting for the restoration of democracy. Aged 18, she took a leading part in the protests of 1983 and became president of the student center at her school. Together with other students, she founded the Union of Secondary Students (UES). Carolina Tohá's activities were increasingly scrutinised by the authorities and resulted in arrests. She was also constrained from taking part in student demonstrations.

In 1984 Carolina Tohá enrolled in the law school of the University of Chile. In that year she also participated in the re-founding of the Federation of Students of Chile (FECH), which had been dissolved by the dictatorship. In those days university students were the protagonists in the movement for restoration of democracy, demanding the resignation of General Pinochet. In 1986 she was elected vice-president of FECH. Two years later she, together with the future president Ricardo Lagos and others, founded the centre-left Party for Democracy (Partido por la Democracia, PPD).


Chile emerges from dictatorship
Seven years after the 1973 putsch against Salvador Allende, General Pinochet's regime asked the country to approve a new constitution. The constitutional referendum, which many regarded as flawed, was won by the government, with two thirds of voters approving the new basic laws. The constitution promised that, after an eight-year transitional period, the country would be given a choice between retaining the junta's choice of president - General Pinochet - or return to a presidential / parliamentary system of government. In 1988, Carolina Tohá, together with many politicians from the centre and the left, campaigned against the junta's proposal to grant Pinochet another eight years in office. The regime lost the plebiscite by 56 to 44 per cent. The vote heralded the re-birth of democracy in Chile.

After the triumph of the pro-democracy campaign and despite receiving several offers to continue in the public life and contest for a parliamentary seat in the new congress, Tohá went to Italy, where she studied political science in Milan. She returned to Chile in 1994 to concentrate on issues such as poverty, social politics and the modernisation of the state. She worked as an academic consultant at several universities, as adviser to the ministry of finance and later as executive secretary for the interdepartmental social committee.

When Social Democrat Ricardo Lagos decided in 1999 to run for President, Carolina Tohá joined his campaign team and, after his victory, was appointed secretary general to the government, a post she held until 2001 when she decided to run for parliament. During her first term as a Member of Congress, she opposed the water privatisation plans of the then Mayor of Santiago, Joaquín Lavín. In 2005, Tohá was re-elected to Congress.

During her second parliamentary term, Tohá again chaired the education commission. She also worked with the housing committees to defend the access of residents to social housing in the municipality of Santiago and introduced legislation to promote the use of bicycle in the capital city. She left office in March 2009, when she was appointed Secretary General of Government by Michelle Bachelet during her first term as President. Tohá became part of a progressive team that implemented a pension reform and introduced a bill, which legalised the 'morning-after' pill.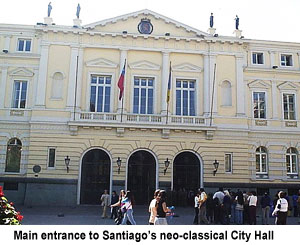 Mayor of Santiago
In August 2010 Carolina Tohá became president of the centre-left Party for Democracy (PDD). In that position she succeeded in convincing party members to introduce primary elections for the party's mayoral candidates. In the first of such primaries, she was chosen as her party's mayoral candidate for Santiago. She won the general election in October 2012 and took office on 6 December.

Education is the most pressing issue for the Mayor of Santiago and Chile's newly elected President. According to the OECD, Chile's higher education is the most expensive in the world. Only the 4.2 per cent of Chile's GDP is allocated to education, compared to some European and Asian countries such as Denmark, Finland, Norway, Sweden and Israel, where the figure is around seven per cent.

The municipalisation of education was a strategy designed to decentralise its administration. The plan was to shift the responsibility for primary and secondary education, which had historically been administered by the Ministry of Education, to the country's municipalities. The Ministry abandoned its former duties including financing, management and pedagogy monitoring and kept only tasks related to control and evaluation of programmes and projects.

Free public education was abolished in the 1980s by General Pinochet. Since 2011 students have continuously protested for the re-introduction of free quality education.

In response to the students' demands, Mayor Tohá recently declared: "We are promoting a programme of very important changes in areas such as co-existence and management." She also said that she wanted to introduce a culture of co-operation rather than competition between educational establishments. Measures she has recently introduced include the creation of an office for student affairs and granting adjudicative powers to school boards.

The Mayor has said that municipalities cannot achieve lasting education reforms without the help of the government. "I am aware that many of the changes required in public education cannot be achieved by local government alone but require national legislation. But my administration is engaged in various initiatives to promote de-municipalisation and the creation of a new national system to ensure fair, secular, free and quality public education," she explained.

Santiago has been at the epicenter of the conflict in public education. During the past years, five education establishments have been closed. Many others produce below average results. The inequality between the various institutions is dramatic. Deteriorating infrastructure is also a major problem in several establishments.

The Mayor explained that there was a generation of young people that has become frustrated and developed a mistrust towards political and democratic institutions. "Educational communities are fractured and strained by persistent seizures, evictions, repression and violence that have become part of our everyday life. There are conflicts between classes and within them. School and university directors as well as teachers simply have not got the means and strengths to perform their duties during this time of upheaval," the Mayor warned.

Tohá said her first act was to end the violence. "We are working to rebuild communities, to create leadership teams, to attract participation and dialogue, to restore basic trust of students in their teachers and the school system."

Mayor Tohá is eager to work together with the new government and other mayors. She criticised the outgoing centre-right government for having completely failed to contribute ideas on how to resolve the education crisis. "Reforming the education system will be the number one priority of the new government. Nothing else comes close."

Since becoming mayor, Carolina Tohá has also set out reform initiatives on security, the environment and social services aimed at women, the elderly and young people.

She is keen to empower women to enter the job market and further their careers by creating specially tailored training programmes and courses. The Mayor also feels that young people need to re-engage with their communities. "We must realise that young people as much as anybody else are citizens and stakeholders of our great city." She launched the Youth Plan of Santiago, which aims to transform ideas and suggestions put forward by the young into concrete proposals the city can act upon.

Like the city's young, its older citizens have become disengaged from civic society. The mayor's Mission House for the Elderly has been created to encourage participation and integration of older adults, promoting self-care, self-esteem and self-management. The main objective of the programme is aimed at promoting opportunities for participation and training in active aging processes and partnerships among older adults to achieve a better quality of life.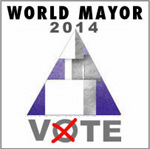 If you think your mayor is among the best in the world, nominate him or her now for the 2014 World Mayor Prize


World Mayor 2014:
Candidates sought
The City Mayors Foundation invites you to nominate a candidate for the 2014 World Mayor Prize. The Prize is awarded every two years to a mayor who has made outstanding contributions to his / her community and has developed a vision for urban living and working that is relevant to towns and cities across the world.

Previous winners and runners-up include the mayors of Bilbao, Perth, Mexico City, Oklahoma City, Cape Town, Zurich, Melbourne, Amsterdam, Athens, Mississauga and Tirana. The World Mayor Project aims to show what outstanding mayors can achieve and raise their profiles nationally and internationally.

During the first round, suitable candidates may be suggested until the middle of May 2014. A shortlist of 25 nominees will be announced in June.

Please nominate your candidate for World Mayor 2014 now.