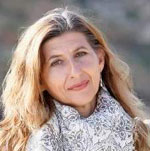 Giusy Nicolini, Mayor of Lampedusa, Italy




FRONT PAGE
About us




MAYORS OF THE MONTH
In 2015
Mayor of Seoul, South Korea (04/2015)
Mayor of Rotterdam, Netherlands (03/2015)
Mayor of Houston, USA, (02/2015)
Mayor of Pristina, Kosovo (01/2015)

In 2014
Mayor of Warsaw, Poland, (12/2014)
Governor of Tokyo, Japan, (11/2014)
Mayor of Wellington, New Zealand (10/2014)
Mayor of Sucre, Miranda, Venezuela (09/2014)
Mayor of Vienna, Austria (08/2014)
Mayor of Lampedusa, Italy (07/2014)
Mayor of Ghent, Belgium (06/2014)
Mayor of Montería, Colombia (05/2014)
Mayor of Liverpool, UK (04/2014)
Mayor of Pittsford Village, NY, USA (03/2014)
Mayor of Surabaya, Indonesia (02/2014)
Mayor of Santiago, Chile (01/2014)

In 2013
Mayor of Soda, India (12/2013)
Mayor of Zaragoza, Spain (11/2013)
Mayor of Marseille, France (10/2013)
Mayor of Schwäbisch Gmünd, Germany (09/2013)
Mayor of Detroit, USA (08/2013)
Mayor of Moore, USA (07/2013)
Mayor of Mexico City, Mexico (06/2013)
Mayor of Cape Town, South Africa (05/2013)
Mayor of Lima, Peru (04/2013)
Mayor of Salerno, Italy (03/2013)
Governor of Jakarta, Indonesia (02/2013)
Mayor of Rio de Janeiro, Brazil (01/2013)

In 2012
Mayor of Izmir, Turkey (12/2012)
Mayor of San Antonio, USA (11/2012)
Mayor of Thessaloniki, Greece (10/2012)
Mayor of London, UK (09/2012)
Mayor of New York, USA (08/2012)
Mayor of Bilbao, Spain (07/2012)
Mayor of Bogotá, Columbia (06/2012)
Mayor of Perth, Australia (05/2012)
Mayor of Mazatlán, Mexico (04/2012)
Mayor of Tel Aviv, Israel (03/2012)
Mayor of Surrey, Canada (02/2012)
Mayor of Osaka, Japan (01/2012)

In 2011
Mayor of Ljubljana, Slovenia (12/2011)




Worldwide | Elections | North America | Latin America | Europe | Asia | Africa |

























Mayor of the Month for July 2014
Giusy Nicolini
Mayor of Lampedusa, Italy
By Tann vom Hove and Matteo Dalle Fratte
3 July 2014: In November 2012, after only six months in office, the Mayor of the Sicilian Island of Lampedusa sent an urgent appeal to Europe's leaders in Brussels. Introducing herself, Giuseppina (Giusy) Nicolini expressed her outrage that the European Union, which had just received the Nobel Peace Prize, ignored the tragedies that were occurring at its Mediterranean borders. "Only today," she wrote, "did we recover eleven bodies from the sea - eight women and three children". She said she was shocked by the silence and indifference of Europe. "Just imagine if eleven Western Europeans had drowned while on a Adriatic cruise. There would have been endless news programmes, followed by elaborate funerals and subsequent enquiries." She concluded her letter by writing that if the dead we find washed up on our shores or fish from our waters are solely our responsibility, then I want to receive a telegram of condolence for each body we bury.

• The refugee crisis
• Mare Nostrum
• The Mayor
• The Island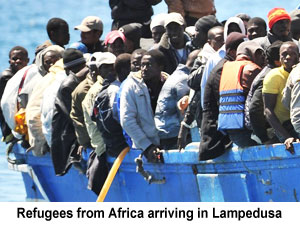 The refugee crisis
Europe only woke up to the human tragedies that occurred on an almost daily basis, when 366 refugees died in a burning boat off the coast of Lampedusa on 3 October 2013. The vessel carrying some 500 migrants from Eritrea, Somalia and Ghana developed engine trouble within sight of the Island. To alert coastal authorities and nearby ships, the captain lit a blanket but the fire ignited some fuel and soon engulfed the entire boat.

By 7 October, 194 bodies had been recovered from the sea and two days later, rescuers from the Italian navy and coastal rescue services retrieved another 108 bodies from the hull of the boat, which was resting some 50 metres below the sea surface. It was later reported that migrants paid Libyan, Somali and Sudanese human traffickers up to US$3,000 for the 300-kilometres crossing from Libya to Lampedusa. Women who could not pay were allegedly raped.

In July 2014, Italian police arrested five people in a number of Italian cities in connection with allegations of rape and torture prior and during the catastrophic crossing. The police also seized large sums of money including money transfers from migrants. A police spokesman said that migrants aboard the boat underwent continuous physical violence and reiterated torture as well as repeated rape, including gang rape.

Mayor Guisy Nicolini wept when the bodies were laid out on the Island's beautiful beaches. She asked Europe's wealthier countries to do more to help. "Municipalities like Lampedusa cannot be left alone on the front line." Three weeks after the tragedy, the Mayor went to Brussels to speak with European parliamentarians. In an interview she accused Europe of turning Lampedusa into a human landfill. She said she had come to Brussels to speak on behalf of the people of her Island but also to be a voice for the people who were fleeing from poverty and violence in their homelands and were forced to face danger and death simply for seeking a better, safer life. "Lampedusa represents a great tragedy." But she added that Lampedusa was also a triumphant story because so many lives were saved. Mayor Nicolini implored Europe to search its soul. "Every death in our waters must weigh on the conscience of all member states because the EU has closed its borders without making any distinction between economic immigration and requests for asylum."

The Mayor also criticised Italy for not having a strategy for dealing with immigration and asylum. She accused the authorities of responding to every new tragedy by simply taking emergency actions. "My country has been the first to dump the refugee problem on the Island, treating it like a massive scrapheap." She described the refugees as people who get on their boats because they have no choice. "They know very well that they could die, which we on Lampedusa realised a long time ago."

Mayor Nicolini suggested that asylum requests should be dealt with by European embassies in transit countries. Asked what she would like to say to political leaders in Berlin, London or Stockholm, she replied, please help us. She explained that in 2013, more than 25,000 refugees arrived in Lampedusa. "That is a large number for a community of only 6,000 people but a drop in the ocean for the EU."

Prior to the May 2014 elections to the European Parliament the Spitzenkandidaten (lead candidates) from both the centre-left and centre-right called for greater solidarity with Italy. The Christian-Democrat Jean-Claude Junker, who has now been chosen as the President of the European Commission, said that all EU countries needed to consider taking in additional refugees to alleviate the burden placed on Sicily and Lampedusa. Social Democrat Martin Schulz, the re-elected President of the European Parliament, said the distribution of refugees among all EU countries needed to be more equitable. "Financial assistance should also be supplied to those who are doing more than others."

On the other hand, European right-wing parties argue that refugees who enter a country illegally should be taken immediately to a 'safe' African country. A spokesman for Germany's new anti-immigration party Alternative for Germany said Europe had to make it clear that being on some overloaded boat was not an admission ticket to the EU. "Otherwise, more and more people will undertake this risky trip."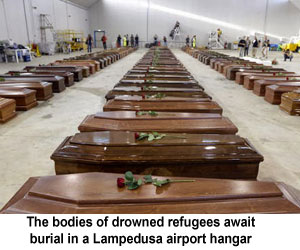 But Mayor Nicolini won the implicit supported of German President Joachim Gauck when he said in June 2014 that the sight of coffins in the airport hangar of Lampedusa did not fit in with the values Europeans proclaimed to aspire to.

Pope Francis made his first pastoral visit outside Rome to Lampedusa. He called for a reawakening of consciences to counter the indifference shown to migrants. "We have lost a sense of brotherly responsibility and have forgotten how to cry for migrants lost at sea," he said and warned of the 'globalisation of indifference'. The Pope also offered praise to the people of Lampedusa and its mayor who had offered an example of solidarity and shown human kindness by taking in the African migrants.

Human rights activists have also asked whether Christian beliefs are adhered to when while hundreds of refugees drown, several EU countries hand out resident permits to wealthy Chinese, Russians or Arabs. "Everybody is welcome as long as they can pay," they claim. "Spain and Portugal offer residencies to anybody who invests €500,000 in real estate, while in Latvia any foreigner with a €70,000 property will be given documents which allow them to stay in any EU country. And Hungary has created a special 'Residence Permit Bond' whose holders provide the state with an interest-free loan of at least €250,000 in exchange for being allowed to reside in Hungary and other European Union countries."

Mare Nostrum
The sheer extend of the October 2013 disaster and the strong stand taken by people like Mayor Nicolini belatedly convinced the Italian government that it was time to set up a unified rescue operation for the southern Mediterranean. On 18 October 2013, the defence ministry announced the formation of Mare Nostrum, a joint operation between the Italian army, navy and air force as well as the police, coast guard and custom services. Since the start of Mare Nostrum - Latin for Our Sea - thousands of refugees have been rescued and processed. A spokesman for the operation said that during the first half of 2014, landings in southern Italy have been non-stop. Since the beginning of the year, more than 60,000 refugees have arrived in Italy by boat from Libya and the Italian interior minister believes that between 300,000 and 600,000 more people are ready to flee the North African country in the coming months.

Italian politicians from right-wing parties like the Lega Nord (Northern League) but also some from Silvio Berlusconi's centre-right Forza Italia (Forward Italy) have criticised the Mare Nostrum operations. They claim they were encouraging refugees to venture the boat journey to Italy because they make sea crossings less perilous. After the Italian navy discovered 30 dead on a boat carrying 600 people from North Africa to Italy, Matteo Salvini, the leader of the Lega Nord wrote on Facebook: "Another 30 dead on the conscience of those who defend Mare Nostrum. We should stop migrant trips and help them at home, now."

The Italian military has been discussing whether the operations of Mare Nostrum should be curtailed or terminated this summer. But Mayor Guisi Nicolini wants the remit of Mare Nostrum to be widened to allow it, with the backing of the EU, to enter Libyan ports and end people smuggling there.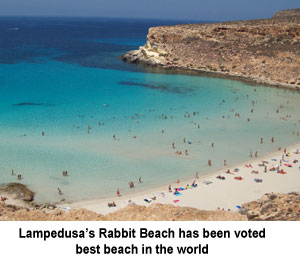 The Mayor
Giusy Nicolini, now 53, is known in Lampedusa as the Lioness and admired for her humanity, courage and determination. After she became Deputy Mayor at the age 23, she made a name for herself as a committed environmentalist who was not afraid to fight Mafia interests. It was due to her determination that the Island's famous Rabbit Beach (Isola dei Conigli) was saved from illegal development and has become a nature reserve that also offers access to bathers.

In May 2012, she was elected Mayor of Lampedusa and Linosa, defeating four other candidates including the office holder. The president of the environmental organisation Legambiente described her election as a victory for all those who believe in the environment, the rule of law and solidarity.

Giusy Nicolini's stand against vested interests during her long political career and her resolve to raise awareness for the plight of refugees and obtain help from Brussels and Rome for her community has made her one of the best known and most highly regarded mayors in Italy. Earlier this year, the newly installed Prime Minister Matteo Renzi asked her to join his government although Guisy Nicolini is not a member of the ruling Democratic Party (Partito Democratico). But she declined the offer when she did not receive guarantees that she could continue to work for her community in Lampedusa. She also withdrew her candidacy for a seat in the European Parliament because it was uncertain whether she would have any involvement in refugee and migration affairs.

When asked about the future of her Island, Mayor Nicolini quotes Pope Francis. "Lampedusa is the door to Europe not its exit." She wants her community to be given the same facilities and be offered the same opportunities as those enjoyed by people on the Italian mainland. "We do not want to be treated as a border outpost." She demands modern ships that do not take 10 hours to travel the 120 kilometres to Sicily. The mayor also suggests the building of desalination plants, which would save the country a considerable amount of money. At present, water arrives by tankers but it is undrinkable. "People are forced to drink water from plastic bottles for which there are no recycling facilities."

She also wants to see Lampedusa grow in harmony with the environment. "For too long developments have gone ahead without respect for the Island's natural beauty." The Mayor believes that only by enhancing the environment can Lampedusa attract quality tourism.

Mayor Giusi Nicolini has been awarded 9th place in World Mayor 2014

The Island
The municipality of Lampedusa e Linosa, population 6,300, covers the two islands that make up its name. Lampedusa, the larger one, is the southernmost part of Italy and lies closer to Africa than to Sicily. The island's principal industries are agriculture, fishing and tourism. Last year Rabbit Beach, on the southern part of the island was voted the world's best beach.

When the British occupied Malta in 1800, they considered taking over Lampedusa too, but the idea was dropped when it emerged that the island's harbours were not deep enough for British war and merchant ships.

Lampedusa remained in private ownership until 1840 when it was sold to the Kingdom of Naples. In 1860, it became part of Italy.

Since the beginning of this century, Lampedusa has become one of Europe's main entry points for refugees from Africa and the Middle East. A secret agreement between Italy and Colonel Gaddafi's Libya to stem the flow of migrants collapsed after the removal of the Libyan leader during the 'Arab Spring' in 2011. Since then thousands of refugees have arrived on the island every year.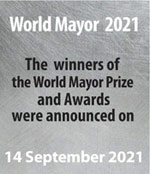 The best Mayors for Stronger | Fairer | Greener cities. Elect your candidate for the 20/21 World Mayor Prize and Honours. The Prize has been awarded since 2004