Yoichi Masuzoe, Governor of Tokyo, Japan




FRONT PAGE
About us




MAYORS OF THE MONTH
In 2015
Mayor of Seoul, South Korea (04/2015)
Mayor of Rotterdam, Netherlands (03/2015)
Mayor of Houston, USA, (02/2015)
Mayor of Pristina, Kosovo (01/2015)

In 2014
OF THE MONTH
In 2014
Mayor of Warsaw, Poland, (12/2014)
Governor of Tokyo, Japan, (11/2014)
Mayor of Wellington, New Zealand (10/2014)
Mayor of Sucre, Miranda, Venezuela (09/2014)
Mayor of Vienna, Austria (08/2014)
Mayor of Lampedusa, Italy (07/2014)
Mayor of Ghent, Belgium (06/2014)
Mayor of Montería, Colombia (05/2014)
Mayor of Liverpool, UK (04/2014)
Mayor of Pittsford Village, NY, USA (03/2014)
Mayor of Surabaya, Indonesia (02/2014)
Mayor of Santiago, Chile (01/2014)

In 2013
Mayor of Soda, India (12/2013)
Mayor of Zaragoza, Spain (11/2013)
Mayor of Marseille, France (10/2013)
Mayor of Schwäbisch Gmünd, Germany (09/2013)
Mayor of Detroit, USA (08/2013)
Mayor of Moore, USA (07/2013)
Mayor of Mexico City, Mexico (06/2013)
Mayor of Cape Town, South Africa (05/2013)
Mayor of Lima, Peru (04/2013)
Mayor of Salerno, Italy (03/2013)
Governor of Jakarta, Indonesia (02/2013)
Mayor of Rio de Janeiro, Brazil (01/2013)

In 2012
Mayor of Izmir, Turkey (12/2012)
Mayor of San Antonio, USA (11/2012)
Mayor of Thessaloniki, Greece (10/2012)
Mayor of London, UK (09/2012)
Mayor of New York, USA (08/2012)
Mayor of Bilbao, Spain (07/2012)
Mayor of Bogotá, Columbia (06/2012)
Mayor of Perth, Australia (05/2012)
Mayor of Mazatlán, Mexico (04/2012)
Mayor of Tel Aviv, Israel (03/2012)
Mayor of Surrey, Canada (02/2012)
Mayor of Osaka, Japan (01/2012)

In 2011
Mayor of Ljubljana, Slovenia (12/2011)




Worldwide | Elections | North America | Latin America | Europe | Asia | Africa |

























Mayor of the Month for November 2014
Yoichi Masuzoe
Governor of Tokyo, Japan
By Tann vom Hove
4 November 2014: What a difference a new mayor makes! After the 13-year rule of right-wing nationalist Shintaro Ishihara and the resignation of his scandal-plagued successor Naoki Inose after just one year in office, Tokyo chose a new governor who has made international city diplomacy a focus of his administration. Since his election in February 2014, Yoichi Masuzoe has made groundbreaking visits to the capitals of China, South Korea and Russia. He also travelled to Berlin and London to listen and learn.

• Yoichi Masuzoe's early years
• Yoichi Masuzoe enters politics
• The 2014 gubernatorial election
• The 2020 Summer Olympics
• Visits Beijing and Seoul
• Challenges and solutions

At a time when cities across the world forged closer ties, recent Tokyo governors never made an effort to cultivate relations with the other two East Asian urban power houses, Beijing and Seoul, while contacts with Moscow were left to deteriorate despite an existing friendship agreement.

During his first few months in office, Yoichi Masuzoe has also outlined other areas where reforms are urgently needed to allow Tokyo to compete successfully with cities like New York, London and Singapore. And even despite his reputation of being an ardent supporter of nuclear power, Governor Masuzoe said after his inauguration that, in the long run, he would like to see nuclear energy phased out.

Yoichi Masuzoe's early years
Unusual for a Japanese politician, Yoichi Masuzoe spent many of his formative years abroad. After a degree in French politics from the University of Tokyo, the 25-year old moved to France in 1973 where he worked as a research fellow at the University of Paris before taking up a position at the Graduate Institute of International Studies in Geneva in 1975. He returned to Tokyo in 1978 and was appointed assistant professor at his old alma mater.

During his years in French-speaking Europe, Masuzoe developed an admiration for the 'joie de vivre' displayed on the streets of French cities and now plans to remodel some of Tokyo's thoroughfares to make them look and feel a little more like the Champs-Elysées. While in Europe, the Governor also became a fluent French and English speaker and acquired a command of German and Spanish.

After leaving Tokyo University in 1989, Yoichi Masuzoe founded the Masuzoe Institute of Political Economy to advise on foreign affairs but it was a book he wrote, detailing his experience of dealing with the Japanese welfare system while caring for his aging mother that brought him national attention. The book 'When I put a diaper on my mother' sold more than 100,000 copies and established him as an authority on the challenges faced by an aging society.

Yoichi Masuzoe enters politics
Yoichi Masuzoe first attempt to enter Japan's political arena was in 1999, when he run for Governor of Tokyo. In that election, which was won by Shintaro Ishihara, he came third in a field of 19 candidates. Two years later he won a seat in the Japanese Upper House (House of Councillors) for the centre-right Liberal Democratic Party (LDP).

Over the following years, Masuzoe was given a series of increasingly senior positions, culminating in his appointment of Minister of Health and Labour, a post he held under three prime ministers from 2007 to 2009. In 2010, Masuzoe left the LDP, which had been swept from power a year earlier, to join the newly formed New Renaissance Party (NRP), which he hoped would establish itself as a reforming alternative to the LDP on the centre-right of Japanese politics. Although at that time, Yoichi Masuzoe was Japan's most popular politician and spoken of as a future prime minister, his party did not gain traction. After the 2012 general election, in which the NRP failed to gain a single seat in the House of Representatives (lower house), he announced he would not seek re-election to the upper house.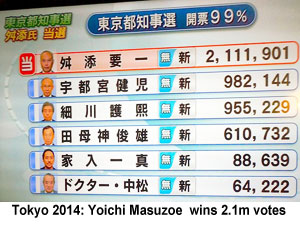 The 2014 gubernatorial election
Even during his years in relative political obscurity, Yoichi Masuzoe remained one of Japan's most respected politicians. When it became clear that Naoki Inose, Shintaro Ishihara successor as Governor of Tokyo, would have to resign over questionable financial contributions to his election campaign, both the governing LDP and the opposition Democratic Party of Japan considered Masuzoe as a candidate for the February 2014 gubernatorial election. He ultimately ran as an independent. Although the LDP backed his candidacy officially, some sections of the party supported his most prominent rival, the former prime minister Morihiro Hosokawa, who was also championed by Junichiro Koizumi, a former LDP prime minister, who many regard as the best leader the party had since its formation in 1955.

While most candidates in the short election campaign focused on nuclear power, Yoichi Masuzoe made social welfare and health his campaign themes, saying that choosing a Tokyo governor on whether they favour or oppose nuclear power seemed odd. Half-way through the campaign, the Masuzoe camp received a jolt when derogatory remarks he made about women surfaced. In 1989 he told a men's magazine that women were not suited to the highest jobs in government because their menstrual cycle made them irrational. "Women are not normal when they are having a period. You can't possibly let them make critical decisions about the country (during their period) such as whether or not to go to war," he was reported to have said.

Masuzoe's comments about women triggered a storm of anger. He was called an enemy of women who doesn't love Japan. A social media campaign gathered the signatures of thousands of women who pledged they would not have sex with men who voted for him. Despite the uproar and probably because the Japanese public is used to misogynistic remarks by male politicians, Masuzoe won the election with almost 43 per cent of the vote - well ahead of his two main rivals, who both scored a little under 20 per cent each. The February 2014 Tokyo gubernatorial election was contested by 16 candidates, all of whom were men.

The 2020 Summer Olympics
Tokyo will host the 2020 Summer Olympics and Governor Masuzoe has promised that the event will be a catalyst for major reforms and developments in the city. Like all mayors from Olympic host cities before him, Masuzoe has pledged to produce the best Olympics ever. But the Governor goes further. He believes the Games and the preparations leading up to them will not only revitalise the city but also provide a boon to the rest of the country. "Though we have only six years until the Olympics, we can achieve significant reforms toward 2020," he said. He added that if those reforms were achieved, Tokyo could set a precedent for the rest of Japan.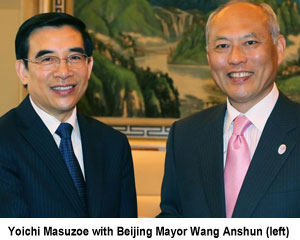 Visits Beijing and Seoul
In a recent lecture at the Foreign Correspondent Club of Japan in London, Governor Masuzoe cited his trip to Beijing as an example of 'Where Tokyo leads other Japanese cities will follow'. He said that despite of some 355 twinning arrangements between Japanese and Chinese cities, there has been little contact between mayors of the two countries during the past 20 years. But since he visited the Chinese capital in April and met with Mayor Wang Anshun, several other cities decided to reactivate their links with China.

Yoichi Masuzoe is a great supporter of city-to-city diplomacy and has established the post of a special adviser on international affairs to the Governor. He believes that cities can co-operate without having to consider political issues that cause friction between national governments. In Beijing he said that establishing friendly ties between the countries' two capitals would help to improve relations between Japan and China. Officials in China compared Masuzoe favourably with former Governor Shintaro Ishihara who angered the Chinese government in 2012 when he announced that the Tokyo Metropoltan government had a plan to buy three small East China Sea islands, which are claimed by both China and Japan.

"Governor Masuzoe is the one senior Japanese politician who is seriously interested in improving Sino-Japanese relations," one commentator wrote. Speaking to foreign journalists, Masuzoe said that following his meetings with the Mayor of Beijing and other Chinese politicians there have been increased contacts between the two governments, with a conciliatory summit between the Chinese President and the Japanese Prime Minister now a distinct possibility.

Governor Masuzoe's meetings with the South Korean President Park Geun-hye and the Mayor of Seoul Park Won-soon were also held against a background of strained relations between the two countries. The President told the Tokyo Governor that Japan needed to resolve the issue of 'comfort women' who were forced to provide sex for Japanese soldiers during World War II. While the Japanese parliament has apologised to the Korean people, in 2007 Prime Minister Shinzo Abe questioned the evidence that the Imperial Japanese army kept sex slaves during the war.

Following several incidents of hate speech against Korean communities in Tokyo and other Japanese cities, Governor Masuzoe also assured President Park that any racial harassment by right-wing groups would not be tolerated.

Challenges and solutions
Tokyo's main global rivals are London and New York but urgent reforms are needed before the Japanese capital can compete at eye-level with the City of London and Wall Street. Yoichi Masuzoe says Tokyo must do more to attract money, people and ideas from around the world. To become a more hospitable place for international business and finance, the Governor plans to cut red tape, ease building regulations, reduce vehicle traffic in central Tokyo, improve the urban environment and ease the shortage of skilled labour.

On the back of the 2020 Olympics, the Tokyo Metropolitan government also aims to increase the number of tourists from 6.8 million in 2013 to 18 million by 2024. One of the most urgent priorities the Governor has identified, is the need to make Tokyo a multilingual city. In recent discussions with Berlin's mayor-elect Michael Müller, Masuzoe learnt that, for example, all ticket machines in the German capital's subway stations offer instructions in six languages. "Tokyo must install multilingual electronic guides and maps," the Governor said afterwards. The Tokyo government also plans to train more than 30,000 bilingual guides in time for the Olympics.

The Governor urged older resident to study English conservation. "If you're in a foreign country and can't speak the local language, it's very helpful that somebody guides you, even if it's in broken English," he explained. He added that senior citizens had plenty of time once they retired from their jobs and are still quite healthy. "I suggest they study simple English conversation. "It's also good in terms of possibly warding off dementia as studying a foreign language increases brain activity." In it's 2014 budget, the metropolitan government has earmarked some US$400,000 to train 'language volunteers'.

To overcome the shortage of skilled labour, Tokyo has discussed with the national government the possibility of extending work permits for foreign employees from two to five years. Such a move would not only make Tokyo a more attractive location but if would also encourage workers from overseas to learn Japanese. The Governor also told London journalists that women would receive greater support to return to work after having had babies. "A select number of Tokyo job centres will have special desks for women who want to restart their careers." Masuzoe added that they would receive retraining and be advised on employment options.

While in London, Governor Masuzoe also announced major investments in road construction and a network of filling stations for vehicles using hydrogen fuel cells instead of petrol. According to the metropolitan government, some 60 per cent of cars that enter the centre of Tokyo have no business there. Completing the three planned orbital motorways would result in a significant reduction of motor vehicle traffic in the city centre. The Governor is also keen to encourage the wider use of hydrogen-powered cars to reduce CO2 emission but says that take up has been hampered by the lack of filling stations. Due to Tokyo's astronomically high land costs, regulations, which stipulate that fuel pumps must be eight metres from the road, make the building of filling stations often un-economical.

As a former health minister Governor Masuzoe is deeply concerned about the implications of Japan's aging population. He said the Tokyo Metropolitan Government would join national efforts to address the country's demographic problem. To help working parents, his administration plans to reduce the number children waiting for nursery places. "Additional kindergarten and nursery places should ensure that 40,000 more children can be enrolled by 2018," the Governor hopes. The city will also provide more after-school facilities where school students are supervised until their parents return from work.

Having cared for his ageing mother, Yoichi Masuzoe is familiar with the difficulties of looking after elderly relatives, particularly those whose mental capabilities deteriorate prematurely. The city will increase the number of nursing care homes from 14,000 to more than 20,000 and build special facilities for people with dementia.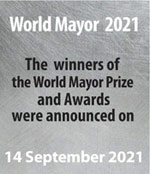 The best Mayors for Stronger | Fairer | Greener cities. Elect your candidate for the 20/21 World Mayor Prize and Honours. The Prize has been awarded since 2004