Ghent Mayor Daniel Termont





FRONT PAGE
Site Search
About us | Quiénes somos |
A propos de nous | Über uns |
Mayor Monitor
Directories
Events
Debate




World Mayor
World index of mayors
Mayors from Africa
Mayors from Asia & Australia
Mayors from The Americas
Mayors from Europe
Mayors and political parties
World's largest cities
and their mayors

Mayors of the Month
Mayor of Ljubljana

Mayors from Europe
(Former mayors in italics)
| Almada | Amaroussion | Amsterdam (Cohen) | Amsterdam (van der Laan) | Antwerp | Athens | Barcelona | Berlin | Bologna | Bonn | Bremen | Chania | Cologne | Córdoba | Doncaster | Elbasan | Evry | Ghent | Gothenburg | Hamburg | Hartlepool | Kraków | La Laguna | Lewisham | Lille | London (Johnson) | London (Livingstone) | Lyon | Malmö | Middlesbrough | Montreuil-sous-Bois | Moscow | Munich | Nicosia | Nuremburg | Paris | Reims | Rhodes | Riace | Rome (Alemanno) | Rome (Veltroni) | Rouen | Sofia | Stockholm | Stuttgart | Tirana | Tower Hamlets | Turin | Ulm | Vienna | Wroclaw | Zurich (Ledergerber) | Zurich (Mauch) |




City Mayors reports news from towns and cities around the world. Worldwide | Elections | North America | Latin America | Europe | Asia | Africa | Events |




Mayors from The Americas, Europe. Asia, Australia and Africa are competing for the annual World Mayor Award. More




City Mayors ranks the world's largest as well as richest cities and urban areas. It also ranks the cities in individual countries, and provides a list of the capital cities of some 200 sovereign countries. More




City Mayors reports political events, analyses the issues and depicts the main players. More




City Mayors describes and explains the structures and workings of local government in Europe, The Americas, Asia, Australia and Africa. More




City Mayors profiles city leaders from around the world and questions them about their achievements, policies and aims. More




City Mayors deals with economic and investment issues affecting towns and cities. More




City Mayors reports on how business developments impact on cities and examines cooperation between cities and the private sector. More




City Mayors describes and explains financial issues affecting local government. More




City Mayors lists and features urban events, conferences and conventions aimed at urban decision makers and those with an interst in cities worldwide. More




City Mayors reports urban environmental developments and examines the challenges faced by cities worldwide. More




City Mayors reports on and discusses urban development issues in developed and developing countries. More



City Mayors reports on developments in urban society and behaviour and reviews relevant research. More




City Mayors deals with urban transport issues in developed and developing countries and features the world's greatest metro systems. More




City Mayors examines education issues and policies affecting children and adults in urban areas. More




City Mayors investigates health issues affecting urban areas with an emphasis on health in cities in developing countries. More




City Mayors examines the importance of urban tourism to city economies. More




City Mayors examines the contributions history and culture make to urban society and environment. More




City Mayors describes the history, architecture and politics of the greatest city halls in the world. More




City Mayors invites readers to write short stories about people in cities around the world. More




City Mayors questions those who govern the world's cities and talks to men and women who contribute to urban society and environment. More




City Mayors profiles national and international organisations representing cities as well as those dealing with urban issues. More




City Mayors reports on major national and international sporting events and their impact on cities. More




City Mayors lists cities and city organisations, profiles individual mayors and provides information on hundreds of urban events. More


Ghent Mayor Daniel Termont
Leading a city of 160 nationalities
By Brian Baker, Senior Correspondent
19 September 2010: Cosmopolitan Ghent includes people of 160 nationalities and its mayor, Daniel Termont, is eager to include all of them in whatever decisions his municipal authority takes. The mayor of this Belgian city declared: "I wanted to become mayor in order to continue my work here for all its citizens. Our priorities for 2010 and 2011 are to continue to battle against all possible forms of social exclusion. We will further invest in education, employment, housing and in the harmony of its mixed inhabitants."

Mayor Termont feels that he has learned an especially important lesson from his varied career, and his general experience of life, that applies to all democratic leaders: "We must stay in touch with all of the people all of the time."

He added: "Listen to them, and debate with them. You don't always have to do everything they think is best because people are ready to accept reasonable arguments if you are prepared to listen to them first."

He has been Mayor of Ghent since 2007 and a member of its city council since 1977. He served as deputy mayor from 1995 to 2006 and was prominent in making this small metropolis a proactive one internationally, while continuing the efforts of his predecessors in establishing it as a growing and successful modern city - simultaneously respecting and protecting its physical and cultural heritage.

Ghent lies 52km from Antwerp and 48km from Brussels. Its population is 240,000 and includes 50,000 students.

Before being appointed deputy mayor in 1995 Daniel Termont had had a mixed career. Following military service in the 1970s he worked in social enterprises and charities and in the 1980s managed a holiday centre for five years. Between 1988 and 1995 he was Secretary-Treasurer of the National Health Service Bond Moysen Gent-Eklo. In 1995 he went into politics full-time, and as deputy mayor was responsible for ports, economic development and utilities, which changed in 2001 to ports, the economy and festivities. He remained in that post until 2006.

Ghent has the largest student population in the country, which adds strongly to its international character. The university and polytechnics are important to the city and to its economic development, with which Mr. Termont has been centrally involved since the mid-1990s. In particular he has led efforts to develop Ghent as a home for the growing sector of bio-related businesses.

He says that the strengths of the university and the polytechnics are reflected in the international conferences and seminars that make use of the Ghent Convention Centre. The centre, currently being extended, is situated on the edge of Citadel Park in the middle of the city between the historic core and Ghent St. Pieters railway station. The park houses the new SMAK contemporary art museum, which opened in 2000. This helps identity Ghent as a centre of culture and creativity.

Mayor Termont has been a board member of the Euro-Cities network since 2009 and is a passionate advocate of the idea of city councils across the world communicating with, and learning from, one another. "You cannot be a successful city of knowledge and culture such as Ghent if you are not open to the world."

Ghent has twinned with seven cities since 2004 and enjoys a firm mutual cooperation agreement with Manguang in South Africa. It also participates in the EU network Civitas and the Lighting Urban Community International organisation of European cities, to which it currently provides the treasurer.

Its involvement in LUCI indicates the sensitive approach to the lighting of its Altstadt area, which has been commended and recognised by a number of other European cities. Ghent has the greatest number of protected buildings of any city or town in Belgium.

The Civitas Initiative has been promoting sustainable mobility in European cities since 2000. Since 2008 Ghent has been one of five member cities working on the Elan project concerned with citizen engagement with, and leadership of, sustainable mobility initiatives. The project will last until 2012.

Daniel Termont was born and educated in Ghent. He recalls first realising the city's beauty after being asked to write an essay on St Nicholas's Church. After leaving school he attended the Municipal Institute for Business and Secretariat

He says the visit of the Tour De France in 2007 greatly enhanced the city's prestige. "It was unbelievably important for the image of Ghent and underlined our status as a cycling city."

During the first year of his mayoralty he stated: "I wouldn't dream of pretending that Ghent is a city of world significance but it is my ambition as mayor to put us on the map of Europe. I think the Europe of tomorrow will be more a Europe of cities than of countries. I am in touch with mayors of other European cities almost daily. Our baseline is Ghent as a city of knowledge and culture open to all."

In his first year in office the city council agreed his statement of intent that has underpinned all of his work to date. This declares that Ghent will strive to be a creative and pioneering city characterised by openness, sustainability, and solidarity. The mayor's support for current and new business is matched by a commitment to energy efficiency and sustainable action. Ghent was the first city in the Flanders region of Belgium to dedicate itself to a carbon dioxide emission baseline representing the starting point for cooperation for achieving climate neutrality between the city council, the people, and business.

The Ghent Local Climate Plan for 2008 to 2020 cites 108 proposals for action. It seeks reductions of 20 per cent in energy consumption and carbon emissions for the city as a whole and a 60 per cent reduction for the local authority itself. Municipal share of renewable energy will be raised to 50 per cent.

A large area of Ghent is already traffic free with 30 hectares of pedestrian-only space, the largest of any Belgian city. The 2008 to 2012 strategy includes modernising and expanding the tram network. Public realm enhancements are planned or in progress to create a high-quality continuous walking environment connecting the Altstadt with St. Pieters Station and including the park and the convention centre.

Walking routes and other features are planned around both the St. Pieters Station area and the convention centre, all of which will be in keeping with the Altstadt.

Daniel Termont was born in 1953 and is married to Claudine De Sutter. He is a member of the boards of several agencies and companies, including Fluxys plc, plc Publigas, Finiwo, Ghent Port Authority, and the municipal water supply agency TMVW.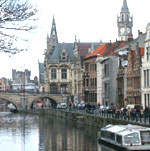 Until the 13th century Ghent was Europe's second largest city, after Paris.


How good is
your mayor?
City Mayors provides Mayor Monitor (MM) to allow residents and non-residents to rate the performance of mayors from across the world as well as highlight their 'best' and 'worst' decisions. Mayor Monitor uses the widely understood one-to-ten rating system, where '1' signifies an extremely poor performance and '10' 'an outstanding one. In addition to rating mayors' performances, citizens are invited to highlight the best and worst decisions by city leaders.

Over time, Mayor Monitor will provide a valuable track record of mayors' successes and failures as well as their popularity among residents and a wider public. The results will be published on the City Mayors website and updated monthly.

Please rate your mayor now.