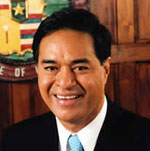 Mufi Hannemann, former mayor of Honolulu





FRONT PAGE
Site Search
About us | Quiénes somos |
A propos de nous | Über uns |
Mayor Monitor
Directories
Events
Debate




US Mayors
World Mayor
World index of mayors
Mayors from Africa
Mayors from Asia & Australia
Mayors from The Americas
Mayors from Europe
Mayors and political parties
World's largest cities
and their mayors 2011
Elected US mayors

Mayors from Canada and the US (Former mayors in italics)
| Akron | Albuquerque | Atlanta (Franklin) | Atlanta (Reed) | Baltimore | Boston | Calgary | Chicago Emanuel | Chicago Daley | Columbus | Dayton | Denver | Detroit (Bing) | Detroit (Kilpatrick) | Edmonton | Harrisburg | Honolulu | Houston (Parker) | Houston (White) | London (Ontario) | Los Angeles | Louisville | Memphis | Miami | Minneapolis | Mississauga | News Orleans (Landrieu) | New Orleans (Nagin) | Newark | New York | Oakland | Oklahoma City | Phoenix | Philiadelphia | Pittsburgh | Pomona | Portland (Adams) | Portland (Potter) | Providence | Salt Lake City (Anderson) | Salt Lake City (Becker) | San Francisco | Seattle (McGinn) | Seattle (Nickels) | South Bay | Southfield | Stamford | Surrey BC | Toronto | Trenton | Tulsa | Washington DC | Winnipeg |




City Mayors reports news from towns and cities around the world. Worldwide | Elections | North America | Latin America | Europe | Asia | Africa | Events |




Mayors from The Americas, Europe. Asia, Australia and Africa are competing for the annual World Mayor Award. More




City Mayors ranks the world's largest as well as richest cities and urban areas. It also ranks the cities in individual countries, and provides a list of the capital cities of some 200 sovereign countries. More




City Mayors reports political events, analyses the issues and depicts the main players. More




City Mayors describes and explains the structures and workings of local government in Europe, The Americas, Asia, Australia and Africa. More




City Mayors profiles city leaders from around the world and questions them about their achievements, policies and aims. More




City Mayors deals with economic and investment issues affecting towns and cities. More




City Mayors reports on how business developments impact on cities and examines cooperation between cities and the private sector. More




City Mayors describes and explains financial issues affecting local government. More




City Mayors lists and features urban events, conferences and conventions aimed at urban decision makers and those with an interst in cities worldwide. More




City Mayors reports urban environmental developments and examines the challenges faced by cities worldwide. More




City Mayors reports on and discusses urban development issues in developed and developing countries. More



City Mayors reports on developments in urban society and behaviour and reviews relevant research. More




City Mayors deals with urban transport issues in developed and developing countries and features the world's greatest metro systems. More




City Mayors examines education issues and policies affecting children and adults in urban areas. More




City Mayors investigates health issues affecting urban areas with an emphasis on health in cities in developing countries. More




City Mayors examines the contributions history and culture make to urban society and environment. More




City Mayors examines the importance of urban tourism to city economies. More




City Mayors describes the history, architecture and politics of the greatest city halls in the world. More




City Mayors invites readers to write short stories about people in cities around the world. More




City Mayors questions those who govern the world's cities and talks to men and women who contribute to urban society and environment. More




City Mayors profiles national and international organisations representing cities as well as those dealing with urban issues. More




City Mayors reports on major national and international sporting events and their impact on cities. More




City Mayors lists cities and city organisations, profiles individual mayors and provides information on hundreds of urban events. More


Mufi Hannemann
Former mayor of Honolulu, Hawaii
By Andrew Stevens
10 March 2008: Honolulu's first mayor of Samoan descent, as well as the second Mormon to hold the office, Mufi Hannemann is unusual in having worked for all US presidents from Jimmy Carter to George W. Bush. Though his first stabs at running for office did not pay off, he now champions greater efficiency and fiscal integrity in the city hall.

Update September 2010: Former Honolulu City Prosecutor Peter Carlisle elected Mayor of Honolulu.

Update June 2010: Mufi Hannemann has stepped down as Mayor of Honolulu to run for state govenor of Hawaii. However, he was defeated in the Democrat Party primaries.

Born in Honolulu in 1952, Muliufi Hannemann's name alone indicates his mixed German-Samoan parentage. Similarly, his 6' 7" frame stood Hannemann in good stead as a basketball and American football player while at school and college. Hannemann attended the private Episcopalian 'Iolani School in the city on a scholarship and was accepted by Harvard, where he graduated cum laude. A Fulbright Scholar, he continued his studies at Victoria University of Wellington in New Zealand.

Hannemann returned to Hawaii to teach at Iolani, where he taught history and coached basketball. He then began his public service career as special assistant for the Carter administration in the Department of the Interior. Following the election of Ronald Reagan as US President, Hannemann served as special assistant to Hawaii Governor George Ariyoshi, the first state governor of Asian extraction to serve in the US. Returning to Washington, DC, he then served as staff assistant to then Vice President George H.W Bush. After a series of corporate roles in the C. Brewer Company, he sought election to the US House of Representatives in 1986, taking the Democratic primary but losing a by-election and then the general election, to the Republican candidate. On his next attempt in 1990 he lost the Democratic primary to Patsy Mink, the eventual victor for the seat.

Following these electoral disappoints, in 1991 he was appointed by Governor John Waihee to a number of roles, such as Chairman of the Hawaii Pro Bowl Host Committee, Chairman of the Task Force on Homeporting, Director of the Hawaii Office of International Relations and Director of the Hawaii Department of Business, Economic Development and Tourism. He was then appointed by President Bill Clinton as US Representative to the South Pacific Commission. Hannemann was also appointed to government service in the first administration of George W. Bush, serving in the Department of Labor as a member of the President's Council on a 21st Century Workforce.

In 1994 Hannemann was elected to his first public office, as a member of Honolulu City Council and was re-elected in 1998. He served as council chairman in 1998/1999, retiring from the council in 2000 in order to contest the mayoral election, in which he unsuccessfully challenged incumbent Jeremy Harris. Hannemann sought the mayoralty again in 2004 as Harris, who was thwarted in his run for governor in 2002, faced term limits. He was successful in securing election after a bitterly-fought campaign against former council colleague Duke Bainum, but only by a wafer-thin margin in the run-off.

Hannemann is a member of the Mayor Against Illegal Guns coalition and chairs the Tourism, Arts, Parks, Entertainment, and Sports Committee of the US Conference of Mayors.

The office of Mayor of Honolulu acts as CEO of the City and County. The city's strategic location sees the office of mayor conducting foreign relations with a number of Asian cities. Though established in 1900, the office of mayor carries much of the traditions of Hawaii's pre-statehood era (before 1959), not least from the monarchy. As such, the mayor ranks as the state's third highest public official, behind the governor and lieutenant governor.