Clarence E Anthony, former Mayor of South Bay, Florida





FRONT PAGE
Site Search
About us | Quiénes somos |
A propos de nous | Über uns |
Mayor Monitor
Directories
Events
Debate




US Mayors
World Mayor
World index of mayors
Mayors from Africa
Mayors from Asia & Australia
Mayors from The Americas
Mayors from Europe
Mayors and political parties
World's largest cities
and their mayors 2011
Elected US mayors

Mayors from Canada and the US (Former mayors in italics)
| Akron | Albuquerque | Atlanta (Franklin) | Atlanta (Reed) | Baltimore | Boston | Calgary | Chicago Emanuel | Chicago Daley | Columbus | Dayton | Denver | Detroit (Bing) | Detroit (Kilpatrick) | Edmonton | Harrisburg | Honolulu | Houston (Parker) | Houston (White) | London (Ontario) | Los Angeles | Louisville | Memphis | Miami | Minneapolis | Mississauga | News Orleans (Landrieu) | New Orleans (Nagin) | Newark | New York | Oakland | Oklahoma City | Phoenix | Philiadelphia | Pittsburgh | Pomona | Portland (Adams) | Portland (Potter) | Providence | Salt Lake City (Anderson) | Salt Lake City (Becker) | San Francisco | Seattle (McGinn) | Seattle (Nickels) | South Bay | Southfield | Stamford | Surrey BC | Toronto | Trenton | Tulsa | Washington DC | Winnipeg |




City Mayors reports news from towns and cities around the world. Worldwide | Elections | North America | Latin America | Europe | Asia | Africa | Events |




Mayors from The Americas, Europe. Asia, Australia and Africa are competing for the annual World Mayor Award. More




City Mayors ranks the world's largest as well as richest cities and urban areas. It also ranks the cities in individual countries, and provides a list of the capital cities of some 200 sovereign countries. More




City Mayors reports political events, analyses the issues and depicts the main players. More




City Mayors describes and explains the structures and workings of local government in Europe, The Americas, Asia, Australia and Africa. More




City Mayors profiles city leaders from around the world and questions them about their achievements, policies and aims. More




City Mayors deals with economic and investment issues affecting towns and cities. More




City Mayors reports on how business developments impact on cities and examines cooperation between cities and the private sector. More




City Mayors describes and explains financial issues affecting local government. More




City Mayors lists and features urban events, conferences and conventions aimed at urban decision makers and those with an interst in cities worldwide. More




City Mayors reports urban environmental developments and examines the challenges faced by cities worldwide. More




City Mayors reports on and discusses urban development issues in developed and developing countries. More



City Mayors reports on developments in urban society and behaviour and reviews relevant research. More




City Mayors deals with urban transport issues in developed and developing countries and features the world's greatest metro systems. More




City Mayors examines education issues and policies affecting children and adults in urban areas. More




City Mayors investigates health issues affecting urban areas with an emphasis on health in cities in developing countries. More




City Mayors examines the contributions history and culture make to urban society and environment. More




City Mayors examines the importance of urban tourism to city economies. More




City Mayors describes the history, architecture and politics of the greatest city halls in the world. More




City Mayors invites readers to write short stories about people in cities around the world. More




City Mayors questions those who govern the world's cities and talks to men and women who contribute to urban society and environment. More




City Mayors profiles national and international organisations representing cities as well as those dealing with urban issues. More




City Mayors reports on major national and international sporting events and their impact on cities. More




City Mayors lists cities and city organisations, profiles individual mayors and provides information on hundreds of urban events. More


Clarence E Anthony
By Andrew Stevens, Deputy Editor
12 January 2008: The Democrat mayor for the lakeside city of South Bay, Florida has emerged as a vocal "champion for the voiceless" in his 20 years tenure of the small city. Despite being mayor for a relatively small community, he has also emerged as a city leader of national and international standing, holding leadership positions in US and global civic organisations.

Update: In 2008 Clarence Anthony was replaced as mayor by city commissioner Shirley Walker Turner.

Anthony was first elected mayor of the small Palm Beach community of South Bay in 1984, aged just 24. Mayor Anthony undertook undergraduate and postgraduate studies at Florida Atlantic University and holds a masters in public administration from the institution.

The city of South Bay itself has a recorded population of 4.037 (2004) and sits on the shores of Lake Okeechobee (the second largest freshwater lake in the US), though much of the neighbouring territory is unincorporated within Palm Beach County. It is one of many cities of 10,000 or fewer inhabitants in the Miami Metro Area.

Mayor Anthony's overloaded shelf of accolades include the Ebony Magazine Future Leader, Outstanding Young Men in America and Outstanding Community Leaders in America awards, as well as the Florida Junior Chamber of Commerce Mayor of the Year. However, it was with his election as 75 th president of the National League of Cities for 1999 (only the second from a small city) that his arrival as a city leader on the national stage arrived. This was later augmented with his 2007 election as treasurer and first vice president of the United Cities and Local Governments organisation.

The South Bay mayor is also the only municipal figure serving on the state's constitution revision panel. He is also a member of the Federal Judicial Nomination Commission, the Florida Environmental Land Management Study Commission and the Federal Government Everglades Ecosystem Task Force.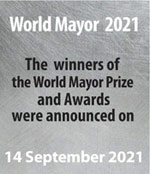 The best Mayors for Stronger | Fairer | Greener cities. Elect your candidate for the 20/21 World Mayor Prize and Honours. The Prize has been awarded since 2004