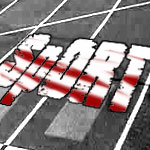 The IOC
The International Olympic Committee (IOC) was founded on 23 June 1894 by the French educator Baron Pierre de Coubertin, who was inspired to revive the Olympic Games of Greek antiquity. The IOC is an international non-governmental non-profit organisation and the creator of the Olympic Movement. The IOC exists to serve as an umbrella organisation of the Olympic Movement. It owns all rights to the Olympic symbols, flag, motto, anthem and Olympic Games. Its primary responsibility is to supervise the organisation of the summer and winter Olympic Games.

International Olympic Committee
Château de Vidy
1007 Lausanne
Switzerland
Tel: +41 21 621 61 11
Fax: +41 21 621 62 16
Internet: www.olympics.org



FRONT PAGE
SiteSearch
About us
Directories

London Olympics: Legacy
2012 Olympics: East London
Impact of 2012 Olympics
How London won the 2012 Olympics
2012 Olympics: The popular vote
2010 Winter Olympics


City Mayors reports news from towns and cities around the world. Worldwide | Elections | North America | Latin America | Europe | Asia | Africa | Events |




Mayors from The Americas, Europe. Asia, Australia and Africa are competing for the annual World Mayor Award. More




City Mayors ranks the world's largest as well as richest cities and urban areas. It also ranks the cities in individual countries, and provides a list of the capital cities of some 200 sovereign countries. More




City Mayors reports political events, analyses the issues and depicts the main players. More




City Mayors describes and explains the structures and workings of local government in Europe, The Americas, Asia, Australia and Africa. More




City Mayors profiles city leaders from around the world and questions them about their achievements, policies and aims. More




City Mayors deals with economic and investment issues affecting towns and cities. More




City Mayors reports on how business developments impact on cities and examines cooperation between cities and the private sector. More




City Mayors describes and explains financial issues affecting local government. More




City Mayors lists and features urban events, conferences and conventions aimed at urban decision makers and those with an interst in cities worldwide. More




City Mayors reports urban environmental developments and examines the challenges faced by cities worldwide. More




City Mayors reports on and discusses urban development issues in developed and developing countries. More



City Mayors reports on developments in urban society and behaviour and reviews relevant research. More




City Mayors deals with urban transport issues in developed and developing countries and features the world's greatest metro systems. More




City Mayors examines education issues and policies affecting children and adults in urban areas. More




City Mayors investigates health issues affecting urban areas with an emphasis on health in cities in developing countries. More




City Mayors examines the importance of urban tourism to city economies. More




City Mayors examines the contributions history and culture make to urban society and environment. More




City Mayors describes the history, architecture and politics of the greatest city halls in the world. More




City Mayors invites readers to write short stories about people in cities around the world. More




City Mayors questions those who govern the world's cities and talks to men and women who contribute to urban society and environment. More




City Mayors profiles national and international organisations representing cities as well as those dealing with urban issues. More




City Mayors reports on major national and international sporting events and their impact on cities. More




City Mayors lists cities and city organisations, profiles individual mayors and provides information on hundreds of urban events. More


This archived article was published 5 July 2005
Your choice of host city for
the 2012 Summer Olympics

City Mayors has been conducting an internet poll to find the most popular city to host the 2012 Summer Olympics. The poll went live in December 2003. By 5 July 2005, one day before the IOC decided on the host city for the 2012 Olympics, a total 5,720 valid votes were cast. The total includes 419 votes cast for the four cities (Rio de Janeiro, Leipzig, Istanbul and Havana) which the IOC removed from the bidding process on 18 May 2004. The number of votes received by the five cities which remained in the bidding process totaled 5,301. City Mayors counted all votes manually. Multiple votes, whether for one city or several cities, were eliminated. How London won the 2012 Olympics.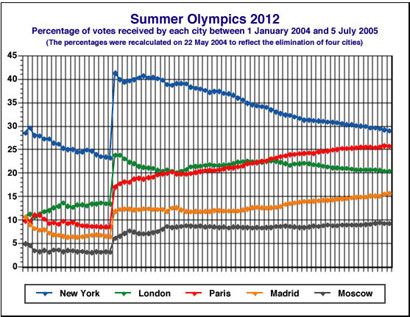 Percentage of votes cast since 1 January 2004

Rank

City

Number of votes
Previous number of votes in brackets


Share of votes
Previous share of votes in brackets*


1

New York

1,538 (1,511)

29.0% (29.2%)

2

Paris

1,362 (1,334)

25.7% (25.8%)

3

London

1,082 (1,057)

20.4% (20.4%)

4

Madrid

832 (801)

15.7% (15.5%)

5

Moscow

487 (477)

9.2% (9.2%)
Number of votes cast for and share of votes of each of
the nine bidding cities to host the 2012 Summer Olympics
*All percentages recalculated to reflect the new shortlist of five candidate cities

On 18 May 2004, the International Olympic Committee decided that the five candidate cities to bid for the 2012 Olympics were London, Madrid, Moscow, New York and Paris. Havana, Leipzig, Istanbul and Rio de Janeiro were eliminated. In City Mayors' international poll Rio de Janeiro was the world's second most popular city after New York.