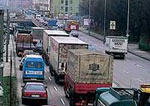 Traffic congestion in Hanover, northern Germany




FRONT PAGE
SiteSearch
About us
Directories

Car parking Europe
Berlin U-Bahn
Road tolls in cities worldwide
New York congestion charge
New York bridge tolls
Melbourne transport strategy
Personal rapid transit
UK light rail schemes
Road traffic kills children
Traffic congestion in the US
London congestion charge
World Metros


City Mayors reports news from towns and cities around the world. Worldwide | Elections | North America | Latin America | Europe | Asia | Africa | Events |




Mayors from The Americas, Europe. Asia, Australia and Africa are competing for the annual World Mayor Award. More




City Mayors ranks the world's largest as well as richest cities and urban areas. It also ranks the cities in individual countries, and provides a list of the capital cities of some 200 sovereign countries. More




City Mayors reports political events, analyses the issues and depicts the main players. More




City Mayors describes and explains the structures and workings of local government in Europe, The Americas, Asia, Australia and Africa. More




City Mayors profiles city leaders from around the world and questions them about their achievements, policies and aims. More




City Mayors deals with economic and investment issues affecting towns and cities. More




City Mayors reports on how business developments impact on cities and examines cooperation between cities and the private sector. More




City Mayors describes and explains financial issues affecting local government. More




City Mayors lists and features urban events, conferences and conventions aimed at urban decision makers and those with an interst in cities worldwide. More




City Mayors reports urban environmental developments and examines the challenges faced by cities worldwide. More




City Mayors reports on and discusses urban development issues in developed and developing countries. More



City Mayors reports on developments in urban society and behaviour and reviews relevant research. More




City Mayors deals with urban transport issues in developed and developing countries and features the world's greatest metro systems. More




City Mayors examines education issues and policies affecting children and adults in urban areas. More




City Mayors investigates health issues affecting urban areas with an emphasis on health in cities in developing countries. More




City Mayors examines the importance of urban tourism to city economies. More




City Mayors examines the contributions history and culture make to urban society and environment. More




City Mayors describes the history, architecture and politics of the greatest city halls in the world. More




City Mayors invites readers to write short stories about people in cities around the world. More




City Mayors questions those who govern the world's cities and talks to men and women who contribute to urban society and environment. More




City Mayors profiles national and international organisations representing cities as well as those dealing with urban issues. More




City Mayors reports on major national and international sporting events and their impact on cities. More




City Mayors lists cities and city organisations, profiles individual mayors and provides information on hundreds of urban events. More



This is an archived article published in March 2004
German Greens call for city
tolls to reduce road traffic
By James Monaghan, Feature Editor

After the success of London's congestion charge, which celebrated its first anniversary in February 2004, the idea is catching on in Europe, and particularly in Germany. Green party members throughout the country are pressing for its introduction. As reported in the national Sunday tabloid, "Bild am Sonntag", the Green Party's traffic spokesman, Albert Schmidt, is quoted as saying that the figures in London prove that what he calls the 'city toll' has been a great success. He proposes that big cities in Germany where the amount of traffic in the centre is especially high, ought to consider whether a similar system should be introduced.

According to Mr Schmidt, income from the charge would put money into empty city treasuries. The money could be directed to public transport in the cities, but also other areas that are suffering especially badly from the current budgetary difficulties experienced by most German cities. He specifically mentions schools, libraries, and public swimming pools.

In Munich, the leader of the Green Party on the City Council, Sabine Krieger, points out that Stockholm already plans to follow London's example in 2005, and that, since there are serious traffic problems in several areas of Munich, a charging regime would be particularly appropriate.

The leader of the Transnet trade union and chairman of the 'Alliance for Rail', Norbert Hansen, praised London's £5 congestion charge in the same newspaper and pointed out that there had been a reduction in traffic jams, road accidents and that the people welcomed the measure. He said that cities like Frankfurt am Main or Cologne with particularly high problems with traffic jams would find a charge would help them get to grips with their problems.