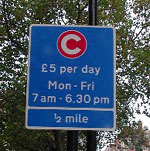 Originally drivers were charged £5 to enter London's road charging zone




FRONT PAGE
SiteSearch
About us
Directories

Road tolls in cities worldwide
New York congestion charge
New York bridge tolls
Car parking Europe
Melbourne transport strategy
Most polluted US cities
Road traffic kills children
London congestion charge
German Greens call for road tolls

UK light rail schemes
London transport and PPP
US built environment in 2030
Urban pollution


City Mayors reports news from towns and cities around the world. Worldwide | Elections | North America | Latin America | Europe | Asia | Africa | Events |




Mayors from The Americas, Europe. Asia, Australia and Africa are competing for the annual World Mayor Award. More




City Mayors ranks the world's largest as well as richest cities and urban areas. It also ranks the cities in individual countries, and provides a list of the capital cities of some 200 sovereign countries. More




City Mayors reports political events, analyses the issues and depicts the main players. More




City Mayors describes and explains the structures and workings of local government in Europe, The Americas, Asia, Australia and Africa. More




City Mayors profiles city leaders from around the world and questions them about their achievements, policies and aims. More




City Mayors deals with economic and investment issues affecting towns and cities. More




City Mayors reports on how business developments impact on cities and examines cooperation between cities and the private sector. More




City Mayors describes and explains financial issues affecting local government. More




City Mayors lists and features urban events, conferences and conventions aimed at urban decision makers and those with an interst in cities worldwide. More




City Mayors reports urban environmental developments and examines the challenges faced by cities worldwide. More




City Mayors reports on and discusses urban development issues in developed and developing countries. More



City Mayors reports on developments in urban society and behaviour and reviews relevant research. More




City Mayors deals with urban transport issues in developed and developing countries and features the world's greatest metro systems. More




City Mayors examines education issues and policies affecting children and adults in urban areas. More




City Mayors investigates health issues affecting urban areas with an emphasis on health in cities in developing countries. More




City Mayors examines the importance of urban tourism to city economies. More




City Mayors examines the contributions history and culture make to urban society and environment. More




City Mayors describes the history, architecture and politics of the greatest city halls in the world. More




City Mayors invites readers to write short stories about people in cities around the world. More




City Mayors questions those who govern the world's cities and talks to men and women who contribute to urban society and environment. More




City Mayors profiles national and international organisations representing cities as well as those dealing with urban issues. More




City Mayors reports on major national and international sporting events and their impact on cities. More




City Mayors lists cities and city organisations, profiles individual mayors and provides information on hundreds of urban events. More



Road tolls prove a success
in cities around the world
By Sherrill Nixon, Urban Affairs Editor, Sydney Morning Herald*
5 July 2006: London's congestion charge is probably the best-known in the world, but it has not been the most successful. That honour appears to go to Durham, a city in northern England noted for its cathedral and castle. Durham introduced a cordon-based pricing scheme in 2002, the first in the United Kingdom, and a year before London.

Traffic has fallen by 90 per cent since motorists were hit with a £2 (US$3.5) fee to drive in the World Heritage-listed city centre between 10am and 4pm, from Monday to Saturday. In comparison, London's congestion charge has reduced its considerably higher traffic levels by about 20 per cent, and has led to a 29,000 rise in bus passengers going into the city centre during morning peak.

From February 2007, the area that falls under London's congestion charge - which is £8 per weekday for unlimited travel between 7am and 6.30pm - will almost double in size to take in the Westminster, Kensington and Chelsea districts.

Britain's Commission for Integrated Transport released a comparison of 22 road-pricing schemes in 14 countries last month, saying their success had produced a new political confidence in congestion charging.

Its case studies included:
• Singapore: introduced in 1975, the Electronic Road Pricing scheme charges motorists for using CBD roads between 7.30am and 7pm, or expressways between 7.30am and 9.30am.

• Stockholm: a trial scheme levies motorists between 10 and 20 kronor ($1.90 and $3.80) depending on what time between 6.30am and 6.30pm they drive into the city centre. Tolls are collected electronically and revenue is to be used to improve public transport.

• Santiago: motorists using a network of roads pay according to the distance they drive and the time of day. Three levels apply - the basic level (the equivalent of eight cents per kilometre) during off-peak periods, the second level (16 cents) during peak periods and when speeds drop below 70kmh, and the third level (24 cents) when speeds consistently drop below 50kmh.

• Toronto: the all-electronic 108-kilometre 407 Express Toll Route opened in 1997. Charges vary depending on time of day, with peak hours (6-10am and 3-7pm) tolled highest. Heavy vehicles are charged three times as much as cars.

• Oregon, US: drivers pay a charge equivalent to about a cent a kilometre instead of the state's fuel tax. The scheme is being trialled with 300 motorists, who pay the charge when they fill up at the service station, which can read their in-car mileage counting equipment. The state fuel tax no longer raises enough to pay for road maintenance.

*This article was originally published in the Sydney Morning Herald on 4 July 2006.