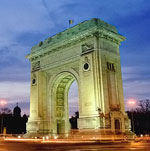 Bucharest offers tourists some magnificient architecture but low-level crime such as pickpocketing is still a major problem...




FRONT PAGE
Site Search
About us



City brand Amsterdam
City brand Brasilia
City brand Bucharest
City brand Chicago
City brand Hong Kong
City brand Jakarta
City brand London
City brand Singapore
City brand Tokyo


US mayors on Twitter
Europe's top city brands
EUROCITIES branding report - a critical review
EUROCITIES on city branding
Cities into successful brand
Social media and government
Top level city domain names
Gallup's Soul of the City
Mayor of London
London City Hall


Worldwide | Elections | North America | Latin America | Europe | Asia | Africa |




























The Bucharest brand:
Raw and unpolished
By Iulia Gramon Suba*
23 July 2012: Having been fêted as the 'Paris of the East' at the beginning of the 20th century, Bucharest is now best known for its socialist realism era, the bloody scenes of the 1989 revolution and a difficult transition to a modern metropolis in spite of Romania's accession to the European Union, where it is the seventh largest city. Today incoherent governance arrangements and a lack of political will or maturity have seen the city's brand neglected amid crucial indifference by its authorities.

• History
• Asset strengths
• Asset weaknesses
• Governance
• International rankings
• Vision and reality

History
Bucharest was designated the capital of the Wallachia principality in 1689 by the Ottoman sultan Mustafa II and it became the central administrative centre of the unified Romanian Principalities in 1859 under the sovereignty of the Ottoman Empire, then capital of the newly-founded Kingdom of Romania in 1881. It is the country's biggest city as well as its industrial, commercial and political centre. With a population of nearly two million people, it is the seventh-largest city in the EU. Bucharest is a somewhat odd city, with a wonderful history that has undergone several states of transition, from the grim communist era to modernism, still boasting some reminiscences of the past. Its architecture encompasses socialist realism and before (art deco and Bauhaus), as well as a number of monasteries and palaces in the surrounding Ilfov county. The city's homage to the Arc de Triomphe is perhaps another vestige of its 'Little Paris' era.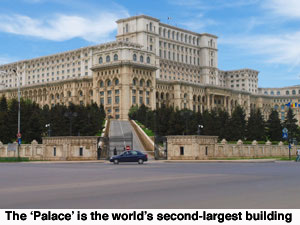 Asset inventory
Strengths
• Good air access compared to other EU capitals. The air accessibility in Bucharest is 109 (UE=100), close to Athens (111), and more from Helsinki (105), Stockholm (97).The Henri Coandă International Airport offers direct flights to London, Berlin, Paris, Munich, Moscow, Dubai, Madrid, Amsterdam, Vienna, Zurich and Copenhagen but none to North America, South America and the Far East.
• Large number of quality hotels in the city. Prices at the 5-star Marriott Grand Hotel start at US$100 per person, per night, while rooms at the three-star Central Hotel can be booked for $50.
• Romexpo - the biggest fair and exhibition centre in Romania (and one of world's largest)
• The nation's capital is the biggest cultural centre (universities, theatres, museums, monuments, etc.)
• Low seasonality
• A great variety of architecture including the Palace of the Parliament, built under the Communist regime of Nicolae Ceaușescu and now, after the Pentagon, the world's second largest building. Architectural landmarks also include the Paris-inspired Arch of Triumph and the Athenaeum.
• Large number of tourism firms
• Specialised work force

Weaknesses
• Low level of road and railway access compared to other EU capitals
• Low level of specialisation for tourism services
• The degradation of cultural inheritance
• The lack of public transport to tourism attraction sites
• Public transport
Metro railway: The Bucharest Metro, opened in November 1979, incorporates four lines and serves 51 stations including the main railway station. A ticket four ten journeys costs three dollars.
Trams and buses: Bucharest has hundreds of bus routes and tens of trams, serving every part of the city, including a number of suburban villages. An express bus serves the international airport.
• The low number and the lack of integrated character for thematic touristic itineraries; Bucharest is less considered as a holiday destination
• The insufficient development of soft infrastructure, in particular entertainment
• The low level of collaboration between tourism agencies due to an incoherent regional marketing strategy
• The scarcity of selling points for souvenirs, popular art, postcards, etc.
• The deficiency of ecological protection of tourist areas.
• Beggars and pickpockets
• Aggressive stray dogs

Governance
The Romanian Ministry of Regional Development and Tourism, primarily under the auspices of the Romanian National Tourism Office, is responsible for the promotion of Bucharest both inside and outside the country, for tourism, trade and development, but there are few such activities presently. Concerning external promotion, Bucharest currently suffers from decay, but there are projects in train to promote the city outside the country that will become reality with European Union help and funds.

The settings are also disadvantageous as there are incoherent governance arrangements for the city brand. Bucharest represents a muddled arrangement, a capital with a weak central authority and seven municipal mayors (and therefore seven different budgets and priorities), is a major drawback in the decision-making process and the establishment of future priorities as this means divergent budgets.

International rankings
Bucharest ranks first in the whole European area for the relocation of businesses, from the labour cost point of view (European Cities Monitor 2009) and was voted the best East European region along with Prague (European Cities and Regions of the Future 2010). Also, it looks very good in terms of attracting investors - 30 companies want to move to Bucharest in the next five years, compared to 36 and 35 respectively to Warsaw and Moscow.

But Bucharest is at the bottom of the ranking in terms of workforce skills. (European Cities Monitor 2009) and the city is ranked 107th out of 221 cities by Mercer's 2010 quality of life index. Bucharest is at the bottom in the Europe's Greenest Cities, devised by Mio Technology Company, regarding Environmental Governance. What's more, it is the 30th out of 34 European cities concerning anti-pollution measures and is ranked 29th concerning domestic transportation and communication system (European Cities Monitor 2009). However, Bucharest is in the middle of the ranking of The Economist Intelligence's Liveability Survey with low scores for infrastructure, education and healthcare; and of Saffron's Brand Barometer for brand strength, asset strength and brand utilization.

Vision and reality
Bucharest's current positioning is traditional but its vision is to transform itself into a greener, safer, healthier city for people to live and work, a city that supports the community, is safer and stronger, protects the environment and embraces sustainability as one of the core values, provides a high standard of quality of life, has a rich cultural patrimony and constitutes a competitive business and educational market.

This would be a doable provided that everything is done in partnership and with citizen's help and input in every part of the process. Creating public-private partnerships is a prerequisite in creating a common vision conveyed through a unifying message, which embodies the essence and the values of the brand. But what's more important, this is a slow process based on an ongoing improvement programme, comprised of short-term, medium-term and long-term solutions and everything is co-created.

Recent research conducted among Bucharest residents concluded that the city lacked a strong identity. The research also found that there is very little help offered to tourists. One tourist information kiosk, two poorly designed leaflets and a brochure, which recounts a traveller's story were judged as totally inadequate. Like many other south-eastern European cities, Bucharest, deservedly or not, has an image of being corrupt and plagued by low-level crime such as aggressive begging and pickpocketing. All in all, Bucharest as a brand is a raw, unpolished product doomed to failure if proper correction programmes are not implemented.

* Iulia Gramon Suba studied Design and Branding course at Brunel University, London and is engaged in a series of projects around Branding Bucharest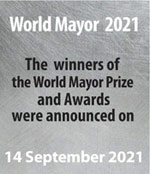 The best Mayors for Stronger | Fairer | Greener cities. Elect your candidate for the 20/21 World Mayor Prize and Honours. The Prize has been awarded since 2004