In June 2011, Newark's Mayor Cory Booker...




FRONT PAGE
Site Search
About us



City brand Amsterdam
City brand Brasilia
City brand Bucharest
City brand Chicago
City brand Hong Kong
City brand Jakarta
City brand London
City brand Singapore
City brand Tokyo


US mayors on Twitter
World's top start-up locations
Europe's top city brands
EUROCITIES branding report - a critical review
EUROCITIES on city branding
Cities into successful brand
Social media and government
Top level city domain names
Gallup's Soul of the City
Mayor of London
London City Hall


Worldwide | Elections | North America | Latin America | Europe | Asia | Africa |




























Local democracy strengthened
by new social media platforms
By Jonas Schorr and Andrew Stevens*
2 June 2011: Around the world, governments at all levels are facing new demands, new expectations and a fast-growing array of new technologies and tools by which such demands and expectations can be met. At the heart of those new technologies lies social media and it promises development towards increased and enhanced citizen participation in politics.

| Social media | Twitter | Local bloggers | Place tagging | Open innovation platforms |

Opportunities of social media
A World Economic Forum (WEF) discussion paper on the future of e-governance highlights the key role social media plays for helping governments from the local to the supranational become FAST (Flatter, Agile, Streamlined, Tech-enabled). But FAST does not only mean speedy, although digital platforms inherently speed-up processes and decision-making, it also means governments are more efficient and closer to citizens and their real needs.

Social media is seen by some as the 'holy grail' of 21st century democracies that can help re-establish citizen engagement and public trust. However, as personal social media (Facebook, Foursquare, Twitter and the like) expands globally, public administrations still often lack the imagination, know-how or organisational flexibility and entrepreneurial mindset to make proper use of it. Social media tools are easy to use, but civil servants need support and training to develop dialogue and interaction skills and governments must help them with it.

The opportunities that social media can potentially generate through its inexpensive and omnipresent nature are great. By helping gather public feedback, ideas, creativity, etc. and feeding these back into the policy-making process, it can rejuvenate direct democracy. The WEF paper concludes: "At its best the interactive dialogue can increase efficiency, innovation and genuine accountability, when the work of administrations becomes more transparent." Accordingly, the true value and benefit of social media technology lies in its potential to make citizens participate more directly in governance (such as the participatory budgeting movement championed by Latin American cities demonstrates).

This also goes beyond the popular, but often shallow, notion that social media is just a new, fancy 'trend' for governments to spin out their message. In contrast, social media expresses a paradigmatic shift regarding how to govern, one, which deeply transforms the way governments think, plan and carry out their policies. This has for instance prompted Singapore's seemingly authoritarian city-state government to adopt an ambitious e-government strategy. This includes moving from a Gov-to-You to a Gov-with-You culture inside the government and to develop open platform tools for more collaboration and inclusive decision with civil society and private sector actors.

Opening up a two-way channel for the 'angry citizen' to vent his or her emotions is neither an easy nor a straightforward task and brings a host of challenges. However, these challenges are less about technology but more about relations of power.

On one hand it means a loss of control and decision-making capability for governments. On the other, it displays a hard-earned blessing in disguise, as decision-making procedures that involve the public offer important overall community benefit by checking governmental power and also potentially lessen the impact of public criticism. There are different ways and degrees to which city administrations engage with social media. We have mapped out some of the recent trends below.

Twitter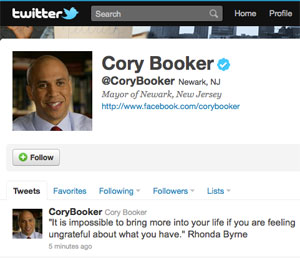 Twitter is not only an important and valuable tool for pushing out information with a personal note or monitoring and answering 'market' feedback, but also a chance for using it creatively with potentially positive image-building effects. A good illustration of this was recently given by the mayors of London and Newark, who both profited from widespread positive press coverage thanks to their feisty use of Twitter. But in order to become a Twitter superhero, one first needs to demonstrate that one perhaps resembles a superhero in 'real life'.

London mayor Boris Johnson saved the day of numerous London bus passengers who complained via his official Twitter feed about overheated public buses in the summer. The response of the mayor was swift and read on Twitter: "To those of you who tweeted about bus heaters being on. You guys are right. It's hot enough! Have spoken to TfL [Transport for London]. They've sorted the problem." Similar laurels have been earned by Newark's Cory Booker, a trendsetter among US mayors in using social media for reaching out to his constituents, has transformed into a social media superhero by sending shovels, snowplows and himself where residents called for help via his Twitter feed after a blizzard hit the city.

But beyond being a clever PR stunt in an exceptional situation, it is obvious that 'tweeting' cannot be regarded as a reliable tool for citizens to lobby for substantial policy change and Mayors and their staff could not possibly lead their citizens to believe this. As the WEF Davos paper emphasises, "If local leaders try just to be 'cool' by being active in the social media, the effort backfires. That is why commitment is perhaps the most important of these principles. Commitment means not making promises to citizens that government cannot keep."

Local bloggers
If you want to inform yourself about a city but don't have any friends or family who live there, whom will you ask? Typically Google. This is why local bloggers, i.e. those who reflect in non-sugar coated terms about their own neighbourhood, have advanced to become a principal source of information and image building for any city or place. Hence it is time for city administrations to recognise bloggers as key stakeholders in their reputation management efforts and to proactively reach out to their own citizen bloggers, who are often seen as "stars" in their own local community.

Although bloggers may not be easy to deal with, they are extremely important multipliers for a city's public image and there are a number of things local governments can do to profit from this, depending on their level of engagement. Examples include tapping into the network of bloggers in order to reach people who traditionally aren't (and usually don't want to be) reached through official communication channels; working with them to endorse local community initiatives as 'local ambassadors'; or simply screening their blogs to know about the 'talk of the town' in order to respond to people's real concerns. In any case, just ignoring them seems the least beneficial option.

Place tagging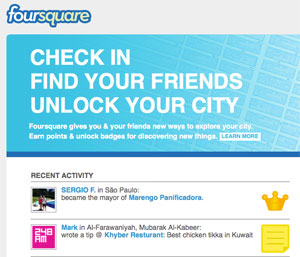 Location-based platforms such as Foursquare can be creatively used to have citizens and tourists rediscover their city with new (digital) eyes. The benefits of adding a digital layer to your urban experience as you walk down a street are known as 'augmented reality'. How cities can make creative use of this new trend has been shown by the city of Chicago, which created a digital scavenger hunt that motivates locals and tourists alike to get to know their city. The prizes are 'digital badges' which have been created in cooperation with Foursquare.

Applying game mechanics to non-game situations, such as leveling up, competing with others, or gaining points, awards or badges, is not just "silly play" but a great way for any city to convey a better idea of its own unique and competitive identity. Place-tagging, augmented reality and the like should hence be of great interest for place branding experts who can use it to tell a particular story of their city, as well as local citizens, who can be engaged by leaving clues and creating their own tours and sights. Similar to the trend of citizen bloggers, mobile social media also helps here to converge city marketing with an interactive and personal experience.

Open innovation platforms
A case in point on how government agencies can innovatively harness the possibilities of web2.0 technologies is the British police's latest move to provide open access to the its crime data and statistics so that citizens and civil society organisations can work with it freely. Another example is the 'Apps for Democracy' online innovation contest that called on the citizens of Washington D.C. to develop their own community apps, e.g. mapping biking tracks, real estate price comparisons, or real-time event alerts.

In a public-private cooperation, 'Give A Minute' is a multi-city U.S. initiative that asks citizens for just one minute of their attention to give feedback on important local matters, such as "Hey Memphis, what skills would you love to develop professionally or put to use?" Memphis' citizens can then reply to that questions on a virtual 'post-it' via online or SMS and the answers will be screened by city council staff. The best replies will be incorporated into the city's strategic plans and, if successful, be put into practice. The Initiative has already expanded to four cities - Chicago, Memphis, New York and San Jose.

*Jonas Schorr recently completed a two-year masters programme in Global Media & Communications from the London School of Economics and Fudan University in Shanghai, which has one of China's leading Journalism Schools. He became interested in urban affairs and social media through his research in public communication of inter-city cooperation and place branding. He completed a Bachelor's Degree in corporate communications at a leading German business school and grew up in Berlin. He has lived and studied in France, Singapore, the United Kingdom and China and in addition to English speaks French and some Mandarin Chinese.
Andrew Stevens is City Mayors' UK Editor.