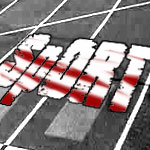 City Mayors examines the impact on cities of major international sporting events




FRONT PAGE
SiteSearch
About us

2012 Olympics: East London
London Olympics: Legacy
Impact of 2012 Olympics
The 2006 Football World Cup
2006 World Cup cities & games
2006 World Cup Stadiums
How London won the 2012 Olympics
2012 Olympics: The popular vote
2010 Winter Olympics


City Mayors reports news from towns and cities around the world. Worldwide | Elections | North America | Latin America | Europe | Asia | Africa | Events |




Mayors from The Americas, Europe. Asia, Australia and Africa are competing for the annual World Mayor Award. More




City Mayors ranks the world's largest as well as richest cities and urban areas. It also ranks the cities in individual countries, and provides a list of the capital cities of some 200 sovereign countries. More




City Mayors reports political events, analyses the issues and depicts the main players. More




City Mayors describes and explains the structures and workings of local government in Europe, The Americas, Asia, Australia and Africa. More




City Mayors profiles city leaders from around the world and questions them about their achievements, policies and aims. More




City Mayors deals with economic and investment issues affecting towns and cities. More




City Mayors reports on how business developments impact on cities and examines cooperation between cities and the private sector. More




City Mayors describes and explains financial issues affecting local government. More




City Mayors lists and features urban events, conferences and conventions aimed at urban decision makers and those with an interst in cities worldwide. More




City Mayors reports urban environmental developments and examines the challenges faced by cities worldwide. More




City Mayors reports on and discusses urban development issues in developed and developing countries. More



City Mayors reports on developments in urban society and behaviour and reviews relevant research. More




City Mayors deals with urban transport issues in developed and developing countries and features the world's greatest metro systems. More




City Mayors examines education issues and policies affecting children and adults in urban areas. More




City Mayors investigates health issues affecting urban areas with an emphasis on health in cities in developing countries. More




City Mayors examines the importance of urban tourism to city economies. More




City Mayors examines the contributions history and culture make to urban society and environment. More




City Mayors describes the history, architecture and politics of the greatest city halls in the world. More




City Mayors invites readers to write short stories about people in cities around the world. More




City Mayors questions those who govern the world's cities and talks to men and women who contribute to urban society and environment. More




City Mayors profiles national and international organisations representing cities as well as those dealing with urban issues. More




City Mayors reports on major national and international sporting events and their impact on cities. More




City Mayors lists cities and city organisations, profiles individual mayors and provides information on hundreds of urban events. More



This is an archived article published in May 2004 Updated article
Five cities chosen to compete
for the 2012 Summer Olympics
By Graham Cunningham, Sports Editor

On 18 May 2004, the International Olympic Committee (IOC) accepted Paris, New York, Moscow, London, and Madrid as candidate cities to host the 2012 Olympic Games. The decision was made following discussions that led to a unanimous consensus. The cities were accepted from a total of nine applicant cities, which also included Leipzig, Istanbul, Havana and Rio de Janeiro.

The candidate cities were selected after a study of their application submitted on 15 January 2004. The study was made by a working group comprising Olympic Games experts who made a technical assessment of each applicant city's ability to stage successful Olympic Games in 2012. The technical assessment was based on 25 questions, which included points such as government support and public opinion, general infrastructure, sports venues, Olympic village, environmental conditions and impact, accommodation, transport, security and experience from past sporting events.

While the selection of Paris, New York and London as candidate cities was generally anticipated, the decision by the IOC to include Madrid and, even more so, Moscow caused some surprise among the international Olympic community. In City Mayors' international poll Rio de Janeiro was the world's second most popular city after New York. Supporters of the Brazilian city from all parts of the world must be bitterly disappointed that a South American city was once again denied an opportunity to show how it would host the world's greatest international sporting event. City Mayors believes Rio de Janeiro should have been allowed to proceed to the second round. The chances of Leipzig, Istanbul and Havana to be selected as candidate cities were never rated highly despite strong local and national support for all three cities.

The five candidate cities now have until 15 November 2004 to submit their candidature file to the IOC. Candidate cities will benefit from a detailed observer programme throughout the 2004 Olympic Games in Athens. The candidature files will be analysed in detail by an IOC Evaluation Commission, which will also visit the candidate cities, before issuing a report one month prior to the election. The final decision on the host city for the 2012 Olympic Games will be made by the full IOC membership during the 117th IOC session in Singapore in July 2005.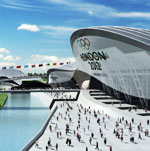 Computer-generated image of the Olympic Aquatic Centre in East London


On other pages
East London will use Olympics to change negative perceptions
When it comes to selling the East London borough of Newham, the toughest audience is Londoners themselves. Decades of industrial decline, joblessness, social deprivation and crime place it far from the British capital's glittering West End.

Jeremy Clarkson, a popular British television presenter, once described Newham as so far East "that it might as well be in Poland." But decades of investment are starting to pay off: this year, Clarkson has chosen to bring the live arena show of his popular TV series Top Gear to the ExCel centre, Newham's 100,000 square metre international exhibition centre. More